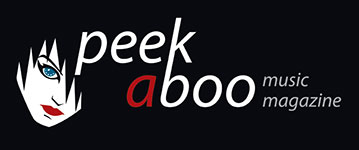 like this interview
---
EX-RZ (INTERVIEW WITH PETER SLABBYNCK EX RED ZEBRA)
I want to stay very close to my fans! That's why I want to organize these concerts in the living rooms of my fans … I want to thank them in my way for their support during all those years!
23/11/2013, Filip VAN MUYLEM
photos: © Filip Van Muylem
---
Peter Slabbynck is just like Cloé: been following them since ages and am still a proud follower. After a dark period he rises out of the ashes and that is the right time to have a chat about the 1.000 idea's he has …
First of all Peter found us a nice café in Ghent (Damberd) where we could have our interview, I think the pictures speak for themselves … That is where the questions are fired off …
Out of the ashes of Red Zebra rose a new band, how will the new band be called?
Peter Slabbynck: It will be EX-RZ. Well I have an agreement with Geert Maertens, the former guitarist of Red Zebra. The name Red Zebra can only be used if we are both in it. This means on stage: together on the same stage. But after all the shit that happened, I don't see us together on stage again. So I decided to continue with another name. The music is still standing and is still so strong, it would be a waste not to pick it up and go on. So it's EX-RZ. Nowadays it's very popular to have an X in your bands name. Just to name a few the XX, SX … I feel something strong in the name ex-RZ. I really like it. Some people suggested me to continue under my family name, but I don't like the sound of a name like Slabbynck (laughs). There is already somebody like Meuris doing it, so I don't do it. I don't want my name as a trademark. To keep it simple and very clear EX-RZ stands for ex-Red Zebra.
You can still perform the old songs?
Yes, sure. Otherwise it would be ridiculous. We only made an agreement on the name. For the rest: anyone can play Red Zebra songs. Even you can, if you want to.
So that was the outcome of court passage?
No. Maertens and I have an agreement on it. The court thing was delayed and finding myself up in court made me sick. I was asking myself: what the fuck am I doing here. What can a judge in any way decide about this stupid history? I needed anyway to get a lawyer as the whole argument was getting pretty nasty. I couldn't just sit down and do nothing. I had to do something. It was a very hard time for me, even more because my wife was pregnant at that time. I had to get through with it and now I'm done with it. Now all of us can continue what they are doing. The agreement has been officialized and that's it. But the chance that the name of Red Zebra will be used in the future, meaning Maertens and I will be together on stage is as Contador would say for: 0,000000000000000005% possible. No, forget that 5. (laughs)
I know that you are working on new songs … and if read it correctly you announced that one song has been worked out and even has a name?
EX-RZ is complete as all the guys that were in the last version of Red Zebra were glad to join in. Berre, Stef, Jean-Marc and Jorn are great guys and I'm very happy and proud to continue working with them. I will work on new songs with them but for the moment I'm working on one particular song with bass player Frits Standaert. We were together in The Boy Wonders. He lived for a long time in Antwerp but moved to Ghent. We met each other a few months ago and he said to me: 'We really need to do something together again.' Frits has lots of idea's and demo tapes. He put on a few songs and one of them I liked a lot. A few days before I was working on a new lyric, 'Bankers will never be beggars'. I'm still myself, so I love to look around me and try to catch what's going on and what's going wrong. With all the fuzz around the banks and the bankers earning so much money, despite the crisis and bankruptcy … I felt the urge to write a story about it. And then I heard this demo that Frits made and bingo !
How will it sound?
Frits is in to different kinds of music, but he knows very well new wave and punk. I think it will a bit harder than 'No kitchen in the house', but it will still be in the same line. On 'No kitchen in the house' worked together with guitarist Gerry Vergult (Fred Angst) from Aroma di Amore. It's fun for me to work with people who say: 'I have a song for you or a riff'. It's a way of working that I like a lot. I also continue to jam with EX-RZ and work out songs with them. And you know: I saw PIL recently on stage. I was very impressed by Johnny Rotten: his voice and the way he still sings! I think he will always be an influence on the way I sing. Anger is also my energy.
I read something about a project that had to do with The Sound…
Frits and I are indeed planning a tribute to The Sound. Normally I'm not really into tribute bands but for Adrian Borland I want to make an exception. Next year it will be 15 years since he committed suicide and there are so many people, especially musicians, who adore The Sound that I felt that I had to do something. And 'From the lions mouth' will always be my favorite new wave album. We would like to do some gigs in Belgium and other countries. We will probably do one concert in April and the others ones after the summer. The line up of the band is complete now and it will be called 'A New Dark Age, a tribute to The Sound.'
In 2015 it will be 35 years since 'I can't live in a living room' was released. Are you planning anything special?
You bet ! In wanna do 35 living room concerts. First I thought of doing them on one day, then in one weekend. But I think one week will be more realistic. Everything is possible.It would be nice if I could work with a lot of people on all the spots. If one plays the trumpet: he can join. It would make each spot kinda special. I'm already working on it as I know it will be very crazy to realize. It would be really nice to travel around all over the country and have a bit of a chat with all the fans. I want to stay very close to the fans! It's very important to me. From the moment I put my idea on Facebook I already got like 15 replies to it. So thx to this fast reply I can already start looking on a map and start puzzling. I'm really going for this crazy idea. I would love to be joined by a lot of musicians, but also by fans who play music. I want to keep it very open. I want it to be an unbelievable week. I don't want it to be normal concerts. And maybe we should do a concert in New York where Sal, one of our biggest fans, is living. And I just found out that 'I can't live in a living room' is being used for the trailer of a new Flemish film, called 'Halfweg'. So the song is very still alive and kicking.
You also do a play for children … Can you say some about it?
I wrote a play for children, called 'De windhond of waarom honden aan elkaars gat ruiken'. I perform it together with Tine, an accordion player. In the beginning I only read what I wrote down but after a while I got more confident and started to act the whole story. But honestly: I'm not an actor, but I'm able to perform it. I always loved to do things that I have never done before and that are what keeps me going. I'm also working as a guide for children in museums and my wife also gives workshops for children under the name LéLé Arté.. So lately I'm doing a lot of things for children. I'm also writing a book about art and painting for children. Once again: I'm a very busy guy (laughs). I also have a 2 two year old boy, so I'm really into it and I have a busy life. But again: that's the way I like it.
It really feels like you are over this dark period …
Red Zebra had a very sad end. That was absolutely not my choice. But I'm over it and I like the flow I'm in. All kind of things are suddenly happening and a lot of people want to work with me. After all what happened, this feels so good. As some kind of victory.
On Friday the 6th December you'll be doing the acoustic set at a fans house. This date was the time where you got kicked out of Red Zebra, can you tell us more about it?
Well it has been changed already. We are not going to do it acoustic, we are taking it a little step further. The problem is that if I have to do it with just one guitarist with an acoustic guitar … there is something that I found out. Many songs of Red Zebra only have a few chords. So if a song like 'The Art of Conversation' is played like this it will be boring after a minute and it will all have to come from my voice. That's why we are working on something else. So far I have no clue where we are going to, but I already said to the guy not to have to high expectations (laughs). It will be me trying to do some things in a way I have not done before.
Years ago you talked about a book about Red Zebra, I suppose this is now not happening anymore?
It's indeed a bit more difficult, seen the situation. Maybe it can become a book about 35 objects from Red Zebra that I still have. It could be a T-shirt or a pin with a story behind it. When I think back about the real punk vibe: we had this kind of stenciled booklets. I even still have one from The Brassers for example. It's a little treasure for me and this seems to be another possibility to work like that and not work it out as a book. I have to think about it.
What are the future plans & what can we wish …
Well I think I have already a lot of plans (laughs). Maybe I record some songs and do the mastering in the Abbey Road (laughs). Finding a nice and affordable studio is not easy. Recording costs money, so we are looking for a home studio. It still has to be worked out more. Working out ideas is one part and recording them is another. It costs money and the return is so little. If I can manage to work out all the things I said in this interview I'll be more than satisfied. There are even projects I didn't mention. There's so much to do and I also wanna give enough time to my two year old son Isaac. And give interviews. So thanks a lot for this interview!
My pleasure!
EX-RZ will play on Hamrock in Ham on the 16th of May.
EX-RZ & A New Dark Age can be booked at Artist Agency.
little note from the interviewer: it was a live interview and to keep it interesting Peter cut into it. The original undertitle does not show in the intervew anymore, but it is as it's really is & how it goes and how it will always be with Peter...
Filip VAN MUYLEM
23/11/2013
---