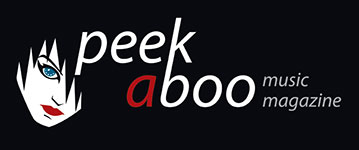 like this interview
---
XIU
I'm still shy and introvert but I try to be more open during performances, and actually it comes naturally with more practice
22/10/2013, Philippe BLACKMARQUIS
---
Xiu, the minimal synth-electronic project of Oksana Rodionova, gave a remarkable concert at the Péniche Fulmar in Brussels on 19th October. The ideal opportunity to ask a few questions by chat to this very promising artist.


Dear Oksana, thank you very much for this interview! Your real name is Oksana Rodionova and you're from Estonian origin, born in Russia and now living in Milan. First of all: why the name "Xiu"?
Xiu is the one form of pet name, diminutive suffix for Oksana. All my friends calls me Xiu.

How would you describe your music in your own terms and which artists/bands influenced you at the beginning?
It's always hard to describe my own music…I think it's something between minimal synth, darkwave and hip-hop... ;o) My influences come from synth-wave, electronic and post-punk from the 80s.

Hip-hop?!?
It's a joke. But the truth is I've got influences from very different genres. I like progressive rock, I like death metal, I love shoegaze, kraut-rock etc. So hip-hop is also a genre that influenced me in a way.

How did your music evolve between your first, self-produced songs in 2011 to your most recent production: "Possession"?
My first "physical" release came out one year ago, in October 2012 on aufnahme+wierdergabe. It's a self-titled cassette in a limited edition of 55 tapes. "Possession" is the second tape from this year, stamped by Swedish label Beläten.

Now you are releasing a split 7' on Peripheral minimal together with Spatial Relation, from New-York. Your track, "Highgate", which was premiered on peek-a-boo, features minimal techno beats. Is it a new direction for you?
I like to experiment. My side project MarryMe2Night is about this kind of direction, minimal techno, minimal dark electronic.

Your next album will be released next year by aufnahme+wiedergabe. i believe it will be your first vinyl album, right?
Yes, it will be a debut LP vinyl record.

Can you describe the musical and artistic direction of this forthcoming album?
There is no big change into the sound. It's like the 2 previous tapes because I use the same analog equipment. But it's more mature work.

"Kaleidoscope", for instance, which you premiered during your show (see video below) is very upbeat: it could even be a synth-wave hit?
Maybe, yes because it's the only track on the album that is so upbeat.

You have just curated a compilation called "Minimal Milan" (Minimal Trend Records). What are the main acts you selected and why? How vivid is the minimal scene in Milan?
The idea of this compilation was born spontaneously. I heard one track from AU+, the band based in Milan and I liked it very much! I decided to look for other present-day electronic projects from Milan and everything I liked and found is on this compilation. This compilation gives you an idea of what is going on now in Milan's electronic music scene.

And what about Italy? Do you have links with other darkwave bands like Mushy, Schonwald or even Frozen Autumn?
In fact, no...I don't have links with other Italian bands except some personal friends... Schonwald, for example: I've got to know them in Brussels and I'm really happy about this acquaintance! They're an awesome band and amazing persons.

Yes, they are amazing. Coming back to you, I have the feeling that you are evolving from a shy and introvert artist to a more mature and open performer: would you agree with that?
I'm still shy and introvert but I try to be more open during performances, and actually it comes naturally with more practice.

Thank you!
Xiu on Facebook, Soundcloud and Bandcamp.
Philippe BLACKMARQUIS
22/10/2013
---