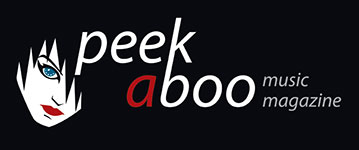 like this interview
---
CYFERDYNE
if Neuroticfish asked us to put something together, we definitely wouldn't say no. We're such huge fans!!!
05/10/2013, Filip VAN MUYLEM
---
Cyferdine is my 4th promo interview for the VP live 2014. I had a nice chat with Steven, who made some time for me. I can say I'm a fan of their music!
Mm, nice name, it reminds me of the Umbrella Corporation and something else. Who came up with the name and why?
Well when the project initially formed, we went under the name Cyberdyne as we were fully intent on worldwide domination, however, this would have made us impossible to find on an internet full of Terminator references... it was then that we looked at what our music was about, with the majority of our lyrics being analogous and code-based, so CYFERDYNE seemed to be an obvious step... we also elected to go all capitals because we're totally worth it. It was not so easy to find info about your band, as most things referred to computer communities, a city, companies …
Seems like Google hates you or doesn't know you well enough? It was hard to find extra info about you.
Unfortunately it's something that we're having to get used to... we're still only 3 years old, so we're pretty pleased with the impact that we've made so far, but we've got a long way to go until we get to the stage where people are tripping over us online... it's coming though... when our new album hits, we think things are going to get pretty crazy.
Quote: 'Marjolein Laenen I hope there will be charcoal involved... again.' Any comment on this (it was underneath the announcement of the black and white photo shoot)?
There's a bit of an ongoing joke about the eye make-up that Steven wears... he thinks that a big band of black across the eyes is cool, but he may well be the only one that does. Whilst we do appreciate that image is pretty important, we're actually starting to get rid of our 'uniform' to some degree, especially in terms of our live shows... you may see us in shorts before too long... don't count on it though.
'Dark Forever' is a nice song, mixing sweetness and bitterness. Love the mix of the voices. What is this song about?
This song is really about the relationship between oppression and dependency, which seem opposed initially, but by nature we all crave that which controls us. Our addiction to the things which damage us is all part of the human condition, and as with all our music, we'd like to think that the lyrics can serve as a commentary on life.
'Nova' is your second most played song, can I call it a club hit? How well known is this song?
As soon as we'd created the track, we could tell that that was going to be one of the bigger club-friendly songs. Along with Epsilon Prime, we'd say that those are our two most well-known tracks. That said, because of the diversity in the album we've had people say that their favorite tracks are ones that we weren't sure if people would latch onto, such as 'Pathways' and 'Afraid to Dream'... that's the great thing about music; everything sounds different to everyone.
Can I say you are sci-fi fans? Who do you read? Isaac Asimov? Keith Laumer? Or is it more the Cyberpunk authors?
We are enormous sci-fi fans, although we're all more movie people than literary... Starship Troopers, Predator and Dune are amongst our favorite blockbusters... that said, anything that's post-apocalyptic will usually get a watch... 9, The Purge, and Pacific Rim come to mind.
Do you think people will actually live one day on another planet? To me it seems more like a time race? We are destroying it way too fast …
Probably one day – but it's probably going to be long after we're dead and buried... Everyone wants Total Recall to be a real thing don't they? Weird mutants and aliens all living together in domes on mars... prostitutes with 3 boobs... genius.
Who did the artwork on Genesis? How important is this artwork for you? Is this a referral to Isaac Asimov's Genesis?
The artwork was done by the genius that is Vlad McNeally at Kallisti Design. To be honest, we weren't really sure what to expect at first, and it was quite an experience finding out how someone interpreted our music from the outside... We think that with the new album our direction has changed, so it's going to be even more interesting to see how this design evolves.
Are there videogames with whom you would love to be associated with and why?
None of us are really big gamers, but we all have our favorites; LOTR games, UFC games and classics are the only ones we really attach to... Speaking of classics, how about "Elite"? Players could trade minerals and narcotics in the "CYFERDYNE" system!
How hard is it to get somewhere in this scene? If I see how many bands make music like you, it seems very hard to create an image and music of your own?
We honestly think if a band's song writing abilities are up to scratch, you'll eventually get somewhere. There are so many bands out there sharing similar sounds and a similar image and so few stand out because the club hits just aren't there; bands who have a really strong image but write really forgettable music. Electronic Dance Music is one of those styles where it's difficult to have a truly unique sound and we think striving to create great tracks is so much more important. We hear so many compilations, and we're listening for new club hits but we're usually disappointed. We're focusing on the basics...WRITE GOOD MUSIC... and then we'll worry about image, identity and politics... first we need to have something that people will actually want to hear.
You managed to play at different important festivals, can you name some who were like achieving a goal to you and why?
We think that the most important thing bands can do is stay humble and appreciate every opportunity that they're given... We can honestly say that with every show we play we get the same sense of achievement. Obviously there are times when we're blown away, like when we were announced for Resistanz and Vampire Party; those were huge moments in our lives, and we'd be crazy not to think of them as such. That said, we have huge dreams of touring Europe and filling stadiums across the continent someday... so watch this space.
You will play at VP live 2014. Are there bands you would love to get on stage with and perform one song together and why?
Whilst we love to see it live, we're not really into the whole stage collaboration thing. If we got on stage with another band I'd just feel like we were intruding on their performance. But saying that, if Neuroticfish asked us to put something together, we definitely wouldn't say no. We're such huge fans!!!
I read that by then there will be a new album, can you tell already some more about it?
We've undergone some changes as a band, with Niall dropping out and being replaced by ANDY MCBAIN - the genius that is DJ McBain, aka McBain, aka gorgeous Andy, aka the man with the dragon tattoo, aka he who shall not be named, aka the demolition man, aka our brother from another mother......Our sound has undergone an evolutionary leap, so whilst the music is easily identifiable as ours, it's got a different, more authentic vibe...Whilst the majority of the writing was done for the album, Andy has been instrumental in bringing the tracks to life and filling our sound with kick drums and bass-lines heavily influenced by trance, hard dance and hardstyle. If you were to expect enormous thumping kick drums and ear-splitting bass lines, you wouldn't be disappointed... In short, it's going to sound huuuuuuuuuuuuuuge!
Here are 3 other promo interviews:
http://www.peek-a-boo-magazine.be/en/interviews/chainreractor/?viaadmin=1
http://www.peek-a-boo-magazine.be/en/interviews/llumen/?viaadmin=1
http://www.peek-a-boo-magazine.be/en/interviews/frozen-plasma/
For the fans of the people who want to know more about the last edition:
http://www.peek-a-boo-magazine.be/en/reviews/suicide-commando-soman-aesthetic-perfection-sam-xp8-c-lekktor-surgyn-vampireparty-live-6-4-2013-petrol-antwerpen-belgium/
something great & epical!

listen to it, the link is inside & buy it if you like...
and share it, as a lot of people worked hard on it...

I hope you take the time to take a look at it......
http://www.peek-a-boo-magazine.be/en/reviews/various-artists-dwa-xxx-100-remixes/?viaadmin=1
Filip VAN MUYLEM
05/10/2013
---