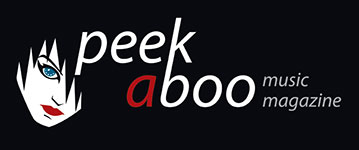 like this interview
---
LISA MORGENSTERN
I also sing about nicer topics when they overwhelm me, but mostly they don't.
29/09/2013, Ward DE PRINS
photos: © WieGlas , terminal.velocity
---
Hello, can you first tell us something more about Lisa Morgenstern.
It's just me, or to be more correct - just my real name. It was needless to find a pseudonym for my music. On the 22th of November, I'm releasing my first album called "Amphibian". It's unbelievable since it was just a foolish dream, so far away from reality, and we're only a few days away of that moment.
You are classically trained. Merely the piano, or also other instruments?
I started to play the piano when I was five years old and studied classical music. My mother opened my eyes for many kinds of art like classical music, ballet, literature and painting. I was interested to learn many things besides the piano and so there was a big chaos while mixing ballet, choir, flute lessons, ice figure skating, riding and nearly everything I could try. I also learned the guitar on my own. And later I had a couple of singing lessons.
I guess you also admire some classic composers & they also influence your work?
There are so many classic composers that strongly touch my soul, like Prokoffiev, Stravinsky, Tschaikovsky, but also more piano based composers like Debussy, Chopin, Rachmanninov. Like everything that is touching and intensive - it influences me and my songwriting.
I first saw you as opening act for HENKE in Bochum. Do you have a special link with him or the band? Is there any collaboration, future projects ?
They wrote their newest album "Maskenball der Nackten" at the place, where I was living. It was in a beautiful old mill in the middle of nowhere called Kreuzmühle. So we got to know each other and at the very beginning I played one concert supporting them. On the next day I was dancing for two songs on a bigger Show of Henke and they invited me to come with them on tour to play more concerts as opening act. The next thing, what is planned together with Oswald Henke, is to play the grand piano on a very special concert: 25 years Goethes Erben jubilee in February 2014 in Leipzig.
It is hard to compare you to other artists. Who is an inspiration for you? Or who do you think is bringing simular music?
There are many piano playing girls, combined with strings and nowadays also often with electronics. Some people said to me, I remind them of Soap&Skin, which is great, because I'm happy to know her music now. Others compared me with Tori Amos, or what makes me a bit smile, Lana del Rey. But those Big Names are well known and so it's strange for me to see them in relation to myself.
As far as I know, the only published music of you can be found on "Vorgespräche mit Goth", a limited book EP with a textbook by Thomas Manegold (through subkultur). To me, it seemed two works of two separate artists combined in one publication, although I guess this is a real collaboration?
This was a combination of a book and CD specially made for two concerts we did together in Leipzig (WGT). He was the one, who let me play my first concert in Berlin and together with the people of Periplaneta he publishes books of many great contemporary authors. They still help me in many ways.
With bizarre titles like (translated) "Cannibalistic gourmet", "Sweet Death" or "The Smile of an Earthworm" you make people wonder & smile? What gives you inspiration?
I can't understand, why I make them wonder. It's a result of my thoughts and experiences. I also sing about nicer topics when they overwhelm me, but mostly they don't, or maybe the sad thoughts dominate the lucky ones…
Your upcoming album, Amphibian, was launched through PledgeMusic, a fundraising website. What can you tell us about it?
I had the strange ambition to publish my first album without the help of a label. So I decided to try with crowdfunding (or fundraising). I started the Project on PledgeMusic and did not expected it to work. I'm very very thankful for all the help and response from all those people out there.
Can people still pledge for this album. If so, until when ?
Yep. We already reached over 100%, but it is still possible to support the production. Every little help will support the final result and it would be wonderful to have the chance to produce a CD, which looks like it should look, and not quite common, like most others.
Your album as well as your performances are brought solo – you do not miss a band ?
It is still announced as a solo project, but at least I won't stay alone on stage. Benni Cellini (Letzte Instanz) added many cello parts on my upcoming album and we will play also together in the next month, and likely also in the future.
What is the latest treasure you discovered ? Why should we have a glimps at it as well?
There are to many things, to pick one. But I really want to mention Manuel Estheim. He is a phenomenal talented photographer and I am very proud to have his photographs in my album.
What brings 2014 for Lisa Morgenstern ?
I'm sure a hectic and intense time. I left a wonderful time behind me, living in the woods, and started a new life in the city. So I know there will be many good, but also bad changes. I had to make many sacrifices to reach this point, to make a first album. But I wouldn't have made all those decisions, if it wasn't that important to me.
Next year I will start with a Concert with Benni Cellini in Dresden on 03th of January and as I mentioned the jubilee of Goethes Erben. And of course we are planning more concerts. So keep looking up the dates on my website and you will see.
www.pledgemusic.com/projects/lisamorgenstern
Ward DE PRINS
29/09/2013
---