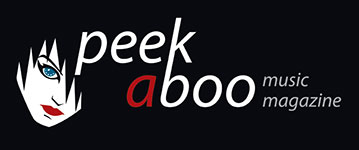 like this interview
---
THE KVB
We love Belgium, its culture and especially the beer! It's the best in the whole world!
18/09/2013, Philippe BLACKMARQUIS
---
The KVB, from England, consists of a couple, Nick Wood, aka Klaus Von Barrel & Kat Day. They were pioneers of a new kind of lo-fi minimal wave / shoegaze music which then developed in the US to become the "ghost-wave" (or "witch-wave") scene led by The Soft Moon, In Death It Ends, etc... Their music is a mixture of krautrock, shoegaze, industrial, psychedelic and postpunk, combined with arty visuals from Kat Day. We had the unique opportunity to meet them in Antwerp after the concert they gave at the Trix.
Thank you very much for this interview! It's not your first gig in Belgium, I think. You already played in Brussels and...
Kat:...and in Ghent, at the Kinky Star.
How is the new album doing right now?
Nick: It's doing well. It's sold-out! There's still some stock in shops.
Kat: It's still available in America.
Was it released on CD and vinyl?
Nick: This one is only on vinyl, at the moment.
It's strange: vinyl sells better than CD in this kind of music...
Nick: Yes, the target audience prefers vinyl.
Is this a recent trend?
Nick: I think it has come back in the last 5 years. People want to buy vinyl again. It's good to look at.
How do you define your music? As observers, we see connections with a lot of bands, like Jesus And The Marychain, The Soft Moon,...
Nick: We like those bands. We play a crossover between a lot of styles: electronic, dark, shoegaze, dream-pop.
When did you start?
Nick: I started as a solo-project in 2009-2010 in Southampton. It was a hobby, just a side project from a band in which I was playing guitar. Then it became a full occupation when people started taking interest and when the first tapes were released. Then we started to play live at the end of 2011 in London.
Kat: And then it was the first European tour in January 2012.
And it's when you got together that you did this crossover..
Kat: I'm more into visuals...
Nick: It was a crossover to visuals.
Kat: I think it's important for our live shows.
And how do you describe the scene that you're playing in? Is it a kind of music that is coming up? A sort of revival of something?
Nick: We kind of fit into a few scenes..
It's the advantage of being in a crossover band... (laughs)
Kat: Yeah! We can play goth festivals, psyche festivals, ATP in December...
Which one?
Kat: All Tomorrow's Parties. We're playing it in December. It is curated by Loop. It's in Camber Sands, in the South of England.
Nick: It's the last one, it should be special.
Kat: I've been a big fan of this festival for a long time..
Are there other bands that you feel close to, that you are friends with...
Nick: Bands like Tropic of Cancer...
Kat: Yes and DVA Damas... They've just released an album on Downwards America.
Nick: Camella, of TOC, plays keyboards with DVA and Taylor from DVA also sings in TOC..
It's the same family...
Nick: Yeah.. It's people we have met. We also released our first 10 inch on Downwards. They're really good.
Kat: We played with them in LA.
What about the link with The Soft Moon. Did you start this kind of music before them?
Nick: I didn't hear about The Soft Moon until maybe 2011. They're a bit like kindred spirits on the other side of the world.
Kat: And they're really wonderful people...
I interviewed Luis (Vasquez) when he was in Brussels; he's a great guy.
Kat: We saw them and played with them recently in London.
Nick: It's inspiring to see they're doing something similar. It's cool.
He doesn't sing really with a lot of words...
Nick: It's the difference. We are more vocal oriented. They are more instrumental, more tribal.
Kat: But we like the vocals to be buried away, not too prominent.
Nick: They're like an instrument for us. You can't hear the words properly, so you can interpret them as you wish. That's the idea. But we are more song-based, The Soft Moon are more tribal.
Kat: More 'body'...
Yes! Luis told me he has a passion for the body, the hands...
Kat: That's why I'm interested in the way visuals can affect the body.
And what about the lyrics. What are your favorite themes?
Nick: It's a broad range of lyrics about sex, death, consciousness,...
Wat about your projects for the future?
Nick: We have released a remix EP with techno artists. Five remixes, some more industrial, some more techno, some more krautrock,... With Regis, Silent Servant, Shifted, a guy in Berlin and in Aeternam Vale, a guy from France doing 80's primitive electronic techno music and Worn, from England. It's really interesting. I hope we can do a video...
Kat: With the Regis one, it's my favorite.
Do you know some Belgian bands that are part of your musical culture?
Nick: I like Snowy Red..
You heard about the Tribute album? With Deathday, Animal Bodies, Led Er Est, //TENSE// and all these bands? You could have done a cover too!
Nick: Oh yeah: They're great bands. But no, we didn't get in touch. It would have been interesting to try.
And after the EP, a next album?
Nick: We're gonna take our time. We might repress some of the early tapes, which are sold-out, on a double LP or a compilation CD. We will do it on our own or with a label. Then we will record new stuff; we have a lot of demo's ready for the next album. We will put them together for a new album next year.
Have you ever thought about playing live with a real drummer and bassist?
Nick: No, because we don't record like that. I use the drum machine, I play the bass, I play the guitar. If we hired a drummer and a bass player, it would change the original sounds. A drummer would do fills, add cymbals, etc.
Kat: And after all, I like machines. We're all machines anyway. (laughs) I like the aesthetics of just two people on stage.
Nick: Most of the songs are just synths, guitars and the drum machine. At the moment it's easier to tour with two people and a drum machine.
Which is the craziest place where you played?
Nick: In Russia, in St-Petersburg and in Moscow.
Kat: LA was good, in a different kind of way.
Anyway, you definitely have to come back to Belgium to play!
Kat: Yes, we will! We love Belgium, its culture and especially the beer! It's the best in the whole world.
Thank you!
Note: Since the interview, The KVB have released a new video with their forthcoming single: "Run-Away". Watch the video here. They have also announced a new album, due for end November.
The KVB: Soundcloud, Bandcamp, Facebook.
All Tomorrow's Parties festival
Philippe BLACKMARQUIS
18/09/2013
---