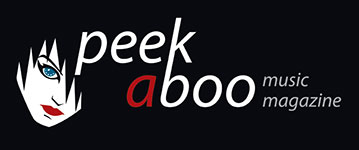 like this interview
---
DIORAMA
We have built a certain niche, which has advantages and disadvantages
19/09/2013, Philippe BLACKMARQUIS
---
Diorama, the cult darkwave band from Reutlinger, Germany, was playing at the Summer Darkness Festival in Utrecht in July. We had the unique opportunity to meet Torben Wendt, the founder, lead singer and main composer of the band, after the concert. You can read the interview, or watch it on YouTube below.
Torben, thank you very much for this interview! You've just released your new album, "Even The Devil Doesn't Care". How is the album doing in terms of response?
It's doing highly good! The reviews and the comments have been overwhelming. It makes me proud because I also think it's a very good album. I'm very proud of it.
Here, you played 3 songs from this album on stage... La Maison du Tigre, then Hope and The Scale. The Scale and Hope are very strong songs! Does La Maison du Tigre refer to this hotel near Strasbourg?
This is actually where the song was born and where the album was initiated. We met there when Sasha was living in Switzerland, Felix was living in Paris, France. We were spread all over the place and Strasbourg was a nice middle point to meet. We found this hotel by accident. I found it a really nice place and we were highly creative at that time. We had a nice 3 day week-end off. This is where we made the first song from the album, that's why it's called La Maison du Tigre.
That's the good thing about modern technology: you can record anywhere..
And we didn't have neighbors so we could play loud! (laughs)
I remember you had this mobile studio. Now you just need a laptop..
Yes... to collect idea's. To make them sound good, it's important to have a quiet studio environment. But just to collect the concept of a song or a basic idea, it's very handy and helpful to have a laptop.
How did you divide the work when you created this album. Did you write all the songs?
For this album, most of the songs were written by myself. Two or three, by myself and Felix (Marc). Felix has a big influence; he gives his opinion and I take his opinion very seriously. He's an integral part of Diorama. But most of the writing and the production were undertaken by myself.
What about the concept for the concerts. In the previous tour, you had the cube, which was a bit awkward to tour with. Here, it was a festival setup?
You haven't seen the concerts of the last tour?
No.
Then, you would have seen the two screens that we employ, with a special video show designed to fit with each track.
That's the one you showed in Leipzig?
Yes.
What about the Diorama style of music? I see it as a crossover music, not easy to be pinned down to one style like synth-pop or anything. You are more like Radiohead, NIN or Porcupine Tree: you mix different styles of music in such a way that you can't really say: it is synth-pop, prog, pure pop. What is your view on this?
I never really cared about this.
It's more for journalists. (laughs)
And also for bookers and promoters: they need to know "is it a synth-pop band, rock band, a gothic band,..?" They tend to book bands of different genres to attract an audience, which is good. For me, personally, it doesn't play a role. I guess the term 'darkwave' would fit most to the style, but it's just my personal opinion. I gave up on looking for a description. I think we have built a certain niche, which has advantages and disadvantages.

Do you get booked in other scenes than the 'dark' scene?
Not really...
It's like a ghetto.. A nice ghetto...
Yes, you get to meet the same people everywhere you go and it's been like this for 10 years. It's great, though, because when you are part of a scene, it's not easy to kick you out! (laughs)
Don't you have a song that nearly went mainstream? Like 'Synthesize Me'?
Never substantially. But we get feedback from listeners. Like metal fans who say: 'usually I don't listen to synth-pop but you are ok'. Or music lovers who are not linked to a certain scene, but are only interested in what they consider as good music. But no substantial success in other scenes, allowing you to be booked in big festivals. This is something we never could achieve.
It's a strange phenomenon... It's not the first time I hear this.
We're not the only band with this problem. But when you have reached a certain position within a certain scene, this is something you can build something upon. In a new scene, you would have to restart as a newcomer again. It's not easy.
When you compose, you usually compose it in a small room. Do you think about live, about the way it's going to be played live?
This is a very good question. I'm starting do it more and more. When we have a rough idea, when the song takes shape and the result is more feelable, now I look forward to playing it live and this has an impact on the way we continue to produce the song. I want it to be powerful, massive, with a good volume to it. In the past, I wasn't so much worried about these aspects. I was just trying to make the songs work. For the first 3 albums, I used to write more personal, intimate songs. In the last 2 albums, I started to pump up a bit.
What about your projects now? You're gonna be touring in Germany?
Next is M'era Luna in Hildensheim, then shows in Berlin, Leipzig and Munich (Note: those shows are past now). This may be about it for this year, the only exception is Mexico City in November.
You've got a fan base there?
Yes.
Also in Latin, South America?
Yes we do. And I wish we could play there once. It's a longstanding dream.
Thank you very much, Torben!
Phil, thank you!
Philippe BLACKMARQUIS
19/09/2013
---