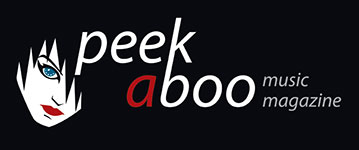 like this interview
---
XMH
Working together with Erk Aicrag from Hocico or Nic Endo from Atari Teenage Riot would be great!
08/07/2013, Filip VAN MUYLEM
photos: © Marquis(pi)X & Nando Harmsen
---
XMH is more and more becoming one of the best bands to see on stage. Soon they will play at the Infest and at other great festivals! Time for a short break to answer a few questions…
What does XMH mean, just to start with?
Benjamin Samson: Nothing really. At first I wanted to call the project Xenomorph. But there were loads of bands already called that, so I took the first, middle and last letter.... XMH.
How did you meet and decide to do something together?
BS: I started off on my own. Then when it was time for the first gig I needed someone to do the live programming. So I contacted a mate of mine who was doing some stuff with the same kind of music. The guy stuck and that's how Pieter Sperling joined XMH. Wim de Nooyer was at that first gig and he liked us. After discussing some ideas and the way we wanted the act to go he became our manager. It was his idea to incorporate female backing vocals on our first full length album (Time to play). After some changes in the backing vocals department we suddenly found ourselves without a female vocalist in the middle of recording our follow-up album (State of Mind). Luckily Wim knew someone who was eager to join. We gave her a try and there was a click instantly. And so Isa Garcia joined us.
What are your roots?
BS: I started with an interest in classical music. But as that isn't really 'cool' as a teenager my interest shifted towards heavy metal. I took lessons in playing bass and joined a nu metal band. Later, I joined a grind core/death metal formation. I did a few gigs with both of them. But as it goes with first bands, we kinda grew apart. In the meantime I developed an interest in electronic music. Together with one of my old band members from the grind core band, I started an experimental electro act called Chupacabras. But there was always the subconscious need to make more aggressive music so we quickly shifted to a more harsh EBM approach and changed the name to Active Disorder. I eventually wanted to take the music in a different (more melodic) direction and we parted ways. I decided to become my own front man and I started XMH.
Question for Wim: I have always known you as the guy from Vlissingen who organized great parties and festivals, after the disappearing of the scene was this somehow your dream? You do some writing for the band, what else do you do?
WDN: And I'm also that guy known for lifting chicks. I started managing XMH in 2006 when the Dutch scene was about to reach its peak. Managing XMH was a welcome change from organizing concerts and festivals which became a bit of a routine for me, and I needed a change. From 2000 to 2008 I always had sold out concerts/festivals, but I noticed people were leaving the scene and moving to another, or just totally disappear. That was also the time where I decided to put Terra Gotha in a coma for about 2 years and I could totally focus on managing XMH. I picked up Terra Gotha again about 3 years ago but it's on a smaller scale now and not as frequent as it used to be. Managing XMH to me means: booking shows, interact with the media and label, design and maintain the website plus all other social media, driving them all over Europe to gigs, wipe (and whip) their butts, etc. Basically all the things the band can't be bothered with I've also become more and more involved in the writing process and the musical arrangements, which is something I really enjoy. The music is for 90% written by Benjamin and then that's where I come in to fill in the last 10%. Since I have little musical background it's always hilarious when Benjamin sends me new material. When Benjamin sends me songs I always reply like: that part at 1.30 with the prrrpppttt sound should be changed into a more kkggggtttrrr sound. And he doesn't have a clue what I'm talking about haha. So then I call him and try to explain what I mean by imitating those sounds on the phone hahaha. I really enjoy writing lyrics for the songs. I came up with some ideas for songs for the first album Time To Play. But I really got into writing lyrics when work started for the second album State Of Mind. First one I did was Neon Venus, which is a song I'm very proud of. Benjamin had the music finished but he had no lyrics and he wasn't sure if it was a song for him since he's more into the violent and aggressive way of singing. I thought the song was too good not to be on the album. So I wrote the lyrics with the vocals for a female singer in mind and it turned out to be a killer track. For the upcoming XMH album I wrote 2 lyrics for songs and some choruses.
You played at WGT, how was that?
BS: First of: WGT is special, it's one of those things you dream about. It's an awesome festival, with a great atmosphere and a very good crowd. The gig was one of the best we've had. We had a great audience in a fully packed Moritzbastei. Everything went perfectly really, and we really hope to return to play at the WGT in the future.
Infest is on your program, what else?
BS: Infest is really something we're looking forward to. We have already done 5 great shows in London, so it's nice to see how the people in northern UK are like. We got some shows at German festivals planned as well. But our main focus now is releasing the new album. Everything is recorded and almost everything has been mixed, we can't wait to release.
As you are working on a new album, any interest for guest vocalist? Who would be on top spot if you would just have to make the call?
BS: None to speak of. But if I would just have to make the call there would be a few names that would share the top spot. Erk Aicrag from Hocico, Nic Endo from Atari Teenage Riot, the guy from Imperative Reaction (don't know his name, sorry!) and Joss Stone (But mainly because I have something of a soft spot for her). I know Wim would love to get Elena Alice Fossi (Kirlian Camera/Spectra Paris) as a guest vocalist.
How did the visuals work out recently with XMH, as I read in your last PAB interview that you would change them?
BS: The progress in writing new tracks that we really like has been a bit slow (but steady). So it is the same with the visuals. We haven't used any new ones on stage yet. First we'll release the new album and then we'll put together a new live show with new visuals. So for now we use the XMH 5 x 4 meters backdrop.
Can you tell us something more about the interaction between you and Implant (the remixes)?
BS: Len Lemeire produced our last album and is doing the same for the new one. During this process all of us kinda became mates, so remixing each other was the natural thing to do.
How did you end up with a Soman remix? Was it easy to get?
BS: We played together with Soman a couple of times and we just asked for it. So... yes I guess.
One of the things I love is the switching between you and Isa. A lot of bands do this, but there not so many ùanage to make it fit and blend well. Any words on how you succeed?
BS: We have a click off stage and I think that shows in the tracks we record. We will be having more of the vocal switching on the new album.
I love the switching of moods and genre's, I can imagine it must be hard to choose the songs for the album?
BS: We don't try to switch genres on purpose. We don't pin ourselves down to one type of music. We just write and make things that we think sound good. And all of us put together have a broad taste in music, so it is only natural that moods and genres tend to switch during the writing of tracks.
From where did you get the extra voices (Star Wars...)?
BS: Most of the time it's just hearing something in a movie or news broadcast or so, and thinking: "This would be cool in a song." But sometimes we come up with a theme for a track and then search for a sample that would fit.
Who decided to use them and why?
BS: I did. At first just because they sounded good. But now more and more because it gives a little something extra when it fits into a track and the mood of the lyrics.'
You have toured a lot, there must be some nice story to tell? A cool anecdote?
BS: Tons of stories but these are all situations where "you really had to be there".'
A bright future! Can't wait to see them on stage and get the new cd!
here is a link to what will be a great gig:
Review of their great gigs:
http://www.peek-a-boo-magazine.be/en/reviews/firemen-of-death-xmh-implant-k-bereit-synthetica-terra-gotha-xxi-vlissingen-the-netherlands-25-01-2014/
http://www.peek-a-boo-magazine.be/en/reviews/xmh-xmh-live-at-infest-bradford-university-uk-25-08-2013/
Filip VAN MUYLEM
08/07/2013
---