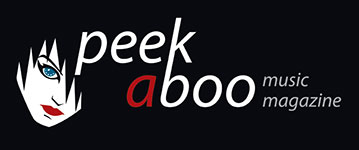 like this interview
---
SAVAGES
You just have to find the things that echo within you in the right sense, things that talk to you and are closer to what you are
16/05/2013, Philippe BLACKMARQUIS
---
Savages is probably the best new postpunk band to appear on the scene for long. Lead by Jehnny Beth (Camille Berthomier), who is from Poitiers in France but has lived in London for 8 years, this all-female band has released a widely acclaimed debut album, "Silence Yourself". Phil Blackmarquis met Jehnny Beth in Brussels after the amazing concert at the Botanique. Jehnny speaks about the band, her partner in crime (Johnny Hostile), her mentor when she was young (Mathieu Lescop), her influences, her androgynous look, her projects and many other things... Read the interview below or listen to the audio recording on Youtube (below the article).
Jehn, thank you very much for this interview ! First, how would you describe the music that you're playing ? There's a lot of postpunk, plus a combination of different styles of music?
I think it's a combination of the four of us. We have different backgrounds, different influences.
Did you meet the other girls in London ?
Yes. Gemma (Thompson) was playing guitar for John And Jehn, my previous band. We were on tour together for two years, that's how we got to know each other. John (Hostile) had kind of a guitar crush on her. He got interested in what she was doing and asked her to come to play with us and then after the end of the tour, she told me she wanted to do a project with Ayse Hassan, our bassist. First she asked John but he was too busy recording the Lescop album so he declined. So I proposed if she would try something with me. And we thought it would be good to have a female drummer as well, so that's how it started, really...
How did you record your first album ?
We recorded it last December for 3 weeks. It was produced by Johnny Hostile, and there was also Rodaidh McDonald in the studio.
It was recorded in London ?
Yes, at the Fish Factory studio and we recorded it mainly live. The idea was to go from one song to the other to avoid getting tired of it. We wanted to have a kind of Nirvana drum sound, and some Converge guitar sounds as well. We wanted to find something hardcore in the sound, like a punch in the face.
As journalists, we can find a lot of references in your music, which I find great. I hear Echo & the Bunnymen, Siouxsie, a lot of Patti Smith, especially in the voice. Is Patti Smith important for you ?
If she wasn't there, I wouldn't be there. She was one of the ultimate rock women. If she didn't do what she did, maybe I wouldn't be doing this.
There's also a noisy, shoegaze aspect, like in A Place To Bury Strangers ?
OK.
Or the Horrors ?
Hum...
I mean the first album, which is very postpunk, not what they did recently, which is more brit pop...
I don't really know the Horrors. Anyway, the whole idea of Savages is not to give anybody something new. It's just the tradition of rockn'roll, but making it your own and trying to talk about things that really matter to you, that affect you much. That's about it.
That's what Picasso said : 'the bad artist tries to imitate, but the real artist steals'
Yeah, I think you steal all the time. You just have to find the things that echo within you in the right sense, things that talk to you and are closer to what you are and what you wanna say, it's a lot about interpretation...
You mix a lot of references but with your own style and personality..
Yeah, and we just have fun with it, really..
You played a new song tonight, « Fuckers » !
Yeah, it's a song we've been playing for a while but it is a new song. In fact we play three songs which are not on the record : Fuckers, Give me A Gun and Another War.
There's a live version of Give me A Gun on the live EP, though ?
Yes, you're right.
How do you experience what is happening right now ? It's a big explosion, a big hype. Something nice is happening to you !
I don't really like the word 'hype' because it's quite negative. No offense, everybody uses it. I try to be careful because it makes things sound a bit shallow. While there's a really hard work behind it. It's genuine word of mouth because people love our music. I quite enjoy that.
Hype can also be the first step to success...
Yeah...
We were discussing this with Mathieu (Lescop) in an interview last week. He said he likes alternative music but it's even better when it becomes popular. Do you feel the same ?
I don't really ask myself that question.
In the choices you make, like the production, which is very clean..
Yeah, but this was from an artistic point of view, things we really wanted to achieve..
It's not to be commercial, it's to have a good sound..
Yeah. The influence was the album « Pop Crimes » from Rowland S. Howard. He was the guitarist of Birthday Party and before he died, he did two records which are amazing. The last one is called « Pop Crimes » and it was only released after his death. These albums were main references for our record. He's like a legend and he's very important to us. And in terms of sound, it was one of our references. Modern Lovers as well, Jonathan Richman, that kind of album, classic, where you can hear everything, without super effects.
Yeah, but I mean your album doesn't sound 'garage'.
Oh no, we never wanted that. We wanted to be able to hear everything. Didn't want to fuck around with it. (laughs) We wanted to make it sound good.
Some bands think it's snobbish to sound alternative, to sound garage.
Oh no, I'm much too old for that ! (laughs)
And what about the lyrics. How do you find inspiration ? There's a lot about relationships between the two sexes, men and women, husbands, fuckers,... (laughs)
All the lyrics are coming from the experiences of the band and from me personally.
Do you write all the lyrics ?
Yeah, I write all the lyrics.
And the music is composed by the band...
Yes. I'm quite lucky because the girls are quite interested in the lyrics. 'Husbands', eg, is really constructed around the aggressiveness of the lyrics. It has taken so many meanings, it's really interesting. People take the song and make it their own. We did a show in LA where there was this gay couple, two guys, in the front row. They were nice. During the chorus of 'Husbands', they were sort of screaming the word to each other, while kissing and everything. I never thought that would be the meaning. I was amazed. I thought it was great. I think each of us in Savages like men and men attitudes and visions of women. We're not really into feminist things. We quite enjoy the company of men, obviously the ones we know, and we share their visions of sexuality.
You know that it can give an image of you as women who look like men and sing like men ?
It's more like having a male perspective...
Also the way you dress...
Yeah, a bit like a tomboy.. But it's a way to be comfortable most of all.
It's not a statement, I mean. It could be seen as a statement by some people...
It's fine, I don't mind that. I really enjoy men and women equally. I like both really. I always have, so it's not a problem. The way I dress has changed. I used to wear a lot of dresses. We can be different people in our life, it's enjoyable. I'm sure if I'd look at pictures of you 10 years ago, I would see a different person...
Probably ! With Mathieu, we also discussed about how you discovered Joy Division...
Mathieu is very important for me. I was 13 when I met him and he was 19. I loved music, but only knew jazz, maybe the Beatles and he made me discover all the great bands. I had a real teenage hook, I was amazed, he was a singer in a band ! (laughs)
He was in Asyl at the time ?
It was even before they started Asyl. I was in Poitiers and he was in La Rochelle. I started writing him letters between 13 and 15 and he would be sending me cassettes.
You had a crush on him, no ?
Yeah ! I was so young ! I wanted to learn things...
He said you were 13 but you were already a star. You 'wanted it' !
Oh, so nice !
He also said he liked the aggressiveness in your music, which is different from being violent.
I find it weird when people say our music is violent. It's more like a physical expression. You're engaging your body with the sound. It's not violent. And by the way, eventually, it was Mathieu who introduced me to Johnny Hostile. When I was 19, he said : 'I got someone you should meet'. And so I met John and we started John & Jehn. So, we're from the same family because John was also playing keyboards with Asyl.
And tonight, you joined John, who was playing as supporting act, to sing a song on stage...
Yeah, « The Pricks » ! (laughs) It's an unreleased song. He had this track and he was supposed to have a voice-over on it and he said 'Would you have words, do you wanna try ?' So I just tried 'The Pricks', tiny little pricks... (laughs).. It's just an angry song...
What about your projects after the tour?
First the tour will never ends. In June, we're going back to Germany to support Portishead, then we're playing the Meltdown festival of Yoko Ono in London, with the Stooges.
Also an influence...
Of course. Everyone is influenced by Iggy. It's like saying 'Bowie? Yeah: Daddy!' (laughs).. Then we will tour Russia, America, then festivals in August, and then Japan...
'Tokyo La Nuit' ?..
Yeah, I've never been there, so I'm really excited. Then we'll be touring again in the fall, in the UK and in America, and finally, we're gonna stop in December.
And after that?
We want to write new stuff. We're already writing right now but we will probably record something then. We're looking to rent a place with Savages and Johnny Hostile, a studio and rehearsal place to record stuff and work on a second album. That's it really. And we will also release some Johnny Hostile stuff on Pop Noire.
Yeah, what he's played today !.. It's a great thing to have your own label, you can do what you want...
Yeah. We have of course licensed our album to Matador to release it worldwide. We couldn't do it as Pop Noire, as we only have one year of existence... (laughs)
But you keep the artistic aspects within Pop Noire..
It's very important for me to keep the artistic aspects within my label, and to carry on working with the people I've been working with for years. As soon as Savages started, it was like 'you have to work with this guy', etc. I said : I don't need your shit, I have my people, they know me, they know the music... Voilà...
Thank you very much !
Merci !
Check the audio recording of the interview:
Check the review of the concert at the Botanique here. You can also have a look at the pictures by Xavier Marquis here (published with kind permission of indiestyle.be).
Philippe BLACKMARQUIS
16/05/2013
---