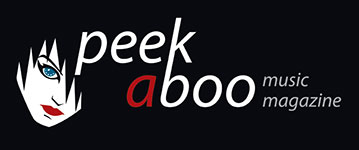 like this interview
---
PSYCHE
One thing I learned is that you should really treat your fans with respect...
26/04/2013, Philippe BLACKMARQUIS
---
Psyche gave a memorable concert at the REWIND Fest 2013 in Ghent. They were celebrating their 30th anniversary with a 'best of' setlist. Peek-a-boo took the opportunity to talk with Darin C. Huss, founder and leader of Psyche, to talk about the history of the band and his projects. You can read the interview or watch it on YouTube below.

Hello, Darin: thank you for this interview! You've just played here at the REWIND Festival in Ghent. Have you enjoyed the concert?
Yes. It was really cool. Very nice! A big stage!

What was the setlist made of?
It was a strange mix. We started with a gothic, dramatic introduction featuring songs from the last album, "11th Hour". Then we moved into the 80s stuff and we ended with our cover version of "Goodbye Horses", which has become very popular.

Let's go back to the origins of the band. I think the band is named after a song by Killing Joke? But it was "Pssyche" with 2 "s" in the song...
Yes. I don't know why they spelled it with 2 "s". Maybe they were making some kind of comment on fascism. But I liked the sound of that particular song and I was a fan of the postpunk bands, Bauhaus, Killing Joke etc. so I thought this could represent us. I also liked the meaning of the word "psyche".

But it's not "psychedelic"...
No, it's not "psychedelic", it's not the Greek God 'Psyche', as people sometimes think. It's the intelligence, the mind, the soul, what stands in the dictionary. That covers it.
What a lot of people don't know is that at the beginning you were more into industrial music, like Fad Gadget...
Oh yeah: we started out with Cabaret Voltaire, Fad Gadget, that kind of stuff and also bands like The Cure or Gary Numan, with "Cars". But also DAF and Soft Cell, you know the idea that with two people who can do it all. We had trouble finding a drummer, so it was basically my brother and I saying 'Let's just make a band'...

How did you evolve towards electro-pop?
Actually, it's Skinny Puppy's fault. When we started, we were the only horror-goth-electro band in Canada and Skinny Puppy was pretty much at the same time but in another part of Canada. We released our first EP's around the same time. It was working well for both groups but I didn't want to do this kind of music for ever. I was also a fan of Alien Sex Fiend and I thought 'I don't want to play this kind of music in my 30s or 40s', so we made this effort to move into a more poppy style.

But not too poppy, more dark electro-pop?
Yes, for a while, we were a bit closer to New Order but it still had that melancholy... Most people used to compare us to Soft Cell and Marc Almond, which is appropriate for me because he was my hero in a way.

Did you meet him?
No, I never met him. I met Gary Numan for 5 minutes. But I met Cabaret Voltaire! I'm very proud of that. They were really nice. It was at the height of their fame, with 'Sensoria'. One thing I learned from them is that you should really treat your fans with respect. If people wait after the concert for a long time, to see their idol and have 15 albums they want to have signed, it's good to take the time to see them and to talk to them. For me, they were my idols, way up there, and they said 'Sit down and have a beer' and I thought 'OK, that's the way it should be'. Of course, this is not possible when you play in a stadium.. (laughs)

Do you think you were a sort of forerunner of some kind of dark electro-wave, which developed in the 90s?
I'd like to say we have something to do with that. At the time, the only other band that was in that direction was Clan Of Xymox and Alien Sex Fiend but these are not completely electronic bands, so I think we were the first. A song like "Brain Collapse" is as dark as you can get, with electronic music. We even got compared to bands like Sisters Of Mercy, though we have nothing to do with them, but it was dark and electronic at the same time. And when the word 'darkwave' appeared in the 90s, I thought 'Well, that's probably what we were already doing many years before'...

When you listen to Covenant and this kind of bands, there is clearly a link...
The first song we played, 'Buried Alive', is very gothic, and 'Brain Collapse', our very first song, is quite dark. We are known as a dark synth-pop band because of songs like 'Uncivilized', which we also played, so we vary between those two genres.

And what are your projects for the next months?
In between the shows when I have a bit more time, I see us trying to make a new album because it has been seven years now since...

Since "The 11th Hour"?
Yes. It was purposedly called 'The 11th Hour' because I wanted to put myself in a corner, saying 'We're near the end. What can possibly follow the 11th hour?' and by the way, I'm still trying to figure that out myself. (laughs)

What about calling the next one 'The 12th Hour'?
Or 'The 12th Day', or...

'The Next Day'?
Yes, Damn it, Bowie took the title first! (laughs) When you disappear for so long, you're expected to follow a particular sound. I felt a little bit cornered by my idea of getting darker and darker. I want the freedom to go wherever I want to go.

So the next one will be different?
Yes, it won't be as heavy and moody but it won't be some super pop thing. It will be atmosphered. I've learned over the years that my vocal sort of defines what Psyche is, so it's important for me to put my voice in focus and present exactly what it is I am as a singer.

I was amazed by your voice at the concert tonight, very powerful! The last part of 'Buried Alive' was amazing..
That's kind of hard for me to get to that level. When I was younger, I couldn't do that. I tend to put everything into one show of 40 minutes. It's not the kind of thing I could do three nights in a row. I want to give the audience the whole thing. But I have indeed become better as a singer. I have slowly trained. I've learned from other people. There are breathing exercises and the rest is just practicing, it becomes a part of you so that you are prepared when you go on the stage.

So when are you planning to release the next album?
I really wanted to have it out for October this year because of our 30th year anniversary. I want to have a double album with new stuff and a second album with remixes of my favorite Psyche songs, but recorded as if we just wrote them now. It would be interesting. We already made a couple of songs. The new songs are still... in the works (laughs).

Well I'm looking forward. Thank you very much, Darin.
Check the review of Psyche's set at REWIND Fest 2013 here and the pictures by Xavier Marquis here.
A big thank you to Filip Delens for the accreditation and to Darin & Tyne from Endless Promotion for the interview.
Philippe BLACKMARQUIS
26/04/2013
---