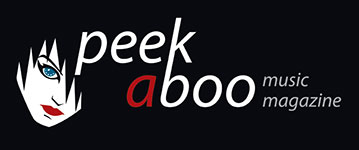 like this interview
---
PIETER NOOTEN
In my music I have definitely kept a sense of melancholia from the past, distilled into a new flavor.
08/04/2013
---
Pieter Nooten used to be one of the keymembers of the early line-up from Clan Of Xymox. Since he released (in a galaxy very far away) Sleeping With Fishes with Michael Brook dedicated fans know what a genius this man is. Today his new record Haven is the shops and although it's not the kind of record you slip into your cdplayer on a sunny day (why not?), Pieteronce again reached the heart of the listener. Peek-A-Boo is very proud to have an interview with this icon.
Hello Pieter, if you don't mind I want to start with the past. You are one of the original members of Clan Of Xymox and you're certainly aware of the fact that you are responsible for a new sound in music. Are you aware of the fact that you have influenced other musicians?
I wasn't, to be honest. It was only after I joined the social networks that I received quite a lot of messages from like minded musicians, composers and music enthusiasts claiming that the first Xymox albums and "Sleeps With The Fishes" -my collaboration with Michael Brook- were pioneering works.
If I look at those old pictures from the band, I always think of you as the man who doesn't want to be in the centre of the picture. True?
I was insecure, shy and just as introverted as I am nowadays. Things haven't changed much I am afraid.
As a fan I must ask. The reason why I bought the debut album by Clan Of Xymox was because I saw you were using a Yamaha DX7 which is the instrument which is used by Brian Eno on his famous ambient and Berlin-albums by Bowie? Was that an influence?
I never had many idols or influences. I was never much of a pop music enthusiast either. In my younger years I listened to avant-garde bands like Tuxedo Moon, Eyeless In Gaza and some forgotten acts from the 80's underground. Later I discovered classical music and haven't looked back ever since..
I guess you don't mind I see you now as an ambientartist. But in the end, weren't you always making ambient even if the music with Xymox is categorized as darkwave?
That is a very good observation. Even in the more poppy songs that I have written the undertone was and is always 'ambientist', whatever that means. I love the atmosphere of extended harmonies and the sensitivity and melancholia of slow evolving dynamics in electronical or acoustic music.
Then there was Sleeping With The Fishes which is apart from Low by David Bowie my favourite album. Never got the feeling that it was a very underrated record?
Absolutely. The story of my life!
Do you listen to that album yourself?
I do. Not often. I prefer to look towards the future when it comes to my own music. You hear that a lot: artists admitting never to look back at what they have produced in the past.
When you left Xymox, you disappeared a bit. Was this something you want yourself? Apart from the problems when you split up, I had the idea that you wanted to left the music scene.
Oh yes. It was and still is definitely NOT my kind of world. It is probably the only form of art with a very conservative almost reactionary industry behind it. Bands and acts with an overall traditionalist approach and sound get all the attention and support while innovation, experimentation and authenticity is frowned upon. This does not happen in modern dance, painting, the fine arts in general or literature. They are constantly evolving. Not pop music. Especially in the so called alternative music scene there is a consistent force of retro mania. I noticed it was there already in the 80's and it has gotten stronger it seems.
I just know this because I follow you on Facebook, but I noticed that you like a lot classical music. To be honest I really don't see these influences in your music or am I that wrong?
My music is strongly influenced by baroque music and contemporary minimalism. I love to stack contrapuntist melody lines on top of each other so new harmonies appear. I also restrict myself to long, extended harmonies with minimal and subtle alterations.
If someone says to you (I do) that you're my Mozart, what do you think then?
I would feel humbled. I am not even close to the genius of this young talented prodigy.
Anyway, you started a total new career. And I think the word "total new" is well used as it seemed like a new start as well, not?
Indeed. After 10 years of silence and denial I could not fool myself anymore. I need to write and compose music. I feel horribly unhappy if I can't.
It really takes a lot of courage to do this. I mean with Xymox you saw the world and the bad side of the music industry. How did you find that courage to start again?
It is rather scary, true. Putting something this fragile, sensitive and introspective into a hard and unforgiving world is nerve wrecking. But I guess I just cannot help myself. I am addicted to the 'flow', that 'divine' modus you're in when you are working, creating.
In fact, what do you think of the music industry as it is today?
Corporate 'preset' pop has totally taken over but deep within the margins of this crazy art form beautiful things still occur. Just don't expect to be heard and brace for total ignorance, misunderstanding and lack of interest, even from people you'd expect they respect what you do.
Let's talk about your new cd Haven. Most of the time it's the job from the reviewer but as this is such an intense piece of work, I want you to explain it, Pieter.
I am 52 years old now. Pop music is a past station. Above all. the restrictions of pop music bored me to dead. I don't want to write a 'logical' verse-chorus-verse tune. I longed to dive deeper into the art of computer composing even as a total autodidact. I really don't know how to program a synthesizer perfectly and I am certainly no academic when it comes to composing. But I love it! I admire the guys that ARE educated in this art form. I look up at them. But I am also fully aware of my restrictions so I am navigating my own unorthodox way through the hard- and software I am working with, hoping to come up with something authentic, something that is undeniably myself.
I know this sounds like a dreadful cliché but I couldn't stop thinking it was a soundtrack for an imaginary movie.
A sad movie I am afraid ha-ha. But thank you for the compliment.
I'm almost afraid to say it, but it has a bit of a new age-spirit I think...
This music –I hope- has so much more layers, totally avoiding the obvious and moronic new age stuff; I am presenting a totally different approach to computer generated instrumental music, not using preset sounds or the obvious synth sounds. I have tried to fuse electronica, drone, neo classical and ambient music together. All that within the restrictions of the 'digital box', my laptop.
It's a total contrast with what you did in the 80's. I mean your music with Xymox was very dark (I think it's the most depressive, albeit most beautiful) music there is but in your current music I hear hope too. Have you changed as a person too?
I have not changed much. I don't know if that is a good or bad thing to be honest… But in my music I have definitely kept that sense of melancholia from the past, distilled into a new flavor.
You're still performing on stage as well. Can you tell us something about it?
I am performing with an improvisational cellist and a live v.j. projecting the most gorgeous organic images. It is a delicate, intense and introspective happening. I prefer to play for a seated audience, in small theaters, no rock temples please. I play keyboards, improvising myself also, using a midi controller and my Mac Book pro running Logic Pro and synth plug ins.
Have you never regret it that you have fallen in love with music? Never!
I'm sure there are a lot of Xymoxfans who wants to hear your new material. Where can they get your new cd?
Check my website www.pieternooten.com or Facebook music page or go straight to www.rocketgirl.co.uk. It is also available on I-tunes or Amazon.com etc…
What's your favorite record of all time and why? Th
ere is to many and it depends on mood, time of year and so on. I enjoy Bach's most gorgeous cantata's immensely, especially if the director is your fellow Belgian Phillipe Herreweghe!
With whom wouldn't you mind to be alone with in an elevator for 8 hours and what would you do then?
Ha-ha. I better not answer that. On a more serious note: I would love to spend that time with any theoretical physicist or astronomer, since they seem to be on the brink of astonishing discoveries.
A special message for our readers could be...
Please listen to this kind of music with a totally different ear. This is no pop music. It may not have the instant appeal that pop music has and it may even seem quite introverted or even inaccessible. But I promise there is much to gain. For me is means drifting into unknown areas of consciousness and it is all about compassion, humanity and an unconditional love for life. It is about aesthetics and morality I guess.

08/04/2013
---