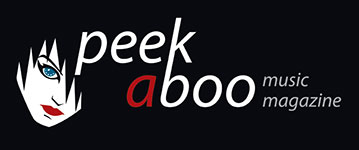 like this interview
---
DARK POEM
I wonder why nobody has ever compared Dark Poem with the Residents. I feel kind of related to their madness.
18/03/2013, Didier BECU
photos: © Marquis(pi)X
---
Dark Poem will soon be performing at both the fabulous Trolls & Legends festival and in Antwerp, together with HENKE & Aroma di Amore, making this a good opportunity to talk with Raya Schaduwjaagster, member of this marvelous Belgian band.
In Belgium, underground lovers know Dark Poem, but since we're an international zine, you'd better tell the world what your sound is like?
It's difficult to define our sound, because I think we just sound like ourselves. Perhaps we also sound like your subconscious singing to you. But to make this easy I'll just quote a journalist. Chris Konings from Peek-a-boo describes us thus: 'Haunting and seductive vocals that fit perfectly on percussion and electronics.'
You introduced the term "faerie-lectro", which makes sense given your sound, but are fairy tales typical for Dark Poem? Will they always be incorporated in the music?
I believe in fairy tales, I really do. If it's a good story, it must be true. But I'm not going to predict the future, because who knows how this project will evolve?
People who believe in fairy tales seem to be naïve and running away from reality. Do you recognize yourselves in that?
Fairy tales are merely the reflection of reality. They're just a symbolic way of capturing what happens to us in our lives, to make those things more comprehensible and meaningful. On the other hand, we do promote escapism a little bit, because sensitive creatures sometimes need a place to hide from this hectic society. We hope our music can be the key to opening the gate to this secret place inside.
It could just be me, but at times I find your fairy tales quite creepy.
Thank you for that compliment, Didier. Creepy is good, isn't it? I believe that people who are willing to show their darkness are the least dangerous. Someone who hides his darkness deep down, where even he can't see it, has no control over it, so it's going to take control of him.
You have quite a unique sound. How did the idea for Dark Poem start?
After I convinced Sophie to make music with me again, the sound just came naturally. My original idea was to make electronic industrial music with Sophie as the lead vocalist, but then I started singing, too. We got the oil drums, we couldn't resist the urge to make sad ballads and sweet love songs, Musje made these beautiful masks for us and Kolja the intriguing visuals…Dark Poem became so much more than what I originally had had in mind.
Were you involved in other bands before starting Dark Poem?
I wasn't in other bands before. I used to be very shy when I was younger. But Sophie was the lead singer of 360 degrees and of Looplizard. I'm glad she left them, so she could work with me again.
You were featured at the Dark Entries Night at the Kinky Star Club in Gent and then something changed, right? The wonderful people from the Kinky Star gave us a contract, so now our album can be bought on I-tunes. How cool is that!
Your album Tales from the Shades sounds perfect. How have the reactions been so far?
The reactions have been very good, but the most important thing for me is that I'm very pleased with the album. It's what I wanted it to be: a journey, a story about exploring your emotions and desires, it's both fragile and strong, and, thanks to Sophie and Gert Van Hoof from Cochlea Mastering, the sound is great too.
Lots of people are comparing you to Dead Can Dance. Do you see that link yourself?
People compare us to lots of other artists, which I don't mind because mostly they compare us to good artists, such as Dead Can Dance, Fever Ray, Hybryds, Kate Bush, Coil… But actually I don't like comparing myself to others, not only when it comes to music, but in general. I think it makes people unhappy, because if you start comparing you will always find somebody better than you. The world would be a nicer place if everyone was simply pleased with oneself. I don't want to crave the talent, beauty or success of others. Instead, I try to be satisfied with what I have. Yet, I wonder why nobody has ever compared Dark Poem with the Residents. I feel kind of related to their madness.
Dark Poem is also a visual feast. It's a shame Tales from the Shades isn't a DVD, no?
Of course our shows are worth watching, but I trust the people who listen to our CD are perfectly able to make their own movie inside their head.
We don't see you performing that much live. Is this how you prefer it or is it more a case of being neglected?
Not a lot of people are open to new things and experiences. Most people only want to see and hear what they already know. It's a pity because if they'd give us a chance, I'm sure many people would enjoy our music. Fortunately, we have a small but loyal audience that follows and supports us. I prefer quality over quantity.
In a way, it's better to do only a few shows each year, because that way we can do a different set every time. This keeps it interesting for us and for the spectators.
Dark Poem has the full support of the dark scene, which is great, but still, I never would categorize your music under these terms. What do you think?
I don't believe in categorizing music, I would just put everything in alphabetical order.
If you're interviewed by me, you know you have to answer these two questions: What's your favorite record of all time and why?
Coil's Music to Ply in the Dark, mainly because of the songs 'Ether,' 'The Dreamer is Still Asleep' and 'Broccoli'. Isn't it great? I mean, who else can write a song about a vegetable and make it sound so spiritual? Another one of my favorites is Nine Inch Nails' Year Zero. I'm totally in love with that sexy sound and those angry lyrics!
With whom wouldn't you mind being stuck alone in an elevator for hours and what would you do?
Nobody would want to be stuck in an elevator with me, because I'd totally freak out and probably start killing people. Only my lover and muse Sven would be able to keep me calm and he'd liberate us in no time. So if I had to choose someone it would be him, no doubt.
We can see you soon on stage with Henke and Aroma Di Amore in Antwerp. What should we expect?
I think this will be the best Dark Poem show ever, because it's such a good set, very well-balanced. I love singing those songs! What I find interesting about this show bill is that what Henke and Aroma Di Amore do is very different from our music. As a spectator, I like this kind of events the most, when there is some variety.
Would you like to share anything in particular with our readers?
This spring there are 3 opportunities to see us:
March 30: Trolls et Légendes festival in Mons
April 6: with Henke and Aroma di Amore in Zappa, Antwerp
May 4: GC Westmalle
And I'd like to order a small army of beautiful people to come and dance in front of the stage, close enough, where I can see you, please.
Thanks Raya!
Didier BECU
18/03/2013
---