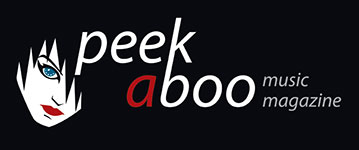 like this interview
---
DARK POEM
We need to be free to make whatever we feel like making, sometimes we're soft and sweet, sometimes we're hard and heavy and often our songs have a ritual or tribal character.
16/07/2012, Jurgen VANVLASSELAER
photos: © Marquis(pi)X
---
Their live gigs are a great trip through a dream world full of gnomes, witches, nymphs and other fluffy creatures. With gigs and their debut album in the pipeline, it was more than time to have a chat with the Belgian fairies of Dark Poem
Hi, Can you introduce us to Dark Poem?

Sophie Drakenvleugels: Dark Poem is a two-women electronic band who's music is an ode to escapism and the wondrous world of dreams and hidden desires. Our songs try to tell an ancient story about the truth behind reality, they are a search for the true inner self.

Were you in other projects before?
Sophie Drakenvleugels: I've been in several bands during the last 15 years, going from rock to triphop, jazz and blues.
Raya Schaduwjaagster: I wasn't in other projects before Dark Poem. I'm in other projects now, but Dark Poem came first.
You have a unique sound which makes describing your music difficult. Early Miranda Sex Garden meets Laïs with an electronic touch perhaps? How would you describe your music?
Raya Schaduwjaagster: We call it faerie-lectro, because it's electronic music, and it's about stories and fairytales. We don't want to restrict our creativity by sticking to one genre. We need to be free to make whatever we feel like making, sometimes we're soft and sweet, sometimes we're hard and heavy and often our songs have a ritual or tribal character.
Which bands were the greatest influences for Dark Poem?
Raya Schaduwjaagster: When I'm making music, I'm more inspired by dreams, nature, sounds, feelings, atmospheres, relations, things that happen in my life, etc... I don't try to imitate other bands. But when you ask me who's my favourite band, that's easy: Nine Inch Nails. Trent Reznor is the God of Music!
Sophie Drakenvleugels: I do think I'm influenced by the artists I admire and whose music touch my soul: PJ Harvey, Portishead, Massive Attack, Dead Can Dance and Kate Bush.
Your songs are about fairies, nymphs, witches, dreams etc, and also during your stage show you refer to those creatures. Is this something that's important in your daily life as well or is this just a subject you like to write about?
Raya Schaduwjaagster: I do experience my life in a kind of magical-realistic way, but our songs aren't about fairies, nymphs, witches, gods and goddesses, these creatures are archetypes that we use to translate the chaos in our subconscious and our life into an understandable story.
Sophie Drakenvleugels: I think most of our lyrics describe emotional landscapes and the hazard of relationships with others as well as with ourselves. We often use symbolic language to express these abstract themes. Our songs are quite often autobiographical.
In 2010 you self-released an excellent CDR. Can we expect a new release in the near future?
Raya Schaduwjaagster: If everything goes according to plan, our first full-CD will be released in September.
How do you bring a Dark Poem track to life?
Raya Schaduwjaagster: That's hard to explain, I don't really have standard methods. Ideas just fall out of the cosmos into my head, and most of the time there is a little bit of magic and a lot of crazy experimenting involved.
You both sang on the La Femme Verte cover album Small Distortions, a project of Jean-Marc Lederman. How did you end up in that project?
Sophie Drakenvleugels: We were introduced to Jean Marc by Sam Devos of For Greater Good. It was a nice challenge to put classic songs in a new female perspective.
Have you done other collaborations?
Raya Schaduwjaagster: I did some vocals for For Greater Good. It's always fun to work with Sam and Izzy. Dark Poem has also made a remix of Rush Hour. Currently I'm working on a project with Mark Burghgraeve. It's called Flint & Coal and it's going to be fantastic! It's not always easy to collaborate with other artists, you really have to find the right match. It's best to have a similar taste in music and the same idea about the direction you want to go. I've learned a lot from working with other people, but I try not to get involved in too many other projects, because Dark Poem is my priority.
You'll be doing a few live gigs again, the 8th of September in Wommelgem and the 24th of November at the Porta Nigra Festival in Aarschot. Will it just be the 3 of you on stage? And what can we expect?
Sophie Drakenvleugels: It will be a show with new songs, visuals and performances. Like other Dark Poem gigs, the ritual character is prominent. The aim is still to draw the audience into the magical world of our music.
I saw Dark Poem a few years ago at the BIM Festival in Antwerp and I was pleasantly surprised. The gig itself was great, but also the stage-show itself was excellent, the dancing , the decorations, the instruments and props you used. The effort you put into the performance is obvious, but how important is that for your performance?
Raya Schaduwjaagster: Thank you for the compliments! You know, when people come to see us, the least we can do is make sure that there actually is something to see on stage. Our vocals are live and we play some percussion and some little instruments during the show, the rest comes out of the computer. To make up for that we have Kolja's wonderful visual projections and a very theatrical show with masks and lots of dancing.
You also made an excellent clip for Curse of The Forest Nymphs. Did you make it yourself? And can we expect this great track on your next release?
Raya Schaduwjaagster: Kolja, our Master of Visuals, made the video clip. The story for the clip was my idea, and I'm very pleased with the result. I'd love to make another clip in the future, but next time my sister Sophie Drakenvleugels will be the director. It's her turn now. And of course the Curse Of The Forest Nymphs will be on our CD, but in a slightly different version.
What's on the Dark Poem agenda for the coming months?
Raya Schaduwjaagster: First thing on the agenda is the mastering and cover-design of the CD. After that we start to rehearse for the two gigs in September.
Thank you for your answers, good luck with the new album and see you at the gigs!
Dark Poem live on stage :
1 September 2012 : Kinky Star in Ghent
8 September 2012 JH Wommel in het fort van Wommelgem, together with two of our favorite bands: Hybryds and Ah Cama-Sotz
24 November 2012 Porta Nigra festival in Aarschot (with Dive, Kiss The Anus Of A Black Cat , Liquid G Vs TraumaSutra and a mystery guest)
Jurgen VANVLASSELAER
16/07/2012
---