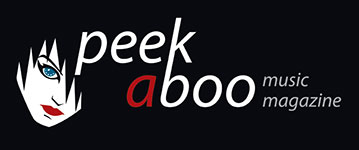 like this interview
---
SHE WANTS REVENGE
At the end of the day there is always longing, sadness, regret, and an analysis of male/female relationships.
07/06/2012, Philippe BLACKMARQUIS
---
Bodybeats is very proud to organize the concert of She Wants Revenge on June 21th at the Zappa in Antwerp. The reason is simple: this American band has been very influential since their creation in 2006, especially by merging post-punk with indie rock, darkwave and even with touches of hip-hop and prog. Peek-a-boo had a short interview with Justin Warfield, the singer and one of the two founders of the band.
First of all, the classical question: why the name "She Wants Revenge"?

Justin Warfield: Adam said he wanted the name to be something feminine, like "Girl Revenge". I said, "how about She Wants Revenge", and that was it.

Your influences are very wide, very diverse and you have managed to assimilate them to create your own style. How would you describe these influences? Names that keep returning are Bowie, Sonic Youth, Depeche Mode, Furs, Prince, Bauhaus and The Cure.
Those are definitely the big ones. Of course there are countless others, but as far as bands whose work has directly influenced the sound, style, songs, and elements of our band those are pretty dead on. Bowie is my favorite vocalist and probably my biggest vocal influence outside of Perry Farrell and Rakim. Richard Butler from the Furs is a close 2nd, and as far as SWR, obviously Peter Murphy has been an influence as well. The Cure and Sonic Youth definitely informed our ideas of how a bass guitar and electric guitar work together in a song, and Depeche Mode and Prince are our heroes. Of course these are all elements that you pick up on over years of being a listener and fan, but once you really start amassing a body of work and finding yourself as a band, you start to strip away the influences and become what you are, and though the influence remains, you hopefully come out with songs that represent who you are as individuals, musicians, people and a band, and I think we have definitely carved out a niche and sound that is very much our own.


The proof that you have created your own style is that some new band cite you as reference now. How does it feel?
It feels good, it sort of completes the cycle in a way. Everyone is influenced by someone, so it's cool to be a part of that but on the other side.


What kind of show can people expect in June in Antwerp? What will be the setlist? Mainly based on your last album Valleyheart? Will you play new (unreleased) songs?
Hard to say. Probably older material with a few rarities and new ones thrown in.



Which musicians will accompany you? Thomas Froggatt and Scott Ellis?

Thomas Froggatt is still with us as he has always been, but Scott Ellis who helped start the band as a live unit has moved on and is now a music manager. He had been playing in bands for even longer than me, and I've been doing it for a LONG time, so it was time for a change for him. But we were lucky enough to get one of his best friends, Jason Payne to join the band and play drums with us. Jason is also the drummer in Nitzer Ebb, and it was a perfect fit from the first time we played with him. He is a stellar human being and a great addition in many ways.

The last album, "Valleyheart", sounds a bit different from your previous work, with more positive tones (major keys) and less 'dark nostalgia'. Do you agree with this vision?

Yes, somewhat, although I feel it is positive only in the major key aspect, because if you listen to the lyrics it is just as melancholy as ever. I feel it is even more nostalgic, but in different ways. I think to some it is more positive because it isn't as overtly dark or sexually aggressive as the 1st album. So for the people who expect a song like monologue about dark sexual relationships, safe words and smacking your lover, then yes, Valleyheart would certainly seem less dark and more optimistic. Hahaha. But at the end of the day there is always longing, sadness, regret, and an analysis of male/female relationships.

Are you going to evolve in this direction in the future? What can we expect from SWR?
No idea. We are currently working on solo projects and just playing live shows, so when we do finally record new music we will have to see where we are at, but having said that, if I had to guess, I would say that it would be less like Valleyheart and more like Save Your Soul or This Is Forever.


Thank you very much for this interview and see you on June 21st @ Zappa, Antwerp Belgium!
Philippe BLACKMARQUIS
07/06/2012
---