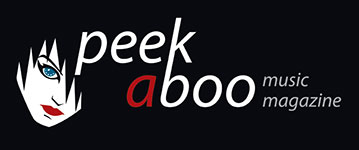 like this interview
---
DE/VISION
I would tell anyone who starts a band the same thing: stick to your guns and never stop believing in yourself, no matter what negative things some people might say about your music...
27/05/2012, Karenza NIXON
---
With almost 25 years in the music industry, German synthpop legends, De/Vision have set the bar high. Their evolutionary style has contributed to their success and allowed them to maintain their place as one of synthpop's leading bands. This year sees extensive European Touring and an album release, 'Rockets and Swords' in August. Thomas Adam took time out for a chat with Peek-a-Boo.
Welcome Thomas. So what is the secret to De/Vision's success? How do you manage to keep evolving and retain your position at the forefront of the synthpop scene?
In all these years we have always tried to re-invent ourselves, although I'm not sure if we always succeeded in doing that...there are too many bands who repeat themselves over and over again but that was never really a possibility for us...of course, we have always stuck to synthpop, but we were never afraid to go new ways and try things we hadn't done before...and I guess we have a knack for good songs and catchy melodies...
You're currently in the studio working on a new album, again with producers Schumann & Bach. This synth 'Dream Team' is obviously successful, but is this a collaborative affair, with all four of you writing and producing again? How's that progressing and when can we expect the release?
The way we work is absolutely collaborative...this time three of us (Steffen, Josef and myself) were involved in song-writing, Arne was only responsible for the final mix. We just finished our work on the new album today, all that's left to do is the Mastering of the new songs, which will be done in the USA..."Rockets and Swords" will be released in August...
Do you have any other projects or collaborations planned for the future?
We had so many plans in the past but nothing ever worked out because we are quite busy with De/Vision all the time...Right now we have no special plans but we will see what the future brings and whenever some interesting project comes along, we will be ready...
You started your own record label, 'Popgefahr', a bold move, when most bands seem desperate to be 'signed'. Has that been a good move for you? Do you have any plans to sign new bands to your label?
It was a very good and clever move and an important step for us to take...I'm not sure if we would have survived the crisis of the music industry if we hadn't started our own label. Unless you're a superstar, it is very difficult nowadays to get enough money from a label to pay the rent...the days are gone, when labels used to spent money like water, when they signed each and every band that was somehow interesting...
So far, De/Vision is the only band on Popgefahr Records but yes, of course we're looking out for bands that could be interesting to work with...
The band formed in '88, so your 25th anniversary is fast approaching. Do you have any special plans for next year? Or will you be weeping into your Becks?
Neither do we have any special plans to celebrate this event (not yet), nor will I be weeping into my Becks and I'm pretty sure Steffen won't do that either...I really don't know, we haven't really talked about that, we've been so busy writing and recording our new record for the last 6 months, there was no time for anything else...now we got some time to relax a little bit, maybe we will come up with a nice idea...I don't know yet...
How do you look back on the last 25 years and what advice would you give to someone starting out?
I don't regret a thing I/we have done during the last 25 years...in all these years I have seen so many interesting countries, met so many nice and beautiful people, I've been to the craziest parties...and all that wouldn't have happened if we hadn't decided to be musicians...I don't want to miss the times we had...and Steffen feels exactly the same way, we talked about that just a few days ago...
I would tell anyone who starts a band the same thing: stick to your guns and never stop believing in yourself, no matter what negative things some people might say about your music...but if everybody tells you that your music is bullshit, then there might be something about it...
Fans can't help but notice that fatherhood has become part of the De/Vision story. How does that affect you as musicians?
I guess I'm the wrong person to answer that question cause Steffen is the one who became a father two years ago...I know that he's getting less sleep than before but I don't really have the feeling, that his son has changed his music. His songs still have the same power and strength...although I have to admit, there will be a song on the new album that was definitely inspired by his son, at least the words, the song is called "Bedbugs" and is some kind of lullaby...
You headlined the 'Legends of Synthpop' tour in the United States, which also featured Mesh and Iris. Do you have plans to re-create that event in Europe in the future?
No, we don't...I think that was a very special tour and we all had a great time together.
But, we have absolutely no plans to repeat that in Europe...
You are, of course, touring extensively this year. What can we expect? Will we hear some new material?
Besides some of the songs from our last release "Popgefahr" and some of the older stuff, we will also present a few songs from our forthcoming album "Rockets and Swords", which will be released in August.
Thomas, thanks for your time. We look forward to the Album release and catching you on tour.
Thanx for the Interview, best regards from Berlin.
Thomas
Karenza NIXON
27/05/2012
---