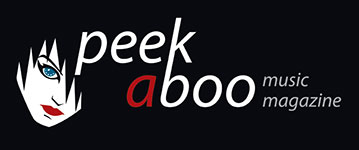 like this interview
---
SYNAPSCAPE
It's been almost exactly 18 years when we started Synapscape, so now it's grown up, can have a home by it's own and marry without our permission ;)
21/05/2012, Chris KONINGS
---
When Ant-Zen started, one of their main band was Synapscape. Philipp Münch and Tim Kniep have been working together for almost twenty years now. Again we can say thanks to Bernd for doing a Factory Noise festival and Synapscape are one of the highlights! Blending rhythmic industrial with just about any electronic influence you can think of, you will be blown away by them! I had a chat with Phil about the upcoming festival...

Hello Phil, can you introduce Synapscape for our readers?

Before we started we both played in different experimental bands. Tim was a member of Blendwerk (not those who are active now) and i've been a member of Ars Moriendi. These two playgrounds didn't satisfied us anymore so it was time to go on by ourselves.
Synapscape always acted as a duo, founded back in 1994 by Tim and myself for exploring our sonic universe. We started as a more experimental project and changed quite fast over to the genre of rhythm industrial without denying our musical roots.
Our aim is to take positive energy as we perceive it into our music to give the listeners a decent potential of power. Of course we also gain a lot of power by doing our music.


You guys go way back, making music together for twenty years now. Isn't it difficult to remain friends sometimes?

This is not difficult at all. We both are quite different to each other which makes us perfect counterparts. We still are good friends but we both have different lives in our way. We both accept each other as we are and that's a good thing.
It's been almost exactly 18 years when we started Synapscape, so now it's grown up, can have a home by it's own and marry without our permission ;)


Because you surely have differences sometimes. Or is that why you have a few different projects?

Even it may be not so easy to understand but this is not because we have differences. It's just about that my passion for doing music is extremely strong and the musical array is very wide. I have a heart for lots of musical styles, most of them in electronic music, of course.
And fortunately i have lots of time and the best wife in the world who understands why this is so important for me. Even the two of us have a dark ambient project together under the moniker 'Mandelbrot'.


With so many different projects, is it easy to make the switch between them? I can imagine you can't make a Synapscape and Rorschach Garden track after each other...

Music is made of feelings, emotions and moods. As my mood swings it leads me to write for a different project. It's all organized in phases. Actually I can have a broad Synapscape phase which is followed by an intense Rorschach Garden phase.
Of course it is going to happen that a project does not make sense anymore. This will be neglected and maybe another project comes to life. That's why it seems that I have so many of them but in the end they are maybe three, including my two main projects.
Of course it's possible to make a Synapscape and Rorschach Garden after each other which happened many times in my life so far ;)


Many Hands and Ant-Zen artists have techno in their music, what's the connection between those two scenes in Germany?

There is no direct interaction between those scenes but especially the audience for industrial is very open minded and not stuck to just one genre. Industrial music had lots of techno benefits and now it's going vice versa that a lot of recent techno music sounds very dark and industrial like. This means that we are sharing a similar vibe but the structures of both scenes differ a lot from each other. and the techno scene is way bigger that the industrial one.
Industrial music has always been open minded to other musical styles which explains why dub step was accepted very fast by example.


Is Berlin the electronic heart of Germany? I recently saw a documentary about the Berlin nightlife and it seems there are loads of underground parties there... It's more liberal then Amsterdam!

I guess it is, because many many electronic artists are living there and there are a lot of clubs and stuff which keeps it on going. It surely has a lot of advantages but also many downsides. It's fun if you can live from your music or if you have a cool job and still lots of leisure time but if not then it's really hard.
I personally prefer not to live there but if I want I can be there within 2 1/2 hours by train ;)


How is your latest cd doing? A lot of positive reaction? I only liked it after a dozen listens or so, not until I was in an angry mood actually.

We never intended to make music for easy listenings. It can take some time to get access to it. Of course we are happy about everyone who discovers and likes our music but this is not our main goal. First we really have to like it. We don't plan to launch hits or floor fillers. Things like this can happen or not.


"Traits" also sounds very divers, like you were a beginning band experimenting with many different styles.

Haha. Good joke :) and a charming compliment which tells us that we are still young at heart and never rest on things we did before. It is about sonic exploration and 'traits' doesn't make an exception. We never liked the idea of doing those 'one trick pony' albums or to underestimate the intelligence of our listeners.
All of our tracks start at level zero and each of them is a world on it's own. Together they form our individual sonic universe and this is the explanation why it is still fun and inspiring to write new tracks after all this time :)


What songs do you like best? Or do you feel have the most potential?

Those are all our children and they all deserve the same passion.


What can we expect at the Shadowplay festival?

Rhythm, noise and energy. A powerful set for all those who like to join us!
Thanks a lot for the interview Phil!
Chris KONINGS
21/05/2012
---