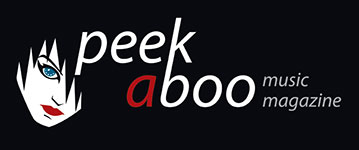 like this interview
---
VISION TALK
We will try to make the best synthpop album in years. That is our plan. Lets see if we can do that.
13/04/2012, Jurgen VANVLASSELAER
---
Good old Swedish synthpop drenched in a big barrel of Italo disco, that's how I'd best describe Vision Talk. Their 3rd album 'Distances', released a few months ago, received a mighty 90/100 in our review section. Peek-a-Boo decided it was time for a little chat with the friendly Swedes.
Welcome guys, can you give us a brief Vision Talk history?
Vision Talk was a little project Richard and Krister started just for fun. Neither of us could have believed that it would end as good as it did. Band members have joined and left the band over the years, but we think this is the best line-up for the band and for the masses.
You are clearly influenced by 80's synthpop (The Twins, Depeche Mode , Page etc..) and italo disco (P.Lion , etc..).But are there less obvious bands that influenced you?
I think we all have our inspiration in the band. Krister is a fan of old school electronic music like you mentioned. But there have been other bands that have been an inspiration for Vision Talk's music: Mike Mareen, Trans -X, Digital Emotion, X-Ray Connection, Fancy, Fake, Boytronic, Visage, The Human League and a lot of other stuff like Deine Lakaien, Lustans Lakejer, Keine Ahnung, Liasons Dangereuses just to mention a few.
I think the name of your first album , Dirty Italo Disco , describes perfectly the sound of Vision Talk. Who came up with that title?
That title was invented by Krister. It was simply not pure Italo disco, so it must be dirty italo disco :-)
I know you're all in other projects as well. Can you give us a little overview?
Richard has his new project Haze For Sale which sounds a bit darker, it's more electro goth. In the past he'd also done stuff with his former future-pop band Strangel, but that band doesn't exist anymore. Krister in involved in Chinese Theatre, but he has also a new beat project called Puzzybeat and a more instrumental synth/space project called VZ Vintage Project. Karin is solely involved in Vision Talk for the moment.
You have a few tracks sung in Swedish. Is it easier to write tracks in your own mother tongue or do you prefer writing songs in English?
It is harder to write a good Swedish song. So that's a good reason for us to do most of our songs in English. But we like to do 1 or 2 tracks in Swedish on every album, just to mix up a little. But our most famous song Dina Tankar is a Swedish track and that song is our biggest song, even in other countries.
Your 3rd album 'Distances' was released last year. What was the response to it?
The response has been very good. On the other two albums Krister did almost all the music and also mixed it, but with the third album Krister only did the demo versions and Richard put everything together. That gave the album a much more modern feel, in comparison to the two previous ones.
Are you already working on new material?
We're always working on new material. We'll finish our new album after the summer, so we will have our new album out hopefully in October.
You made a few excellent cover versions of tracks by Page, Fancy, etc..Are there more covers in the pipeline?
We love to do covers. When we play live we play covers from Shanghai, Depeche Mode, Apoptygma Berzerk and other bands. We like to mix our own songs with good covers that people can sing and dance to.
Were there any tracks that you wanted to cover, but never sounded good enough, after they got a Vision Talk treatment? Or tracks that were just un-coverable?
Yes we tried to cover Brick from Fake, but that wan't so good in the end. We've also tried Kom-Kom from a Swedish band called X-Port, but that didn't turn out well either. So yes, we've done some covers which didn't work out in the end.
Are there live shows on your agenda?
Yes we will play the 11th of May in Gothenburg on Romo Night and we will probably play at a festival in Hässleholm in the summer. We're also confirmed for a gig on the Baltic boat from Karlskrona to Gdynia in Poland on the 18th of August. And we will play some gigs in Mexico and Los Angeles later this year, but no dates confirmed yet.
What are the futureplans for Vision Talk?
We will try to make the best synthpop album in years. That is our plan. Lets see if we can do that :-)
And a final word ?
We would like to say thanks for this interview and thanks to everyone that likes our music. We will continue do what we are doing but maybe you should expect something that we havent done already :-)
Thank you and good luck with Vision Talk!
Jurgen VANVLASSELAER
13/04/2012
---