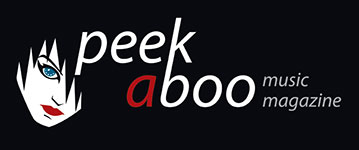 like this interview
---
WHISPERS IN THE SHADOW
We take you back to the wound Return to the pain We show you where it hurts the most And you will gasp for rain (from "Back to the Wound")
13/04/2012, Filip VAN MUYLEM
---
Whispers in the Shadow was formed by Ashley Dayour (Voice, Guitars) back in the early summer of 1996. The Band Name was inspired by a story from H.P.Lovecraft: The Whisperer in Darkness. Having seen them many times on stage, I can say for sure: they've come a long way and are ready to convince you of how much they have grown...
First of all, it's been a long time since I've seen you on stage: where is the red hair? You look a lot darker and more into the occult than ever before.

Ashley: Well the red hair is long gone, can't even remember. But I agree the whole Whispers thing is a lot darker than in 2001-03. But actually that's not "new" at all, the new "dark" style approached in 2008 with the album "Into the Arms of Chaos"
I listened to the most recent CD (which was already sold out even before it's release), it's clearly a CD with a story, enlighten us? The rites of passage?
Ash: This album is part of a 4 album concept based on the 4 phases of the alchemistical concept of transformation. In 2008 we started with "Nigredo – the blackness" and the album "into the arms of chaos", in 2010 we continued the cycle with "Albedo - the witness", and an album called "The Eternal Arcane".
And now we've reached part 3 "Citrinitas – the yellowing". The whole concept deals a lot with occult and magical teachings and is influenced by writers such as Austin Osman Spare, Kenneth Grant and the ever-present Aleister Crowley, to name but a few.
Each Song on each album also has its own symbol which correspondents with the actual theme of the song. On this album there are 2 major themes, which are the so called "Babalon Current" and the "Thoth Tarot" card "the Moon".
Can you tell us something about the superb artwork? For what do the 2 woman stand for?
Ash: The front cover is based on the Thoth Tarot Card the Moon: But we've changed the 2 Anubis figures into 2 Babalon Goddesses, so we find the two major themes of the album on the actual cover. Gerhard Simader aka Spine, who did the whole cover artwork, has worked with us for years and I'm very happy that he contributed to this album again.
Artwork always took an important place in your work right? Who decides what to do or ask?
Ash: First I sit down with Gerhard and explain him the concept and themes of the album. Most of the time I already have an idea about the main cover and what sort of picture comes on what page etc... After that Gerhard works on the cover alone and always comes up with something stunning. He's a genius really!
You even made a nice videoclip, which is liked and loved a lot. What can you tell us about it?
Ash: The video is directed by Edie Calie, she has been working with us for quite a while and actually both Live DVD's and the last Promo Video were done by her as well. The video clip is indeed an important part of the whole album, it actually tells the story of the album in 6 minutes. We are very pleased that people are raving about it. We had over 2200 views in less than a week, which was more than we expected to be honest.
That's good because the shooting of the clip was a really exhausting process, a lot of work for everyone, but it was worth it.
Globally speaking this CD was really well worked out, excellent studio work, it must have cost a lot?
Ash: Indeed I'm very happy with the way the production turned out. Not that I despise the other albums but this production is certainly one of our best. Christoph Binder who mixed it did a very good job. I'm particularly happy with the bass and drum sound on that album. It sounds exactly like I wanted.
About the cost…well I'm not going to tell ;)
There are some mystic, or can I say Arabic influences? Part of the story? Like on 'The Tempest'?
Ash: Indeed, we used a lot of oriental percussions, and a hammered dulcimer on a few songs. I wanted to have this Middle Eastern feeling to it. I'm fascinated with the history of the Middle East, Sumeria and Babylonia in particular.
Who is the women we hear in some songs, sounds very familiar, but I can't place her voice (Julia Beyer)?
That's Vic Anselmo, you might know her albums. She released 2 studio records so far and was so nice to contribute with her voice.
Love the short song 'Call to arms'. Against what is this song calling up?
That song is a very political one, well as political as I want to get with this band. It's basically a song against war, but also about the certainty that war sometimes is inevitable, which is very sad but true.
'Transmutation Babalon' a weird title for a song, but what's the story behind the title?
Ash: That's one of the songs dealing with the "Babalon" current. Babalon is a feminine goddess that dwells in every heart of every woman and men.
Referring to the song 'the secret's of silence': what are the things you learned from the past?
Ash: Mostly from mistakes. Mistakes are very important and necessary to find your way. I embrace mistakes, the best songs and song ideas come from mistakes actually.
As you are touring with your other band Coma Divine: is it easy to combine both? As for both: bringing out a new album, touring...
Ash: So far it works out well with both bands, you just have to look twice in your calendar and coordinate everything.
"Coma Divine" is a completely different band than Whispers and I'm "only" the guitarist there, which is a good thing, I can fully concentrate on my playing, and it is refreshing not be in the centre of the stage all the time. We are touring in April and then again in October, really looking forward to that. After that we will start to work on our 2nd album.
For those who don't know Coma Divine yet can you tell a bit more about it (I already listened to a few things and it sounded very promising)?
Ash: It is a project that me, Sonja Kraushofer (L'ame Immortelle, Persephone) and Martin Höfert (Persephone, and the person who did all the percussion stuff on the new Whispers album BTW) started about 2 years ago. We released our debut album "Dead End Circle" last September. The music is a mixture of Metal, Goth Rock, and Weird Neo-Classic. The distorted and effect driven cello playing of Martin is one of the unique things about this band. Everyone who's interested can check out several videos on our YouTube channel:
http://www.youtube.com/user/bandcomadivine
Always been a fan of your voice: compared it with the voice's from The La's and The Psychedelic Furs. What are your actual influences?
Ash: Thank you. The thing with my voice, it is very limited, sometimes I really struggle, but on that album I think I made another step forward to be a better singer than I was before. The longer I'm doing this the better. I know what is possible to do and what is not possible. Well there are many influences I listen to lot of different music, mostly British stuff. The range goes from "Dead can Dance" to "Killing Joke" to "Zola Jesus"…which are 3 bands I listen a lot to lately. There's a lot of older "Dead can Dance" in that album, well I guess that's obvious anyway.
You are passionated by dark and occult stories, with on top HP Lovecraft. I suppose you would love to make some music for dark videogames too? Like 'Fear', 'Resident Evil' …?
Ash: Actually I'm not a videogame player at all, guess the last time a played a computer game must be about 15 years ago…or longer even. But yeah! Why not? I would certainly love to work on a soundtrack for a "Lovecraftian" movie…that would be a dream come true actually. My fascination for Lovecraft goes way back to the founding of "Whispers in the Shadow" and I still come back to him for inspiration.
If there would be a possibility to play one song with one the other artists playing on the Shadowplay Festival, who would it be, why and which song?
Ash: I really have no idea; have to look up who else is on the bill. Well I would go for something nobody would expect; doing a dark ambient/ritual version of Michael Jackson's thriller with In Slaughter Natives would be good dumb fun I suppose.
I hope a lot of fans come and see you play on stage, it's really worth it! Looking forward to it! Thx a lot for your time!
Filip VAN MUYLEM
13/04/2012
---