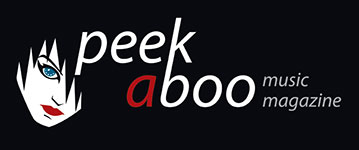 like this interview
---
WHISPERS IN THE SHADOW
My dream? Doing a soundtrack for a major film
04/04/2014, Filip VAN MUYLEM
photos: © Manuela Melichar (1-3) & Marquis(pi)X (4&5)
---
"This is departure, this is goodbye, the last chapter is now written, no truth here and no lies. Into chaos we fly." (Whispers in the Shadow - The Departure). 2008, 2010, 2012, 2014. Time to have a chat about this last cahpter...
The new album is out and that is with the help of the fans, it all went pretty fast, can you tell us how it all happened?
Indeed the whole crowd funding thing went very well and better than we ever would have thought. We wrapped up the 100% within just 5 days.
And now at this day, 4 days before the end, we cracked the 200% mark.
This is amazing really. To have such a fan base makes you humble, and very, very happy, I have to say. Fantastic!
You end a cycle with it, how does it feel? Are you relieved or just thrilled?
I feel both, relieved because this mega project finally comes to an end, and thrilled because it all worked out like the way we planned. Sometimes I wasn't too sure if we really going to make it. But here we are, we did it! But let me tell you it was a lot of work. It was worth every effort, of course.
It must have been pretty crazy to start with it 4 cd's ago (every 2 years a cd)? Did it happen organic or was it all planned from the start?
Well it was planned as a 4 album cycle from the beginning, yes. But the time span wasn't planned. 2 years is the perfect time for us to develop a new album, so it seems.
Can you say something about the record company 'Solar Lodge/Alive!'
It is our 2nd album with them and I'm very happy how we work together. Artaud (The man behind Solar Lodge and known from his band MERCIFUL NUNS) shares the same vision as I do, and theme wise our both bands are not that far apart. So I think it is a perfect match. Besides he is an uncomplicated guy to work with. This is very important.
A lot of artwork saw the light, just as the Tarot cards; can you tell us more about it all?
It was my plan from the beginning on to have our own Tarot card set at the end of the cycle. The card set consists of artworks from these last 4 albums, all done by long time WITS cover designer SPINE (www.facebook.com/LaboratorioSpine). And all the themes of the actual songs correspond with the cards. So the Tarot set is an integral part of the whole thing. BTW: There is also a new DVD coming out. "Images & Oracles" contains 2 full live shows from our 2011 tour and is released on the same day as the new album. With another stunning artwork.
How do you decide on the names of the cards?
As I said above, the actual artwork did already correspond with the card set. Tarot cards have distinctive names. It is a fixed system. We used the same as the infamous Thot-Tarot from Aleister Crowley / Frida Harris
A pretty obvious thing is your interest for the occult, how far does it go? I recently reviewed 2 metal bands (Conan and The Navigators) and both are pretty into the occult, but somehow it seems more natural for metal bands than for a band like yours or is it just an idea?
Well you know I honestly think for most bands it's just a way to present themselves. It's just an image they use. This is ok. But for me personally it is much more than that, it is a way to see the world we are living in. It is a way to life. And that's about as deep as I want to descent into this subject.
You are also still touring with The Devil & The Universe, how does that work out? Do you reach different kind of fans and how do the old school fans react to it?
The Devil & The Universe started like a rocket. In just one year so many things happened and we are doing a lot of shows, also working on a new album which will come out later this year. Of course there are people who like both, especially the ones who are drawn to all the meanings and themes behind the songs, the ones who not only like us for the music. As far as The Devil & The Universe is concerned we are going even deeper into the occult as we do with WITS. So yeah there are WITS fans that like TDATU but about half of our audience came out from nowhere and don't even know about WITS. It is half / half I would say.
Not so long ago you toured with Coma Divine, worked on their brilliant album. I really hope to see you with them on stage, how does it run?
CD is on ice at the moment. That's actually all I can say about it.
How did the fans react to it? Is there another project I missed? Seems like you are really a working ant?
Well I did 2 EPs on my own under the banner "Music For Rituals", (http://ashleydayour.bandcamp.com/) but one can see this as the actual catalyst for The Devil & The Universe.
To come back at the extra's on the new album you did perform a great version of 'Scary Monsters and Super creeps' from David Bowie. Has anybody send it to the man, yet or any feedback from his entourage?
The whole Outtakes Album "Dead Letter Songs 2007-2014" was a bonus album for all the crowd funders, and is almost sold out now. All tracks on it are unreleased songs from the 4 album cycle period. I thought a few cover songs would spice it up a little and make it even more special, we haven't done many covers in the past. Regarding Scary Monsters: No we haven't sent it to anybody, and actually I don't think we will.
Was it hard to get the credits for the U2 song? Any feedback from them?
No, same here.
If it was possible, do you think Gary Numan would want to join you on stage to sing 'I die You Die', after hearing your version on the extra's?
I don't know you would have to ask the man himself ;)
How do you explain the lyrics of the song 'The end of the future'? For me it would fit into the Final Fantasy game, do you feel the same?
I have to confess I'm not into Computer Games. I know what Final Fantasy is, well sort of ;) But I never played it. So I can't say. But what I can say is that it evokes a sort of dystopian feel. Maybe that is the reason why it reminds you about FF? TEOF is the 2nd last song with lyrics of the cycle. We have almost reached the end there. The cycle is closing, the protagonist thinks it is the end of the future cause there is nothing left to say, but then after the "Adversarial Light" (the next song) showed him the way he is ready for another "Departure" (which is the title of the last song).
I suppose you will start touring, play at big festivals … Can you already launch some names, dates?
We are not doing too many festivals this year though. We played many last year so we are forced to have a break. But we do play at Alt-Fest in England, which will be our first show there. I'm looking forward to share the stage with such great acts as Killing Joke, Fields of the Nephilim, Peter Murphy, Peter Hook, and many more.
We also do so some solo shows of course. Above all we are going to curate our first "own" festival here in Vienna which is titled "From Beyond". Alongside us there will be shows from ESCAPE WITH ROMEO, LEBANON HANOVER and DEATH BY DELIRIUM.
And there is a gig in Prague with DIARY OF DREAMS coming up soon, and more in autumn.
With the ending of this cycle you come now on a crossroad for your own, any idea what's next?
Actually I keep asking that myself. I don't know what will come next. Maybe nothing, maybe something. I think we will take a longer break as we usually do, maybe still doing shows meanwhile. But I need another vision before we will set sail again with the WITS mother ship. Really not sure at the moment. Maybe this is it. Maybe not…I honestly don't know, and not to know feels really good at the moment
What is your musical dream, to end this interview?
Doing a soundtrack for a major film, and that is a chapter that is most likely to be written in the not so distant future.
They will play here:
Filip VAN MUYLEM
04/04/2014
---