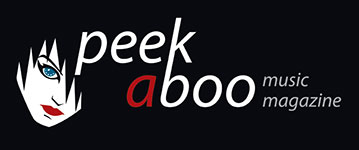 like this interview
---
[PRODUCT]
I believe that people are largely controlled by corporations and media outlets!
06/02/2014, Filip VAN MUYLEM
photos: © Christelle
---
After reviewing "Shallow Graves" I got contacted by the label if I was interested in an interview. Based on my review I was for sure interested!
My classic starter: From where does this name come and why?
When I was starting this solo project I was trying to think of the parts of society that I most hated while keeping it personal to me and I realized that we were all products of our outside influences: Drugs, parenting, school system, culture.
What is your vision/philosophy about the name? How and when did it all started?
I believe that people are largely controlled by corporations and media outlets – more so than they even dare to say aloud. In America this is extremely apparent. I have the pleasure of living in a pretty progressive city (Portland, OR,) but when I travel to other parts of the nation I very quickly remember how far behind in social issues some parts of the country are. My vision for this project is to express the concerns I have about society through a series of personal revelations. I, Omega was mostly about my own problems and was a kind of all over the place, but Shallow Graves is very pointed and collects the lessons I had learned in the year since releasing I, Omega. It has a lot to do with veganism and living a straight edge lifestyle, but also about the lies that bury in our culture.
How do you describe your music nowadays?
I have a really large selection of influences, from Witchhouse to Hardcore Punk, so it is hard at times to collect it all under one genre. I would say that it is still at its heart Industrial though at the end of the day.
What makes you different from the other bands? How did you end up signing Vendetta Music (after leaving a major)?
[product] has always had a really fun live show. We try to keep it high energy and interesting for the audience and I think that has a lot to do with the signing. We released I, Omega on COP International, which I am eternally thankful for, because Christian was willing to give us a shot and helped me learn a lot of really important lessons about the business side of the music. I set out to release on my own for the Awaken The Alchemist EP on my own through Bandcamp and was planning to release Shallow Graves on my own as well, but Dave from Vendetta was at a live show we had played and we were talking about the whole thing – he helped me develop the business model for the new album and get some resources together back when I was still planning to release it independently. He was such a great help that I asked him if he would be willing to put out Shallow Graves on Vendetta Music because I trusted his management.
How is your relation with them?
Our relationship with Vendetta Music is great! Dave is an awesome guy and he has helped me immensely.
Can you tell us more about these: Detroit Diesel, iVardensphere, Acylum, and X-Fusion Music Productions? I already knew Detroit Diesel from the DWA remixes, so did you already figure on some compilations?
I have made it a point to get people that I really enjoy to do remixes for [product] from the beginning. Detroit Diesel, IVardensphere, and Acylum are all bands that I listen to on a regular basis. Jan from X-Fusion has mastered everything we have released since signing to COP and is someone that I trust to do well with the music at that phase.
Do you do remixes for others?
I do indeed! I have done quite a few this year already, not all of which have been released yet. One of my favorites so far that I have done this year has been the Wumpscut – 'Supergurl remix' which will be featured on the DJ Dwarf 14 out in April.
A limited edition cassette version of Shallow Graves feature's alternate remixes by Candle Nine and ѦPѺLLYѺN'S ▼ISѦGE. I couldn't listen to them, so can you say something more about it? Who are these bands? I honestly didn't know them, sorry for that.
Candle Nine is a band that I very much admire and was one of the first remixers that signed on to do a mix for the new release. I had the wonderful opportunity to pre-listen to his newest release and really enjoy it. ѦPѺLLYѺN'S ▼ISѦGE is a witchhouse project of a Canadian friend that I also really enjoy. The label said that we would be putting out a cassette version of Shallow Graves (which is not out yet – printing issues have caused a delay,) and they were the first name I knew I wanted on it.
Can I say that you sound sometimes like C-Lekktor versus Suicide Commando?
I do enjoy C-Lekktor and Suicide Commando a lot. This sound I am slowly weaving away from though. I have been extremely impacted by the witchhouse movement and It is going to be very apparent on the next release. Slower, darker, noisier.
What is the meaning of 'Giving Water, Taking Ash' (on the lyrics level)?
The title, Giving Water, Taking Ash, is an homage to Dune by Frank Herbert. In Dune, when someone dies, you give water to the dead (cry.)
The song is about animal testing and animal suffering. The sample is of a primate at the Oregon Primate Center (close to where I live,) who has developed severe aggression from living its life in a small cage cut off from the others of its kind – not to mention the cruel torture that ensues daily. I am against animal testing and any product that has been tested on animals, medical or otherwise.
In the past you opened for God Module, Assemblage 23, Hanzel Und Gretyl, DYM, and Fractured on the West Coast and headlined a one off show in Chicago. How did it go, some feedback?
Great! I enjoyed opening for all of these bands! We have the great opportunity to go out again with God Module and I am really excited for the three shows this month. [product] really excels live – I think that is when we are at our best. I play music with two of my best friends on stage and I think it really shows. We have a lot of fun.
Do you have any funny stories that you want to share with our readers?
The most recent show: Hanzel Und Gretyl, [product], and Church of Hate. We had a 45 minute set and there was this kid who was dancing at the front of the stage the whole time, kind of making fun of the music – dancing like an idiot – he was probably 16 years old or so. Maybe 18, but it was an all age's shows so I am not sure. We had fun poking at him and he had a good time dancing like a hip hop person in our faces. Well, towards the end of the set he threw up right in front of the stage – like a lot of vomit – and that was really satisfying to me. He came up to us after we were off stage and said he really enjoyed our set and he had a good time. I asked him if he was the one who threw up and he said, "Yeah! Never dance that hard after taking two hits of acid!"
Can you tell us more about this tour: supporting God Module, The Witch Was Right, and Mordacious on the upcoming False Face Tour in February of 2014? Would be nice to send in tour links or Facebook events … Any future plans?
Sure! We are really excited to go out on the first three dates of this tour in a few weeks! God Module, The Witch Was Right, and Mordacious in Seattle, Portland, and San Francisco.
In addition to that I have a lot of release parties going on this month for Shallow Graves. All of which are listed on the Facebook page or the official website: www.facebook.com/productpdx | www.productpdx.com
And here's the review:
http://www.peek-a-boo-magazine.be/en/reviews/product-shallow-graves/
And here's the review about the DWA compilation (you can still listen to the bandcamp link):
http://www.peek-a-boo-magazine.be/en/reviews/various-artists-dwa-xxx-100-remixes/
Filip VAN MUYLEM
06/02/2014
---