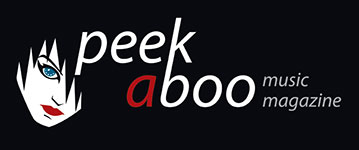 like this interview
---
HERMAXISS
Describe our music? Dancing horror porn is the simplest description I think
16/01/2014, Jurgen VANVLASSELAER
photos: © Luc Luyten
---
On the 8th of March another edition of the Porta Nigra Festival will be taking place at JC De Klinker in Aarschot. It's already the 7th edition already and again they came up with a very nice line up. Openingact that evening will be the Belgian outfit HERMAXISS. We had a little talk with the friendly duo.
Welcome guys. Can you give us a little introduction to HERMAXISS?
Noizy-Sid: HERMAXISS is a band that was started by me in 1993!Experimental, new wave, goth, electro, industrial, we played different kind of styles.
Bio-Soul: We also had a noise period between 2005 and 2007 (during the silent period of HERMAXISS shall we say).In 2011 we brought the band back together and we started to use more electro sounds.Which resulted in a more aggrotech sound on our last album.
Is this your first project or were you in bands before?
Noizy-Sid: No, late 80's ,begin 90's, I had a punk band,with several different line ups. Along with Kris Truyers I had the Internal Silents/Sound Made District in 92/93.Later that name got changed in HERMAXISS.
Bio-Soul: No it's not the first band ,but the first serious band I am in.
I was guitarist in two metal bands but it was never seriously. They really weren't bands ,it were more projects (laughs).Until I met Noizy in 2011. First it was the intention to start with something new , but after the first trials (the song "Belgian Cursed Politic") he suggested to start with HERMAXISS again.
Where does the name come from?
Noizy-Sid: A friend of me had made a drawing on a wall of a hermaphrodite. The name is derived from this drawing.
How would you describe the music you make to somebody who hasn't heard from HERMAXISS before?
Noizy-Sid: Something hard, dark and tasty danceable.This music is definitely not for people who listen to schlagers (laughs).And a touch of horror should always be there.
Bio-Soul: Dancing horror porn is the simplest description (laughs).
When I listen to your music, I hear Psyclon Nine, Agonoize, Skinny Puppy etc. Which other bands were major influences when you started with HERMAXISS?
Noizy-Sid: Yes indeed Skinny Puppy, but let's not forget The Klinik! And with Bio in the band there were also new influences! There are people who who accuse us of being an imitation but in the end each artist is influenced by another one.
Bio-Soul: This is a difficult question, actually I have many sources of inspiration. Of course you can say Psyclon Nine and Agonoize but also many other bands such as : Das Ich, Suicide Commando, Combichrist, Marilyn Manson and Rammstein.
I listen to a lot of bands, but I think that these are the most inspiring for me in HERMAXISS ,for the songs but also for the shows. In the beginning I was really inspired by old songs of HERMAXISS.Noizy taught me to enjoy the music of Skinny Puppy so the original roots are still in the band , it is actually a great mix of this everything.
We do what we like and we mix whatever we want.
I think this is the originality of HERMAXISS because the band has survived many music styles in 20 years.


Your lyrics are very harsh, full of anger against the world, against politics, about everything that goes wrong in this world.
Noizy-Sid: Yes that's right! Across the globe there is so much going wrong.Most of my lyrics are based on all that misery.We see a song like Danger as a kind of a warning for instance.Other lyrics are about some bad experiences that I had in my youth, which is sometimes difficult cause it's like reliving those experiences again and that's quite hard.
Bio-Soul: Indeed that's right, HERMAXISS is for me a reaction against this pathetic world.A song like Here I Am is pure personal frustration. Often my lyrics go about things I shouldn't say or do. I love to play with words and use lyrics in an ambiguous way. The song Scarified You is about cutting a woman into small pieces and rape, but it's in fact about having a broken heart.
Other songs are about crazy sexual fantasies or other are just for fun like Brainrape.We also like to provoke. Children Game foir instance is about pedophilia in the church.Ofcourse we find this disgusting but instead of saying so,we approach the song with irony and say let's play a game…(laughs) And yes... about politics, for me they all go stand on the execution pole.
Can your music be purchased in CD format or only through digital platforms?
Noizy-Sid: Yeah..but hey where is the time of the demo cassettes he (laughs). Since 1998 everything came on CD under own management.Each time in small quantities. Black&Dark and Noitoir Songs are compilations of demo songs we recorded between 1993 -1998.The albums that came afterwards are still available on cd, they were pressed in small quantities.And our whole repertoire is available here :
http://www.soundclick.com/bands/page_music.cfm?bandID=230729
More and more people are using the digital formats so they will become a more important platform for us.
Bio-Soul: Yes, our songs are available on CD (only available with us), there is also a live DVD available that has been recorded in 2012 (Brutal Days). Yes some songs from the period 2011 till now are available on digital platforms, even though I personally like CD formats.HERMAXISS has the habit to release everything for free or as a free download but I wanted to find a way to invest in new equipment, without going bankrupt.Noizy didn't agree first , but after a while he saw the usefulness of merchandising and we therefore came to an agreement. The money we earn with CD, DVD, t-shirt sales and gigs is kept aside to purchase new material.
Another important part in the concept HERMAXISS is the artwork, the graphics and your liveshows. Can you tell us something about that?
Noizy Sid: Bio-Soul will answer this. Earlier I liked to step of the stage and scare the people in the audience (laughs)
Bio-Soul: Yes this has been quite an adventure (laughs).When i started with HERMAXISS I asked Noizy how the liveshows were between 1993 and 2004.I needed to know cause I wanted to stay as close as possible to the original project, to the roots.But I thought something was missing, the songs were perfect for a special show.
As we have lots of "bloody" lyrics, we started to use some blood.But there was still missing something, so I started to write a little show for every song. The first gigs we did with the new show got often negative response, because people thought that there was just too much show.So I had to find a balance.
This balance came in 2012. We released the CD Slave Master and the remix CD Here I Am [The remix], which sounded much more aggrotech than the last album we made.New album, new makeup, new hairstyle, new outfit and a new show. When we first time brought the new show (somewhere in 2013) it was a great surprise to see that the people were dancing and really enjoyed it. (I will never forget that moment). All negative comments had suddenly disappeared and there was an atmosphere that was not there before. So I think we have found the perfect balance now.
Are you involved in other projects as well? Or is HERMAXISS your only band?
Noizy-Sid: I was frontman in a metal cover band,but that was just for fun.But in 2010 HERMAXISS tickled again.
We do sometimes joined projects with VV303, Anamorphosis & Ethan Fawkes.
Bio-Soul: HERMAXISS is my only project.Before that I was a model and I also organized party's but I stopped with that in 2010.I'll maybve start with that again,although chances are small cause I had some bad experiences with that. This year they contacted me to play a role in a French series called "Les Trépassés" (you can find it on youtube). I thought it was a good idea for making promotion around HERMAXISS ,so I said yes.Noizy has composed some great music for it.Everytime you see me you can hear some HERMAXISSmusic.
You will be one of the guests at the Porta Nigra festival in Aarschot on the 8th of march 2014.What can we expect?
Noizy-Sid: I expect a lot from that gig actually. And it doesn't matter if we play for 3 people or for a 1000 people (although I never experienced this) (laughs) we will always give ourselves completely.And it's an honour for us to play with all these bands ofcourse.

Bio-Soul:We are very grateful to play at the Porta Nigra festival.It's a great opportunity for us and an honour to play with these bands.So my expectations are the same as Noizy's, but the question is what will the people expect from us? Well the answer is very simple, our slogan responds well to this question "are you ready for blood, sweet and fireworks."? But also nice hard beats to dance to.
I also have a small response to the negative reactions that popped up here and there when HERMAXISS was announced to play at the Porta Nigrafestival : If people are too afraid to learn something new, then it's their problem. We will certainly make a party !!!
Are there more gigs in the pipeline?
Noizy-Sid : On the 21st of june we are organizing the Caustic Razor Fest at the rock cafe Sodom in Tongeren (Belgium) with VV303 - Anamorphosis - Hermaxiss - Larva.
But more performances are always welcome ,feel free to contact us Hermaxissbookings@gmail.com.
Bio-Soul : You can also visit our Facebook page in the events page for more info, and to be informed of all our upcoming shows : https://www.facebook.com/pages/hermaxiss/226621800704441?fref=ts
What's on the HERMAXISS agenda the following weeks, months?
Noizy-Sid: We are working on an extension of the band and we are rehearsing a lot cause we want to be ready for the Porta Nigra festival.
Bio-Soul: Yes indeed there are major changes in the band, and we are really enthusiastic about it. We also started writing lyrics for a new album,so there will be a new HERMAXISS album in the near future.
Final word?
Noizy-Sid: We are ready to introduce HERMAXISS to the world.
Bio-Soul: I also want to say a big thank you to our fans, and my final word will be this: fuck this world, drink absinthe and join the HERMAXISS infection !!!
Thank you for the answers guys and see you at the Porta Nigrafestival!
http://www.reverbnation.com/hermaxiss
http://www.youtube.com/user/hermaxiss
Jurgen VANVLASSELAER
16/01/2014
---