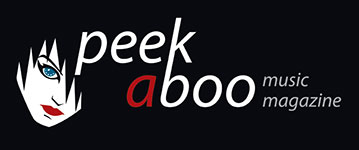 like this interview
---
UMMAGMA
Music is our way of expressing ourselves in a very much knee-jerk way....
07/01/2014, Didier BECU
---
No, I never heard of Ummagma either. But I love their post-punk, shoegzazepop nonetheless, think of Wire with My Bloody Valentine-bits.... Well, let them explain it themselves! T
Please introduce us to Ummagma. How would you describe yourselves?
We are Alexander (Alexx) Kretov and Shauna McLarnon – two people trying to sort out their lives and ideas through music. We are free souls, so we don't easily conform to stereotypes or genres and enjoy floating all over the place – dreamy, gazey, ethereal, spacey, beat-driven fusion – some categorize us more as dreampop, some as shoegaze, and I'd say that the first is more true, because dreampop can share space with many other genres, which isn't generally true for shoegaze. So while we do have a few tracks that are more like dreamy nugaze or 'dreamgaze', we're generally putting out dreamy music crossing many genres, such as postpunk, ethereal wave, synthpop, folkrock, indietronic, post-rock, alternative pop, progressive rock, and even ambient.
The first thing I thought is….what a difficult name you have! How did you come up with that?
I don't think it's so difficult, as it's short. Ummagma is a condensed version of Ummagumma, Pink Floyd's fourth studio album. Now that name is much harder to pronounce.
I understood that your band has really gotten a lot of reviews to date. Is that right?
Yes, I think we have had nearly 300 in the last 1 ½ years since we released our debut albums. We released two full-length LPs on the same day, which gave bloggers and journalists plenty to review, I suppose, plus 12 videos, a handful of remixes, and our Split EP with Finnish jazzy post-rockers Virta. The latest 'wave' of reviews has surrounded our new double A-side single on Emerald & Doreen Recordings, with 'Rotation' and 'Live and Let Die' – because there's been a ton of press for this release and because these two tracks are definitely more in dreamy shoegaze/synthpop territory, I guess that's one reason why we keep getting labeled as a shoegaze band. But I still think we are fine chameleans ;)
I've heard that Robin Guthrie has remixed one of your tracks. Tell me about that?
Yes, Robin is lovely. We are so lucky that he has done this for us. You know he's very selective about who he works with – he has to like their music in the first place and he also has to like them as people. I don't think someone with bad music or who is a total jerk would be able to convince Robin to work with them. Robin is a man of truly high ideals and standards. We're so lucky to have common friends with him, who introduced him to our music. None of this would've happened without their pro-activism. He's remixed our track 'Lama' and we are still sorting out the release details, which will happen in 2014.
I assume you were nervous, I mean he's one of the main Cocteau Twins!
Yes, we were a little nervous, but more overwhelmed by a feeling of euphoria. For us, Robin is a living legend. While many people know him best for his role as the mastermind sound designer of Cocteau Twins, the fact is that he is still doing this and he has continued to develop in new directions since then as well. His work with Violet Indiana also made a lot of waves and, of course, he is the only member of Cocteau Twins who has consistently and persistently put out music since the band broke up way back when. Besides all that, he is an epic remixer, which was great to know upon learning that he would create a remix for us.
For various reasons, new bands now have to do everything themselves without support from record companies. Do you think this is a positive evolution?
Yes and no. Yes for pro-active bands that really want to comprehensively deal with all aspects of their band's development from artwork, recording, mixing and mastering to management, promotion, and distribution. No for bands that just want to make music and put it out there. When taking a hands-off approach, such bands might do better with label support, even from a small indie label. While the internet is undoubtedly a step-up in terms of the potential audiene that unsigned bands had access to say 20 years ago, many bands just upload to Soundcloud or Reverbnation and leave it at that. Many people honestly believe that good music will naturally find it's listeners, but I'd say that is generally the rags to riches/Cinderella version of how things could unfold – in reality, this doesn't generally work for most bands, no matter how good their music might be. Even now, when you are signed to an indie label, artists may still find themselves doing much of their own promotion and virtually all their own booking and management, unless they hire external parties to handle that for them. Rarely does something like that come with being on a label these days.
Ummagma is an international liaison between an Ukrainian and a Canadian musician. How did you meet?
Through music, of course J Well, yeah, seriously – we met at a concert in Moscow, where we were both living at the time. We just really hit it off and talked about music all night. We just couldn't shut up. The next day, we jammed in his kitchen and both felt that we had found what we were looking for – in each other. This was the basis for the duo you know as Ummagma today and also our marriage J
What does music mean to you?
Music is our way of expressing ourselves in a very much knee-jerk way – it's very much a "life does this, we react like this" kind of thing. It's our pool of expression, in the same way this happens for a creative writer or an artist. The kind that just flows freely, without having to be so subject to scrutiny like a screen writer or copywriter, for instance. It's the one medium we have where we really can do what we want and not have to think about how others react to us. It's great when people do react well, but that's really not what this is about. It's about how we react to what's happening to and around us. I hope that makes sense.
What are your plans for the immediate future?
I suppose you mean 2014, so I can touch on that a bit certainly. We've got quite a few releases coming out this year – at least 2 LPs on Emerald & Doreen Records, featuring some original tracks and a whole bunch of remixes from various producers and artists. Robin Guthrie's remix is not among them. If Robin decides not to release this through his own label (and I do think he'll give us full liberty to do what we want with it), we will release it ourselves, but preferably on 7" vinyl. We plan to launch a crowdfunding campaign to help us achieve that, along with several other releases planned this year on Ear to Ear Records (UK). Ideally we'll be issuing an Ummagma EP and LP this year, as well as two EPs jointly with the Moscow shoegaze-postrock project Sounds of Sputnik. We've also begun collaborating with Graham Bonnar (Swervedriver/Brian Jonestown Massacre), so we'll see what comes of that project. For now, we are in the studio still recording. With 3 LPs and 3 EPs planned in one year, there's still a lot left to record and I assume there will be a lot of videos forthcoming. As ever, we're definitely interested in working with filmmakers who enjoy our sound.
Two questions, I always ask…. With whom wouldn't you mind being alone in an elevator for 8 hours and what would you do then?
I asked Alexx this question when I received your questions and he answered, it should be one, but preferably two girls, plus lots of water. Of course – what did I expect? J haha. For me, it would hopefully be someone I wouldn't be able to spend so much time with otherwise, as I can definitely think of better places to get acquainted other than an elevator. I definitely would like to sit and chat at length with Donald Sutherland – he's my all-time favourite Canadian actor and I suppose 8 hours would never seem enough with such a remarkable personality and attractive at any age. Or Sam Neil, you know, the actor? I really love watching pretty much any film he's involved in and I suppose he chooses the roles he does because he feels an affinity with their characters. Anyways, I think he's lovely. On the musical side of things, I have always been intrigued by Ranking Roger (from The English Beat). He'd be very cool to spend time with. Hopefully, there would also be lots to drink, especially if it takes the stress off (and maybe even something to eat).
What's your favourite record of all time and why…
I wanted to let Alexx answer this question and have to agree with his answer. He said, had he been born in the 1940s, when his family had only 3 records and the neighbours combined had maybe 15, it would have been possible to pick just one, but not under current circumstances. As for me, I have 2 favourites – our album Antigravity and our self-titled Ummagma – no other albums could possibly even come close to them in terms of what they mean to me.
Do you have a message for readers of Peek-A-Boo?
We are thankful to everyone who has been supporting us and sharing our music over the past year and a half. All the listeners, fellow musicians, bloggers & journalists, podcasters, radio hosts, mixtapers, video producers, remixers, to Som Non-Label, to Emerald & Doreen Records, to Ear to Ear Records. We will be launching a crowdfunding campaign for several forthcoming releases in about a month or so. Hopefully those who do enjoy our music will come forth and pre-order their copies or otherwise pitch in – we've gone out of our way to make our music freely available to tens of thousands of listeners all over the world and hopefully now those who love us will help make these next releases a possibility.
Didier BECU
07/01/2014
---