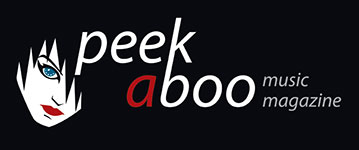 like this interview

---
COSMETICS
It's pop mixed with 'whatever else' but there's always that element.
03/01/2014, Didier BECU
---
If you click the word cosmetics on Google, then you get a huge range of everything that's been sold by Lancome and thousands of other firms. Add the words "Vancouver, band" to it and you'll face an excellent band that are making minimal synth that can be compared to Sixth June. Irresistible melodies, analogue synths, sexy vocals... On 22th March you can see them in Brussels along with their friends Mode Moderne, but first there is an interview!
Hello, it's always fun to start with the begin. So, please introduce us to Cosmetics….
Aja Emma > Voice, Synthesizer
Nic M > Synthesizer, Rhythm, Production
We live in Vancouver, BC and started making music in 2009. We have released some singles, an EP and a compilation on Captured Tracks. We finally just finished our first LP… it took almost 3 years!
If I hear the name then I'm automatically thinking of glam. Something in my mind says that you choose this name for a particular reason, not?
We were called 'Softness' for about a minute, after the Dorothy song. I liked the idea that we could start a tough band with a wimpy name. Turns out we're not tough though, so the contrast was lost. It was embarrassing to say out loud.
We changed it after I found a Biba ad from the 70's – it was just a face and the word 'Cosmetics' nothing else… visually, it was just perfect as a band name. That was the original idea. It's simple and pop. We like a lot of different music, but the thing that holds Cosmetics together as a concept is that it's pop music. It's pop mixed with 'whatever else' but there's always that element. It's also cool when people think we're 'dark' and it contrasts against such a cartoon, pop name. Although personally, I don't think we're particularly 'dark.'
You are coming from Vancouver. Perhaps I'm the one to blame, but I can't think of any Vancouver, or not even Canadian band who has your sound. Do you think there is a Canadian scene as such?
We are fans of some scenes, but honestly we have never been a part of one.We lived in Montreal for two years recently, and there is a great scene there for minimal synth/experimental/analog pop music – Automelodi, Essaie Pas, Feminielli, all of the bands on Visage Music, etc. We spent nearly all of those two years inside though, learning to record and hiding from the completely miserable weather. In Vancouver, there are a million bands, but none are vaguely similar to us. Thank god for our friends Mode Moderne though.
The band is quite young. What do you consider as the high points since the five years you've been around?
Sitting in the studio listening to the the finished playback of Soft Skin for the first time. We worked for about a year after starting the band to figure out the basics of how to make music, and to find a sound that was honest to who we were. We made a lot of incomplete demos, and that was the first thing we actually finished and it was exactly what I wanted it to be. That was seriously one of the happiest moments of my life.
We were very lucky to release the song on a cool label. Not many bands get to to release the first couple of songs they ever write and record to the world.
What made you decide to start making music? Something in the blood that can't be stopped or what?Before music we both did other creative things, like painting and design, but deep down probably wished we were playing music. One day I just decided to do it already. That's how Aja & I met - I was trying to start a band with a few other people and Aja showed up to practice. None of us had been in a band or played an instrument before – eventually it was just the two of us and we started working on Cosmetics.
Your sound is dominated by the use of analog synths. There used to be a time people dumped them in their cellar, but today they're the instrument par excellence. How do you explain it that musicians go back to those simple (but great) instruments, you think?
I have no idea why anyone else does what they do… When we started, we weren't influenced by synthesizer music as a genre – we def weren't trying to be a 'synth band.' Our first demo actually had guitar and saxophone, it was bad though, haha. We stuck with synthesizers because it was the 1st thing that worked getting the ideas from our heads out into the world. For people who couldn't really play any instruments, it was the shortest distance between the brain and the hands. Maybe it was the simplicity of only being able to play one note at a time. My first real synth was a Yamaha CS-5… totally underrated! Sill have it.
We randomly knew about a couple cool artists like Snowy Red and Deux, but we seriously didn't even know about 'Minimal Synth/Minimal Wave' as a genre/thing until after we released our first record. I love a lot of that stuff now, but it totally wasn't an influence at the beginning.
Analog means the 80's. How big was the influence on the 80's on your music?
Musically, no more than any other era, maybe less.We are really big fans of 80's fashion photography and graphic design though – fashion ads, Interview Magazine, Helmut Newton…
Hmmm, do you think music was better then?
No.
Most of your releases ended up on tiny labels who have a belief in the DIY-principle. I suppose this important for you?
Although Captured Tracks was pretty small when we first signed with them, they are actually a big label now! Good for them.
Let's ask a question from the devil. If you could sign on, say EMI, would you do it?
On one hand – no, that seems like a total headache. To me, the most important thing is having freedom to do what you want. We play in a band because we want to create cool things, so we want to make decisions that protect that and not compromise it, even if it means we're less popular.
On the other hand - if they bought us a vintage gold Mercedes 560SL and promised to let us take three years to record… sure! Or maybe a Ferrari. That would never happen though.
You soon will be in Belgium. Were you here before?
No, but we're psyched! J
Didier BECU
03/01/2014
---