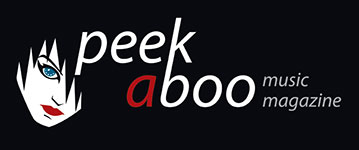 like this interview
---
FADERHEAD
Swinging both ways: between Robbie Williams and the underground clubland!
02/01/2014, Filip VAN MUYLEM
photos: © Marquis(pi)X
---
Because Faderhead is coming to Belgium and as he also has new upcoming cd it was time to get our first interview with them. I must say that this band swings both ways: between Robbie Williams and the underground clubland! They are Stars, for sure!
My classic starter: from where does your name come? Didn't you want to choose a name for yourself?
I got that name from an American friend who saw me mix a song and watched me moving the faders on a big mixing console. So he said "Man, you're a real Faderhead!" – and everyone in the room thought the name was fitting and started calling me that. Why look for a different name if such a catchy one comes up out of nowhere?
Strange thing on the Facebook account and on your website is that you didn't write down who's in the band, so can you tell us? What do you all do besides Faderhead (real life & other bands)?
Faderhead is not a band. I am Faderhead. Just like Moby is Moby or Madonna is Madonna. I write and produce all the music and then hire my friends for live shows. Depending on how big the show is we'll have 1 to 5 other people on stage.
Sounds a bit like Robbie Williams, is that a good referral for the vocals?
Well, I do like older Robbie Williams songs a lot and I think he's a good singer, but I really don't hear much similarity to my own voice. I've also never been compared to him before - but everyone is different in what they hear in music.
How come there are only 2 songs off you on Spotify? 'This is my Rifle' & 'Free'
I have stopped worrying about piracy in the past 3-4 years after recognizing that it's inevitable and experiencing that 90% of the pirates wouldn't have bought the record if it wasn't available for free.
I have put every Faderhead song up on my website in a player so that anyone who's interested in checking out my tracks can do that easily on the right side of this page – and without having to go through any hoops (Piratebay) and difficulties (country restrictions on YouTube). They are also ALL available on YouTube. Sorted neatly into playlists by album.
I have, however, not given in to the "music should be free"-mentality, which is why I have removed my tracks from the streaming service Spotify. I actually did that a while before labels started doing it too, because I did not agree with the fact that Spotify is making money off of subscribers and advertisers and does not pay adequate royalties to the artists. One stream generates US$ 0,005 for me … yea, that's 1/5th of a cent!
How easy is it to figure on compilations and do they really give you a bigger audience? What are the best compilations according to you to figure on?
I have absolutely no idea. It's pretty easy to get on them cause they approach me. Since I don't have any sales numbers for those compilations, I can't say what the best compilations are.
So far you have 5 massive worldwide club hits with "Dirtygrrrls/Dirtybois", "TZDV", "Destroy Improve Rebuild", "Fistful Of Fuck You" and "Dancers", so more to come? How hard is it to improve and come up with new stuff?
I hope there's more to come (laughs). Whenever I'm about to finish an album, I sit there and hate all my music. I also can't come up with anything good or new. And then, usually between the time the album is at the pressing plant and the official release date, I get a lot of inspiration and start writing 2-3 new songs very quickly. It's really natural and while some people say that "Dirtygrrrls/Dirtybois" is my best track, more people will say that they hate it and prefer "TZDV". Others again say that "TZDV" is overplayed and "Dancers" is a breath of fresh air, etc. etc. I don't think it's hard to improve or hard to come up with new stuff, but it's IMPOSSIBLE to please everyone... which is why I simply write whatever I like.
Who are Shawn Mierez & Shaolyn?
They are both friends of mine. Shaolyn is an American from California who now lives in Germany and Shawn is from Trinidad and one of the most famous Techno MCs of all time. Among other tracks he can be heard on on the original version of "I Like It Loud" which is probably one of the 10 biggest dance tracks ever made.
A great song on FH4 is 'bitches all know about my boom'. Somehow it really feels like Robbie Williams going crazy. Can you tell us more about the creative part of the song?
Well, basically this song starts the album FH4 and I introduce myself to the listeners by telling them about myself. I basically explain how great I am and that everybody knows that - even though they might not want to admit it. Hahaha!
Who decided to make the song 'Drunk German Bono' and why call it like this? What is it referring to? I love the song that is a fact.
That song started out on Brian Graupner's/The Gothsicles Facebook page. A few guys started an online rap-battle in the comments of a post and a lot of the things were hilarious. So I just commented with my approval and Brian (who is a big Faderhead fan and really knows all my tracks very well) started writing this battle rap where he attacks me (which is of course the point of a rap battle). Now, I suck at rapping, but I absolutely LOVED what he wrote because it was so funny and clever and I emailed Brian and asked him to write 3 verses, so we can make a song out of it. I immediately wrote the music and sent it to him and the song came together very quickly.
The song is the opposite of "Bitches All Know About My Boom". In "Drunk German Bono" I basically diss myself on my own album (or have Brian do it for me). Mainly to go full circle from the first song to the last and give all the people who dislike me some more interesting things to say. The stuff they usually say is so lame and boring that it was time for something more interesting. Of course that had to come from a Faderhead record (laughs).
I read that M. Visconti from XP8 loves the new single, as he played it in a club, any comment on that?
I love the upcoming single too! Watch out for it in your club from mid-January!
Atoms & emptiness will be the new cd, coming out in February. Can you explain us the title?
I could, but then I'd have to kill you (laughs).
Will there be more collaborations on the album as on the previous one? So far I read that none less but Daniel Myer joins forces, what will be his duty/contribution?
There are no artist features on Atoms & Emptiness. Daniel Myer came by and played a few synth ideas that I recorded. I used 2 of those in the song "Every Hour Kills". So he'll get credit for that, but he didn't sing on it or write lyrics, etc.... other than that I wrote everything on the album with exception of Jörg Lütkemeier and Marco Visconti who did additional production on two songs.
Any known names for remixes?
No, I don't like remixes, so I won't have any made.
You will play in Belgium to promote the new cd, you'll be on stage together with Aesthetic Perfection and Terrolokaust. I know you know them well enough, so any chance you do something together on stage?Probably not. Antwerp will be the first show of the tour, so we'll have to sort some things out first. These kinds of things start happening towards the end of the tour. But who knows?
What do you think of the latest DWA 100 remixes compilation (both bands figure on it)?
I've never heard of it. And I'm not aware that I am on any remix compilation.
Do you have any special connection with Antwerp or Belgium in general?
No.
Will it be a bloody Valentine or are you real Valentine lovers and will it be flowers and chocolates from Belgium for the girls?
Neither. Valentine's Day is for retards. If you need one special day to show your love to someone or if you expect someone to show you their love because the flower/gift-industry decided they needed to invent a day to make money - then you have more problems than I can mention here...
"Atoms & Emptiness" is my best album so far. It comes out on February 7, 2014 - so check it out!
here's my album review:
http://www.peek-a-boo-magazine.be/en/reviews/faderhead-atoms-emptiness/
a great anthem:
https://soundcloud.com/faderheadofficial/you-cant-resist
Filip VAN MUYLEM
02/01/2014
---