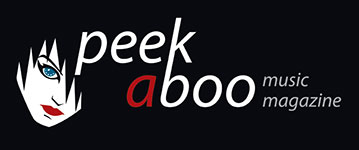 like this interview
---
NO SLEEP BY THE MACHINE
There is currently a very exciting scene to be in, it is all but dead.
21/11/2013, Chris KONINGS
photos: © First 3 Marquis(pi)X, Bim Fest pic off stage by & with Filip Van Muylem
---
TB and S. Nutzoid met in 2004 in Stockholm and for the next four years they experimented with music. In 2009, TB left this musical cooperation, but the two guys reunited in early 2010 for a gig with Sturm Café. This turned out to be the real starting point for the band. After compiling their early tracks on their debut album, they have since focused on the EP. Now there's a new album on the way and you can see what the fuzz is about @ BIMFEST!
Hi guys! Mmm nice name, what does it mean?
Thank you! It is a rather strange name, right? However, it has several meanings. The most important thing is that we as people need to be fully awake so that we can stand up for what is truly important in life and not fall into line behind the big inhumane societal machine. It is far too easy.

Your new album is a compilation. Are all the songs taken from your selfreleased singles like 'Candle' and 'I am' etcetera?
It is a compilation of almost all the songs we play live this year. There have been so many who have come forward and wanted to buy records when we played and they wonder which are on the disc and about the songs. So we made it easy for us! Some of the songs have got some new life and 'Silent Killing' is a live version. As well as a song from the new album, SPLICE released on November 23. It became a full-length album, even if it was not meant that way.

What is this song about: 'Conspiracy A Machines Old Testament'. It sound like a typical Dystopian story.
The song begins as a journey through a Mad Max landscape, which actually already exists in the great social machine. It is about fighting back, fighting for what matters most while on the end verifies a societal attitude that unfortunately is all too common today. So, yes it is clearly dystopic.

Where do you get most of your inspiration? Movies? Books? Everyday life?
Mainly everyday life but also what is happening to our environment, climate change, how we allow ourselves supervised by those who should serve us so. While I see good things happen and how people rise from a necessity. I hope change comes now and it will big and hard.

Why your choice for the EP as your main output? A more continuous way of reaching your fans?
Although the new album is a full album so we worked in the beginning by the Ep-concept. It gives, me, anyway, a lot more freedom to explore, to pull out the boundaries in moments when we create. I do not have to think about which songs should fit on an album or not, which is thoughts that for me personally it is far too easy to get caught up in. We'll see how it goes in the future.

Do you have a big following? In Sweden or also foreign success?
I do not know. We are extremely pleased and grateful for all those who listen to us and come to our shows. It really means everything to us. I feel that we are quite unknown in Sweden, even within the scene, and we have had a greater impact in parts of Europe. There is currently a very exciting scene to be in, it is all but dead.

Anyway, what's happening in Sweden? EBM is booming it seems, there are so many bands like Sturm Café, Autodafeh, Container 90, Guilt Trip...
Yes there are so many great bands that make great music here in Sweden. While in recent years there has been more and more event organizers around the country. As said, it's very exciting and inspiring right now. I hope that there will be more new bands with new ideas and that all enthusiasts can keep this up for a while.

I also love Sofia Nilsson's artwork on the Murti Records EP's. Since she's also a vocalist, any chance of a musical cooperation?
Her paintings are amazing but she does not listen to our music. So I'm extra thankful that she gave us permission to use images of her art the way we did. I do not think it's possible with a collaboration in music.

Were you surprised when you saw how she translated your music into those visuals?
Her paintings were already finished before the music, I thought they fit the music, and she was kind enough to give us permission to use photos of her paintings.

Thanks for the interview and I hope you have a great time in Belgium!
Thank you. BIMfest is going to be great, no doubt with that line-up!
No Sleep By The Machine will play BIMFEST 2013 on Friday December 20th with Arbeid Adelt, The Klinik & many more.
More info about BIMFEST here!
Chris KONINGS
21/11/2013
---