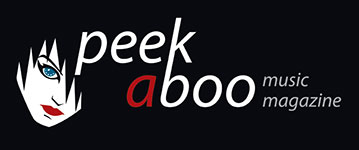 like this interview
---
PHOSPHOR
Our name reflects the kind of darkness that we make, but also the light that we bring to people's lives...
24/10/2013, Philippe BLACKMARQUIS
---
Since Linea Aspera called it quits, PHOSPHOR has become the spearhead of UK synth-wave with a dark edge (together with The KVB). This trio composed of Nathalia Bruno, Jake Ambridge (the brother of Ryan Ambridge, ex-Linea Aspera) and Hélène de Thoury, has released a widely acclaimed debut album, "Youth & Immortality". We met the band in Köln, at the Tsunami Club, where they were performing at the opening of the Temptation Club. You can read the interview or watch the full video on YouTube (part 1 and part 2).
Editor's Note: Since the interview, it was announced that "PHOSPHOR are no longer". "It was short and very, very sweet. Thank you to all those who supported us. Many lessons learnt and now it is a time for change."


My first question will be: How did you form the band?
Nathalia: We started off as me and Jake. We were a shoegaze two-piece and then we started adding synths and thought about playing our songs live, so we realized we needed someone else. We found Hélène's ad and she mentioned all the bands that we loved, so we thought: she's perfect for us. She took a while to reply, so we thought Oh God she's not interested (laughs). But then she replied, we met her, we practiced and now we've grown as the three of us now. I can't imagine PHOSPHOR without her.

And how did you choose the name?
Jake: It came from being kind of shoegaze at the start. It had to do with light in the dark. The music we were doing was quite dark. But we never saw ourselves as gothic or anything. We wanted to keep it quite open, so that we could change the sound a little bit.
N.: It's a good name to reflect the kind of darkness that we make, but also the light that we bring to people's lives, I guess? (laughs)

A light in the dark..
N.: Our sound is very melancholic but we don't want to be classed as gothic or just 'dark'. We like to have a little bit of light in songs, fun songs as well.

Your music is a mix of a lot of different things...
N.: We don't set on making a certain sound, it's just whatever comes to us, it depends on the mood.

What was your first release?
J.: It was an EP called "Geometric Motion": it had 4 songs with a drony, kind of guitar shoegaze music.
N.: It had "Deadly Blow" on it, which a lot of people like. We are working on it for our new album...

It will be a completely new version, right?
N.: Yeah. We want to rework it to our current sound. We played it tonight and I think people liked it.

You played 5 new songs, I think... "Linear Attraction", of course, which will be the title of the next album?
N.: No, we haven't come up with a title yet.

But it's the working title for the moment?
J.: Yes, for now...
N.: There was also "Perfect Disguise", "Off"..
H.: "Rouge"...
N.: and "Keuka Dream"...
J.: and "Deadly Blow", which is a new/old song...

Can you tell me a few words about your background? Jake, did you play in other bands before?
J.: Yeah, more kind of guitar-based, indie-rock, psychedelia bands. Basically the kind of music we started off with. Now it has evolved. I just like using different instruments, to explore sounds. I'm not tied to one instrument.

And your brother is a famous person as well... From the famous Ambridge family... (laughs)
J.: From a very small town, not known, called Newbury, 60 miles from London. It's weird that we both play similar gigs in a similar scene but it's good!

Do you see a link between the kind of music that you both play?
F.: In a way... We like different music: I like more guitar based music and he likes more electronic, techno and noise. We join in the middle because we both like synth music. He does like guitar music as well. I guess when we grew up we were taught to be open; the house was always full of music and it grew from that.

Nathalia?
N.: I hadn't been in any other bands before I met Jake. But my father is an amazing guitar player. So I've always had it in my blood, seeing him play guitar and having been surrounded by music. I always wanted to do music and hadn't met anybody to share it with. Then I met Jake and he taught me guitar and my creativity sort of sparked...

You are of Italian origin, I think?
N.: Yes.

Have you always lived in London?
N.: No, I've always lived outside of London. It's been only 2 years since I've lived to London.

And you, Hélène, en français?
H.: En français? (laughs) Well, before moving to London, I was in a band in Paris. It was more like industrial metal and I was the singer. So, this is the first band where I play the synths.

It was via an ad that you met?
H.: Yes, I had just moved to London and I wanted to do music. But I wanted something with a lot of synths and electronic, so I found the perfect band...
J.: When you joined we were not electronic, though...
H.: That's why I didn't answer immediately. It was not exactly what I wanted but it was very interesting...
J.: As soon as she joined, we all started playing synths, and we took less guitar.
N.: It was also because of the problem of recording the guitar. So we stayed away from writing so much music with the guitar. We were a bedroom band, recording in a bedroom. So it was disheartening having this great guitar live and not being able to record it well. So we didn't do it on purpose but we sort of went more the electronic way. But now we're going back to guitar because our production skills are getting better...

So, I guess that the next album will be more guitar oriented?
J.: Now it's more 50/50 guitars and synths.
N.: There's a lot more guitars but it's not guitar oriented. It's a nice mixture of synth-pop and guitary, shoegazy songs.
H.: It's the music that we like.
N.: We've worked on songs that reflect all of us.

And talking about style, what are your biggest influences?
J.: I think people like Slowdive, which we all like, bands like Interpol. Portishead, especially the way they use different instruments because we also like to swap around a bit when we're writing songs.
N.: Depeche Mode,...

Cocteau Twins?
N.: Of course! Siouxsie & the Banshees, Haterock (HTRK, ed.)... After seeing them like, we were like: wow! There are a lot of bands that influence us and then it kinda mixes into what we want... Even movies influence me.
H.: But I think we're not thinking about it...

It's unconsciously...
N.: For me, I try not to listen to anything when I'm recording, so that it doesn't influence me. I try to focus on what comes from within. So, I try not to listen to anything for a month...

What about the topics. Who writes the lyrics?
N.: I write the lyrics.

There's topics like the city, modern life...
N.: Yeah... I wrote about that when we first moved to London and I felt very lonely in a big city, so that's where it came from. Hélène can reflect on that as well.

A little bit of fetish as well in the lyrics?
N.: You're talking about "Skull"? No, it's about domestic violence. In "Rotary", there's indeed a bit of fetish.

What about the next album? It's gonna be released by Mannequin Records? When?
N.: Yes, by Mannequin Records, some time early 2014.

But it's ready?
N.: Yes but we're perfecting it. We want to make it our best record.
J.: We still have some of the vocals to do and since we're putting more emphasis on the guitar, we want to do that justice.
H.: And we're working on a good artwork as well...

We've already heard the new song "Linear Attraction" on the mixtape of Mannequin for Secret Thirteen. A very good song...
N.: Thank you.
How was the response to your album "Youth & Immortality"?
N.: We sold out the first release, so we're happy about that. The second one is pretty much sold out as well.
J.: I was very pleased that we did it in our bedroom. It didn't cost us anything. We didn't know what we were doing but I'm proud that we managed to do it and that we got to play gigs all over Europe. We didn't expect that!
H.: The album was recorded one year ago and it's just amazing to see what we did since...
N.: When I listen back to it, I feel I'm really young in it, although it was only last year. I feel like we've evolved into something much better now. It just seems like a long time ago.
This album is definitely in my top 3 list of the year! I think you are one of the best bands in the synth-pop scene right now.
N.: Wow! That's crazy for us to hear that.
What is important for me is the emotions and the quality of melodies. It's the most difficult thing to have in a band these days is good melodies. So, how do you compose the songs? In the next album, the three of you contribute to the compositions, I think?
N.: Yes, Hélène composed two songs and between Jake and me, it's quite even.
J.: The first album was me and Nathalia half and half. It's nice because we all write in slightly different styles and I think that comes across. And it's good to mix them all together.
How would you describe the differences?
J.: I think Hélène makes more poppy dance...
H.: Yes, I like new-wave drums and synths, more poppy...
Eighties new-wave?
H.: Yes...
N.: And I write more a lot with a depressing point of view...
You are more the gothic element of the band, with dark emotions...
N.: Yes, but I also love to write songs on the guitar...
J.: That's where we meet, 'coz I write more psychedelia stuff..
Jake is the shoegaze element...
N.: But I love shoegaze so much as well, so I'm like in between...
You're making the link between the three of you...
N.: Yes. But I love to write on my own. We never really work on songs as a band...
You're not jamming in a studio...
N.: No, for me it's a very private thing. When I'm recording vocals, I need to be alone. I don't like people to listen to my lyrics, it's a very private thing...
And what about Belgium?
N.: We loved Belgium. The show in June was I think our favorite show.
H.: It was the first time we were playing outside England. Everyone was so amazing.
J.: And each gig that we played since then has been great. Everyone is looking after us, showing us around the cities. It was a nice change to play gigs, like a long holiday...
And you're paid to do that, can you imagine! (laughs)
J.: Yeah!! (laughs)
And what do you think about the 'scene' now you're traveling all around Europe. How do you see it?
N.: It's a much bigger scene than in London. It's depressing to go back to London and not be able to go to shows like these.
Do you think London is too much focussed on hype?
J.: I think so, yes. There are good gigs but it seems that people make more of an effort to come to gigs in Europe. Things are open later as well...
That's a big difference..
N.: There's a big difference in attitude with European people: they genuinely love music while in London it's more about fashion. So, it's quite disheartening to play in London!
Thank you very much! It was a great show. A lot of luck for the next album!
PHOSPHOR on Facebook, Soundcloud and Bandcamp. (links)
Philippe BLACKMARQUIS
24/10/2013
---