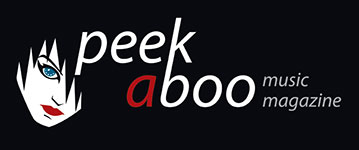 like this interview
---
FLESH & FELL
The period of the New Wave as it was is gone. We are now the year 2013 and that's how I want to sound!
15/11/2013, Filip VAN MUYLEM
photos: © Filip Van Muylem (first 2) and Marquis(pi)X (stagepics)
---
I reviewed the new nameless album from Flesh & Fell and after a while we decided to meet in Brussels at the Archiduc, a place where Pierre Goudesone did a try out a while ago. It's a nice place to meet each other...
My classic starter when I interview a band for the first time: from where does the name come?
Pierre Goudesone: Shakespeare! It's in one of his plays. Back then we really loved it. Nice wordplay too.
When we met you started telling that you are from Oostende, what are you doing in Brussels?
Back in the time when we started working on Flesh & Fell, a lot of creative people I knew went to Brussels. So basically I wanted that too. I wanted to make music and in Oostende you didn't have much opportunities. Ok, there were like 2 café's, but then you end up drinking bear and discussing things without acting. Drinking, commenting others and doing nothing, that wasn't my thing. I wanted to act and create and there was no point in staying in Oostende. I wanted to work and live in a multi-cultural city. It's true that (in Oostende) thanks to Arno I met Jean-Marie Aerts. He lived in a little farm close to Leuven, in the middle of nowhere, he invited us over there to discuss the recording process and to know us better as a person and finally with the first maxi "Hunger" under the arm we got a deal on Play it again Sam records.
I love Brussels, but I also love Ostende and especially the sea.
How did you get the final decision to stop with the band back then?
Well Catherine had a nodule on the vocal cords. Each time she had to force her voice on stage and after a while it became too hard. So first she had to rest a few days and after that she could sing again. But the time she needed to recover became each time longer. After a while her doctor told her that an operation might help, but the risk was that it could change her way of singing. She didn't want to take the risk. So we decided to take a break and let her recover. In the meanwhile I worked on some demos with the help of Jean-Marie Aerts. We took our time, but after more than 2 years of waiting everybody was fed up about this long period of inactivity we didn't have a band anymore as everybody wanted to move along and focus on other things, so that's how we actually split up. You know within this short period of 3 years when we came to Brussels we did a lot of things: recorded, did a lot of gigs. EMI contracted us for the second maxi … We went to the Netherlands to perform and so much more … And then it was the end of the story.
It must have been really hard to take the decision?
Well, we were very young and at that time we didn't realize the impact. And ok, after that I did a lot of other things: like building my own studio and all the recordings and productions I did in it some things worked well and some others didn't. Flesh & Fell was my introduction into the music business and for releasing records. For me that was it. What is done is done.
Since the 80's a lot of things changed and then you restarted in 2011, how do you see it? It's a big gap between the split and the restart.
Well you know Flesh & Fell has been on a lot of compilations . That was basically the restart. I was asked for remixes via EMI. I contacted Catherine again, but she had another illness at that time. By now she's fine, just to reassure the fans. So, ok, we met again and started talking about reworking together. The sad thing is that EMI was undergoing some changes too and at some point I heard that the guy from EMI who asked me for the remixes got sacked. So for as far as EMI was concerned nothing happened. A few years later I was playing with my other project Goudi, one of my musicians – a young guy – asked me: 'you are the guy from Flesh & Fell?' I said: 'Yes, indeed.' And he replied on that: 'You should check the internet there is a lot posting about your previous band and it seems to be very popular.' I'm not really into this kind of things, so I would have missed it all, so when I did it I was really surprised in the best way. After that I contacted a few promoters and asked how they see a possible return. They were very enthusiastic about it. I got booked for Trix, De Vooruit … It went suddenly very fast and we received a lot of propositions. But the BIM festival and the Rewind Festival really wanted something exclusive so I accepted it. It went really fine. I was lucky to find a new singer too. We really did our reboot after all this positive things going on and it gave us a new flow.
How did you find your new singer?
I knew Laurence from before, from another project she was recording in my studio. I knew she had a great voice, but still replacing Catherine wasn't easy. Catherine has a great presence and voice, … I didn't want to work with a young girl too as I didn't see myself on stage with a 24 year old.
I don't think that would have matched either?
Right. I even didn't want to try that out.
At some point I used Jo Lemaire (in her Flouze period) in my review when talking about Laurence's voice …
For the French song?
In general.
Really? Well with the French song 'Abracadabra E-rotica'?
Well, that one sounded more like Vive La Fête, but the question here was more: who is the first to sound like that?
A lot of people hear Gainsbourg in it.
Well, without the duality with Jane Birkin it would be more the other way ('Je t'aime, moi non plus')?
Well, you know: we went to the studio and I just asked her to have fun in this song. I asked her if she could express her in a different way, try something else out and still be herself. She was really happy with it and you know her mother tongue is French. It worked out pretty sexy. I loved it from the start, for sure with her French tongue and then the English vibe. She was really happy that I asked her to do something in French. The arrangement was also a bit different from the other songs.
Well, that's one of the nice things about your album: it's not like you get all the time the same kind of songs with the same kind of arrangement. It really worked out fine that you tried some different angles.
Well, you know: a lot of people know us from the start and I didn't want to go back and do exactly the same thing as when we stopped. I have my roots, but this is now and that's how I wanted it and worked out the album.
That was my perception too: your roots anno 2013 or should I say anno 2011.
That's how I wanted it to be. I know it's possible that some people are not happy with it as they are expecting me to do the same thing as in the 80's, but that's not how I wanted it to be. The period of the New Wave as it was is gone. We are now the year 2013 and that's how I want my music to sound like! There are a lot of young bands who are trying to sound like back then. It's wonderful, but still they don't sound like back then. If you listen to the radio or look around in the media, there is no real New Wave sound anymore.
Well, you have this Belgium band called S-X, they sound really like in the 80's, no?
True, it's very electronic and it has been pushed a lot by Studio Brussel. In fact, I'm happy that Studio Brussel didn't push us and doesn't play our music anymore. I would be offended if they did (laughs). They have a lot of power to make or break a band. On the other hand: If you listen a lot to the radio today there is a lot of crap on it. I listen now to Radio Campus and they have most of the time much better music than Studio Brussel. Sometimes they also play shit, but most of the time I hear a lot of great music on Radio Campus that you don't hear on Studio Brussel or on any other radio station! In the early years we were aired on Studio Brussel and got into Humo's top 20. It just happened! We played on television, I can't imagine that today. Today you have all this singers contests and talent hunting … The Voice, X-factor … It's terrible.
Any news about the fuzz around 'The Wind' versus 'Bliss' from Muse? For the readers who don't know about it: compare both intro's …
No, no news at all. I have sent a mail to my publisher and so far no news about it. But, ok it's a big company, so who knows? Maybe we are even in the same company? But it's for the real: the intros are really similar to each other and I was the first …
It might be that Muse will have to do the same as what happened to Coldplay: give in and tell the truth, but ok: there were more media who picked up the complaint … But it would be great if Muse simply tells they know about it and honor you …
Who knows? The intro is really copy and paste. I wasn't aware about that until you told me so and I checked it out and can confirm it. I'm really curious about what will happen.
Maybe Muse is just a big fan of your work. So, how was it to rework 3 old songs?
Well, we started with it when we were preparing for the first show in 2011. I didn't play the songs for at least 15 years and I had to listen to them again. When we started to play and rehearse I started re-useing what was on my hard disk(head) but we started working out a new version and it came out pretty fast, almost as a natural thing. The click came almost immediately. The new voice just fitted in as if it was written, produced and arranged for it. The new versions are really great; they can stand next to the old versions.
A question about the lyrics: to whom are you referring to in the song called 'suicide Hero'?
Well, it's about a suicide bomber. I know an actress from Brussels. I don't know if you know her, but she's called Lubna Azabal. She plays in independent movies. There is a certain movie called 'Paradise now', about two young guys in Palestina who are friends and decide to go to Israel as suicide bombers. They see themselves as suicide heroes: they prepare themselves to die for their cause and there is certain shop in which you can buy videos in which other suicide heroes recorded their last words and talk about their mission. It's a special story and that's how I came up with the lyrics.
What about your cover 'Emma' - can I call it a cult classic?
You can, but won't say it for myself. I know other people are saying the same thing about it. This song has been released a lot of times and in a lot of versions. When I first listened to it I didn't want to record it as already so many people did it before. But in the end I was thinking about making the ultimate version for myself. When the remix vibe started I contacted Catherine again for this one and finally I decided I didn't want to touch it again. For 'The Hunger' it was something else, I was really inspired to do something with it as we played it during concerts and it was so much fun to play it and from one thing it lead to another thing. So we decided to record it again. Sometimes you really feel the urge to work on something and it just happened with this one. It took like one take. You know: I don't work with demos anymore, I just record things and then I see if I can use it or not. That's the cool thing about 2013: I can just record something, stall it somewhere and later on decide whether to use it or not. It's a nice new way of working with music. I just ask my guitar player to play and see what I can use or not, for as long as it's well recorded. The same thing happened with Laurence. She just sang and then I figured out what I could use or not.
How was it to release finally a cd and not at least with the help of Out of Line? Did you contact them or did they contact you?
We have been proposed to them. So we had contact with each other. It took around 6 months before we really got the deal. The big boss liked the album and that helped a lot, but they don't have a lot of music like ours so it wasn't easy for them to go for it. At first I was contacted by a Russian label, they wanted to sign us directly without any doubts. But when we wanted to go for the contract it seemed that they didn't have enough budget. Out of Line has a good distribution and has good contacts. That's what we needed the most, for sure today.
Out of Line signed in the past a lot of good Belgium bands like Suicide Commando and Implant, so it's really a good company and I know they realized a lot of good things in the past.
It's indeed a good company. It's also one of the last standing independent companies. I think I'm really better off with Out of Line from Germany than with any other company. They really work on it. Maybe we could have joined other companies from Belgium like PIAS and the ones where we had good contacts with in the 80's, but they work in another dimension as Out of Line.
So, could it be that you will play at the WGT in Leipzig, next year? I know that a company like Out of Line helps a lot with this kind of big gigs in Germany.
Maybe. Right now I can't deny that we are working on it. The booker is working on a tour in East-Europe and we are going to do some shows in Belgium,for the moment I can't give more information. I hope it will be like this. I know that there are a lot of big festivals in Germany where we could fit in, and Out of Line really has a lot of contacts and knows a lot of places where we can play, so fingers crossed. You know, we played in the 90's in ex-Yugoslavia with another project and it was really nice. It's another dimension, but still: I loved it.
In Poland you have the Castle Festival which has a really good reputation.
Yes I know and I hope for that one too (with a big smile). We work on it.
How was it to work with Xavier Marquis, our professional photographer for the pictures of the album sleeve and promo pictures?
Xavier was surprised I asked him. I saw his pictures of our gigs and loved them so I decided to contact him. So far he wasn't used to work in a studio, but he really did a great job. I know that there is huge difference between a concert photographer and a studio photographer, but he did it with the right touch, and surprised me. He really did a nice job!
Can you say something about the newest video 'The Devil & me'?
It was something very organic. I had a shortlist with people who could have realized it. One had no time; the other one was too expensive, somebody was not really enlightened by the idea … There was one guy, Jeroen of whom I was thinking of. From the moment I got in contact with him he told me he had already a complete video in his head. He felt ready for it from the start and I felt his energy right from the start. 'Just trust me; I got everything in my head'. I trusted him. He found us a place and it was done pretty fast. He knew exactly what to do, where and how. He just knew what to do and it all went fast and smooth. Incredible! It's nice when you have this sparkle: it feels like you can just do everything the way you want it. Sometimes it happens to me too, when I write songs and that's just the best thing that can happen to you. Sometimes you really have to work hard on something and sweat it all out until it's done. So you know: I prefer it the other way. That's why I have tons of files on my PC. When I feel up to it I just pick out something and start working on it. I really need this sparkle when I'm working on something, it just has to be organic.
I recently interviewed Peter Slabbynck and he told me he was looking for one extra guy for his tribute to The Sound and when I dropped your name he sounded very happy about that idea. Would you join the tribute band for a few concerts? If not this one, which tribute band (can be a non-existing one) would you want to join?
I like the band The Sound, for sure! Maybe he can contact me about it? The Sound is a marvelous band and I really love their sound. It's just so sad that Adrian Borland committed suicide. I love his voice and the way his music is. I love the sadness in his music. You can really feel it. For the tribute thing it's important to know what's going to be my role, but it would be nice to be on stage. But I'm not used to play a lot of covers and I never listen to music with the idea I want to learn to play this for myself, it's not my style to play covers and learn the style of another artist. I need to catch the right feeling and the sparkle of the moment and make it my own song. You can catch this feeling everywhere; it can come from a movie or what so ever.
But The sound is the only Tribute band you want to be part of?
Let's see. Don't ask for anything else: it will be a NO.
How do you see the future?
I have a lot of ideas right now and I'm working on a new Goudi album. The funny thing is that I wrote 'Suicide hero' for Goudi, but it didn't reach the last album. At some point I took it out of my pc and started working on it for the new Flesh & Fell album. Laurence caught immediately what I wanted. Again: there was this sparkle. She only had to sing once and it was done, almost like magic! That's the great thing and you know: sometimes it works out fine and sometimes it just not the right moment for it.
I heard the story from Peter Slabbynck too, when he was talking about Frits, the guy with whom he works on his new project …
Well sometimes it even takes years before I decide to work on something. Sometimes it's what a song needs. Sometimes I just need to run into the right person, like I did recently with Laurence!
Thx a lot for your time!
For the fans, here is the video we talked about:
https://www.youtube.com/watch?feature=player_embedded&v=BkLo1Cqumf0
And the new website:
Album trailer:
The review:
http://www.peek-a-boo-magazine.be/en/reviews/flesh-fell-/
Filip VAN MUYLEM
15/11/2013
---