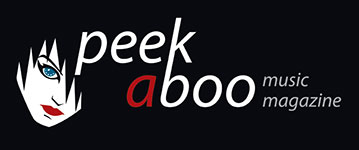 like this interview
---
FLESH & FELL
The 80's revival is more than just some nostalgia.
24/06/2011, Didier BECU
photos: © Bruno Dovifat (last picture)
---
We're sure you have some place left in your agenda, so take a pen and write down 7th October as then there will be a new addition to the Rewind-Fest. Already confirmed are Blancmange and the mighty return of 80's legends, Flesh & Fell. Peek-A-Boo had a chat with founder Pierre.
Who are Flesh And Fell in 2011?
Well, 2/3rd of the original line-up, the lead vocal will be replaced by Laurence Castelein (Catherine Van Houcke turned the Flesh & Fell page definitely over), myself Pierre (bass, programming & vocals), orginal guitarist Kenny Blomme and a extra musician on electronics Fredrik Donche.
You are a band from the mid eighties. What does this time means for you?
The eighties were full of opportunities, we were very young, no experience, no manager, we did find out everything the hard way, but there was something in the air, some kind of solidarity and a lot of good music you could discover. On the other hand,we were on the dole playing our gigs and making a living, something you can't do anymore today... after all for me it was a fun.
It's kind of funny when I interview bands and ask about the 80's, there are those who despise and those who glorify, but I myself think it's been the most fruitful period when it comes to music creativity.
I do agree but I don't glorify it, this period was full "sturm und drang" & invention, the music, the creative people and citizens had more freedom than nowadays. Today everything is formated music, movies, TV, you name it and... they get away with it ! So middle class and unexciting...
I understood that back then you got a lot of help from Luc Van Acker. How did you get in touch?
If I'm not wrong Flesh & Fell's third gig was a support for Luc Van Acker at the coast, we hung out backstage after his show and had a really nice talk and a lot of booze. Later on when we moved to Brussels we became friends and shared the same rehearsal room and appartment, on a day Luc offered to help us out recording our first demo "the hunger" in a real studio (ICP) and with that recording we contacted J-M Aerts who produced later on the first maxi.
I saw that you participated in the Baccara-beker. How did you got involved in that?
This was a bad move...at that time we had a publisher that thought it was a good thing for us to participate, the Brabant team itself was cool with Flesh & Fell.
Walter Verdin and another dude (can't remember) with Johan Verminnen as the "invisible coach", Brabant wanted to do something special for that edition and special it was… once we arrived at the Casino in Middelkerke it was clear to us that we'd arrived at a fucking museum (and this for a whole week !). Our team felt really out of tune with the rest, we were the only R&R act between varieté-acts and felt disapproval and were despised by the other teams, even the press was talking about us like we were undermining the whole event. It was a kind of "idol" avant la lettre, rock wasn't mainstream, like nowadays parents ask their kids if they want to be a lawyer or a rock musician
There are not that many releases from Flesh & Fell. Two if I'm right. The logical question : Why not more?
Yes only 2 Maxi's but 3 of the 4 tracks ended up as New Wave classics and there was a lot more going on, but Catherine suffered with her voice... we were unfortunately, already forced to stop live performing in the summer 1987 for at least one year. At that time we were also working on the album with J-M Aerts (he did the whole pre-production on his 8-track at home), but the gigs were F&F's motor so there was a lot of frustration going on. Later on, in 1989, the band was bleeding and blew up by internal emotional & financial disaster.
I once had my Flesh & Fell-single but kind of lost it. Today your stuff is to be found at E-Bay for crazy prices. What do you think of that?
Uh it better have happened in the 80's. No, you have to know that we've been always outsiders, didn't belong really to one scene, a DIY band and that principle I always kept. Later on with my other projects like with "Goudi" today - playing in a league of my own - we played at the time with Flesh & Fell and a bunch of other Belgian bands "de harde tijden" tour that speaks for itself, no? Luckely at the end it's always the audience who decides and I was surprised to see what was happening, on the internet. It flatters the ego that after all this time Flesh & Fell's music is still alive and people are interested, this means it's still relevant.
What do you think of that whole 80's revival?
I think it's more than nostalgia... myself and a lot of other people I know are fed up with all that blown up fake music scene nowadays, they want to hear inspired music. On the other hand, these are different times today, cards are been shuffled differently, the music landscape has drastically changed, one eyed Jack is king of the land of the blindmen and the so called "decision makers" have other priorities, radio stations who pretend to be progressive are forcing formats to have airplay - fuck them and the promotors not looking further than what's on the radio... it's up to us musicians to take those walls down... once again, not by looking back but moving on. The 80's seems, to me, in a way close to what's happening today in another package, maybe that explains why a lot of new bands are inspired by the sound of the 80's and it's good that the younger audience is also discovering the original bands.
I always wanted to ask. You did a cover from Hot Chocolate's "Emma". Was that because the Sisters Of Mercy covered that?
No, no, we always had covers in the live set from the very beginning like -Dirty Old Man, Pusher-man, Emma, we even played support with the Sisters in The Vooruit, where we both played Emma. The pricks sabotaged our set because of that and especially of not delivering the substances we were supposed to offer them as a support-act.
Later on we recorded Emma, I knew Calvin Hayes (son of Mickey Most owner of RAK records and the label of Hot Chocolate) and gave him a tape, Mickey showed interest in our version and we had a meeting with him in London, but finally it happened with EMI Belgium and the rest is history.
Are there plans for a new recording?
Yes indeed we are writing new songs and recording again, the plan is to have the album ready for release at the end of the year.
You soon will be on at RewindFest in Gent. Tell us what the audience can expect?
We gonna respect the artistic approach from the early days with the flavor of today, a mixed setlist of older & new songs and a lot of desire, keeping the real music alive.
What's your favourite record of all time and why?
That's really a difficult one almost impossible, there's a lot I love and favourite records or bands I don't have so I pick one out who marked me deep "The Idiot" by Iggy Pop for the feel, the rawness, honesty, songwriting & production and the link between all the decades. It's timeless
Who wouldn't you mind being alone with in an elevator for 8 hours and why?
Amy Winehouse no let's go for Charles Bukowski to have a chat and hoping he went to the nightshop, he was a surviver, I read him for the first time at 15 and still he's inspiring me today. You think 8 hours would be enough?
Do you have a special message to our readers?
We're thrilled to be back , see you @ de Vooruit in October
Didier BECU
24/06/2011
---