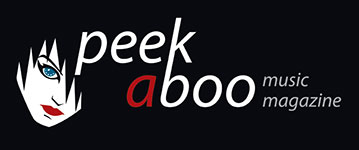 like this interview
---
ULTERIOR
We wont stop until we are the biggest band on the planet or we are dead
20/06/2011, Didier BECU
---
Ulterior are a brand new band from London and true to tradition (like brothers Reid and Gallagher), they're not afraid to open their mouth and claim that they want to be the best band in the world.
This year they will be part of the Shadowplay Festival and who knows, they may turn out to be the new Lennon & McCartney of this century (lol). Peek-A-Boo caught up with them and put them on our already famous couch.
We don't know much about Ulterior over here, so please introduce us.
Ulterior are the thoughts of hate and beauty you have for the world that you hide because everyone will think you are weird. The drug behind the smile, the napalm in your veins, the knife behind your back, the tears that never fall. The clue is in the name right?
Or.......Paul, Mickey, Simmons and Benn.


Your band dig a love for the dark sounds. Do you think you're a dark band?
No
If I may say say so, Ulterior's sound is one that goes back to the 80's, I hear early Cure, Joy Division or The Jesus & Mary Chain in your sound. Are these bands an influence?
What you hear is what you hear, yes we like those bands, we like tons of bands, some from the 80's, some from the 70's, whatever, we fucking rip off everyone, sound like no one.
Ulterior is a band that all of a sudden seems to have worldwide interest from music fans. I know this must make you happy?
It's great that we are gaining so much attention but it's nowhere near enough. We wont stop until we are the biggest band on the planet or we are dead. I wish there was a band around that was worthy of your attention, my attention, but there just isn't. You deserve more. You deserve a band like us, the world deserves a band like us. Give us your lives, we wont let you down.
I really like the British scene but I always thought they viewed music as a "hip product" that will be rejected as soon as the new one gets around the corner.
Good for you.
Have you already played abroad and how are the reactions so far?
We have played 'abroad' more than we've played England and on the whole the reaction has been electric. We accept nothing less.
Does music mean everything to you?
Absofuckinglutely.
You soon will be at Shadowplay festival, what can we expect?
The fuck of your life.
What's your favourite record of all time and why.
I personally would have to say 'The Holy Bible' by The Manic Street Preachers, although if you ask me tomorrow it could be anything from Springsteen's 'The Darkness On The Edge Of Town' to 'Appetite' by Guns, 'The Stone Roses', 'Floodland', 'Psychocandy', 'Extrmntr', 'New Gold Dream', 'Berlin', 'Scary Monsters', 'The Stooges', 'Disintegration' and on and on and on............
Who wouldn't you mind being alone with in an elevator for 8 hours and what would you do then?
Christopher Hitchens. We'd drink and talk. (the elevator's got a bar right?)
A special message for our readers....
Nothing supernatural has ever happened.
Didier BECU
20/06/2011
---
Nederlandstalige versie via Dark Entries Magazine: klik hier
Didier BECU
20/06/2011
---