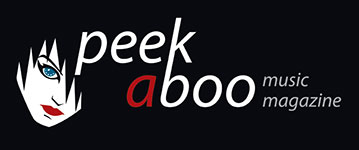 like this interview
---
NEWCLEAR WAVES
ALESSANDRO

from MANNEQUIN RECORDS

Life's a cycle. And music is part of life. At least mine.
08/06/2011, Didier BECU
---
The 11th of June is a special day for minimal synth fans here in Belgium. Not only can you witness Daybed and Violence Conjugale, but also Newclear Waves: the band from Alessandro who also happens to be the man behind Mannequin Records. Of course Peek-A-Boo had a chat with him.
Hello Alessandro, can you please introduce us to Newclear Waves.
My approach with electronic music was very natural and it happened around end of 90's. I started using some synthesizers plus a lot of field recordings. The music was almost dark ambient – experimental and was released under the moniker of Peter M. on Italian underground labels.
Lately, I felt unsatisfied by this approach, so around 2003 I started to increase the studio equipment with brutal analog machines.
Setup was growing day by day and I have actually tons of analog drums and synths! This consequential changing inspired me also to change the name of my moniker from Peter M. to Newclear Waves, the name comes from a 7'' vinyl engraving from an English post-punk band called 2.3, I like this name a lot so I decided to use it, but not the band.
You are in the middle of the minimal synthpop boom. How do you explain that sudden success?
Life's a cycle. And music is part of life. At least mine.
Do you think that Newclear Waves are minimal synth?
I must admit that at the beginning I was deeply inspired by film scores. Soundtracks from thriller-horror-police Italian movies (70s-80s), soundtracks from movies by Lynch, Carpenter and Cronenberg and drug-Italian-movies (L'imperatore di Roma, Amore Tossico, Tunnel-Eroina) were my main inspiration while composing music.
Though, visually talking, other movies were also inspiring me, like the Dadaism, Futurism and Constructivism short movies from 20'-30's or the psychedelic weirdo movies from 60's like the Jodorowsky ones.
Even now, as Newclear Waves, I feel the cinematic inspiration, look for example at the video I did for the track 'God of War' it is a cut-up of a short movie from Dulac.
I do think that is completely fitting with my music and even with the lyrics, its incredible how a movie from 1926 is able to fit with a track composed in 2006, almost one-hundred years later.
Hmmm, do you want to be in 1981 or 2011? The reason I'm asking this is all quite simple: all those bands we adore now were neglected back then!
Time's not a problem. The main reason why I used analog stuff is because I want to use real hardware and have a useful control of what I'm doing; I never liked the midi controllers at all. I really hate them indeed.
And to compose with the computer is very boring indeed, I hate that way as it's oppressing and forcing me to be concentrated on a useless screen. I want to feel completely free while composing.
Minimal synth also indicates DIY. I mean, all those tiny labels keep the spirit of vinyl and true music alive, not?
Minimal synth never really existed in the 80s, at least not in the shape which has nowadays or people give to this music. The paradoxal aspect is that Internet has influenced the diffusion of this dusty music and the subsequential reissues market.
It's obvious to tell now that the various Flexi pop and New Wave Complex compilations were creating an incredible hype around bands that to define "underground" is not even correct…
You're involved with Mannequin Records. Why does someone start a record label when the music industry is in deep crisis!
It was something natural and coming from our hearts, nothing planned or calculated, just the will to share with people the great music we are proposing. When you start to think about numbers, be sure that the label is over.
I guess it makes you 24 hours busy, not?
You could include me in the famous 24 hours party people list.
All those labels also seem to be quite familiar with each other, not?
In a hypothetical MySpace top 5 page – now dead, but that's another story about life's cycles - Minimal Wave, Anna Logue, Wierd Records, Dark Entries and Infrastition would be surely present.
Are you a record collector yourself and are you trying to get them, regarding the fact that the prices are quite ridiculous!
Demand and offer. Market rules, you can do nothing about. I rarely spend more than 20-25 euro for a record and to be honest I was lucky enough to buy almost all I wanted kind of some years ago for few euro, so I'm really not stressed by it anymore! Now I'm more trying to find vinyl to spin on parties than for my collection.
You soon will be playing with your band in Antwerp. What can we expect?
The live set in Antwerp will be very different from the one I did at Moog Club in Barcelona one month ago, which was more electro-wave oriented and with no voice.
This time we will bring a bunch of analog stuff and my voice on. The live-set will see the participation of Oksana Xiu on synthesizers, she's a talented Russian piano player, and you should really check her music out.
What's your favourite record of all time and please state why?
Coil – Music to Play in the Dark vol 1 & 2, cause you can say goodbye to your normal brain as you know it and enter in another state of consciousness.
With whom wouldn't you mind to be alone with in an elevator for 8 hours and what would you do then?
Dunno but I'm sure that I'm not like a statue on your night table, you can put me everywhere and I will always find something to say or to do.
Do you have a special message to our readers?
Say hello, (new) wave goodbye
Didier BECU
08/06/2011
---