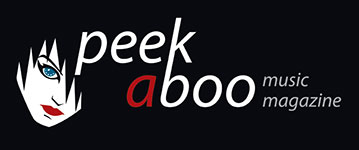 like this interview
---
COMBAT VOICE
The force of Combat Voice is that every track has its own ambience!
08/06/2011, Didier BECU
photos: © Marquis(pi)X
---
We like electronic stuff here at Peek-A-Boo, but you already guessed that. Despite the huge pile of electronic albums, we still miss some albums which can be hailed as true classics. And look (that's what introductions are for!) Combat Voice made one with "The last flow". In the album review, we referred to them as the missing link between Front 242 and The Klinik. The rest can be explained by themselves!
Hello, please tell us who Combat Voice is.
Richard G: Keyboards, composition, backing vocals, mixing, mastering.
Bernard F: Vocals, lyrics, videos.
Of course we also know you from Mono Electronic Density. What's the difference between them and Combat Voice?
Bernard: MED is Electro/EBM oriented and Combat Voice is more Cold/Dark EBM. Different sounds and atmospheres, different styles and different visuals on stage.
Richard: I think MED is very inspired by pure EBM and Combat Voice is more inspired by many styles of electronic music and industrial music like Hocico, The Klinik, Suicide Commando and others.
Never had the idea that combines all forces, I mean Combat Voice and Mono Electronic Density into one band?
Bernard: Never had the idea. But a remix of Mono Electronic Density by Combat Voice or vice versa could be interesting.
Richard: No, for me it's better to stay in its place, in its own style.
I myself described your sound as the missing link between The Klinik and Front 242, what do you think?
Bernard: I take it as a compliment of course. No doubt that these two Belgian bands are parts of our roots, thus it sounds logical that you may find some details reminding you these legends. But I have to add that I hate music cloning or copy/pasting, so it's great if we are a kind of missing link which means that we have our own identity.
Richard: Thank you very much for this comparison! Of course, I have been inspired by these bands because I've listened to a lot of styles of EBM for more than twenty years and these two bands were the firsts I've listened to.
Your debut album "The last flow" sounds like a real EBM-classic. I guess this must make you very proud, not?
Bernard: Oh yes, it does for sure! Definitely with the great reaction of the audience during the album presentation. They all danced and asked for three encores. This is to me the best prove that the Last Flow sounds good or EBM-classic as you said.
Richard: Yes it's true; the force of Combat Voice is that every track has its own ambience! In this album, there is one main theme but each composition is different! It's very interesting to mix several styles with my own borrows and finally meet a kind of global EBM-classic sound.
Hmmm, recently I had to defend myself for liking music like yours. Everybody's taste I know but still such things make me climbing up the walls.
Bernard: Heheh. Recently, I had to face a pure provocation concerning Jean-Marc (MED), Richard and myself. I won't go into details but a guy tried and tried again to make me climb up the walls still he failed. Provocation undercover of criticizes. So, you know tastes and colours are really personal and subjective matters. And to be honest, this provocation made me laugh out loud. Don't defend yourself concerning your tastes, passions or whatever. Just laugh against provocation, that's the best shield! Or simply ignore it, that's the best weapon!
Richard: I do agree with Bernard! No comment about this provocation… There is always somebody trying to hurt you!
I always thought that our country doesn't have that much respect for their EBM-icons. What do you think?
Bernard: I share the same feeling. Belgian electro bands, except some particular cases, always have to prove their quality abroad to meet a potential success in their own country. A very strange fact which happens only in Belgium and I'm still wondering why.
Richard: What a pity for our country! I think that a lot of people don't know well this music style and take EBM-icons like a reflection of bad politic icons.
Maybe you're born in the wrong century, not?
Bernard: Well, I like pretty much my life even if I endured hard times in the past. I would say that I'm born 1O years too late and not only for musical reasons.
Richard: No, I'm glad to have known the 80's years during my youth! My regret is that I didn't meet Bernard earlier.
Having said that, I heard you are quite busy music for a long time. Can you tell us something about that?
Bernard: I created Fuze Box Machine with Manu D in 1988 and left the band in 1993, I played in MAAN in the mid 90's and created MED with Jean-Marc Mélot in 2009. And Combat Voice has been created in 2010. It's always been my passion, I can't live without music!
Richard: I've been composing electronic music for 20 years now. My first solo project started in 1991 with Combat Noise, followed by Simplicity with Miguel B in 1993 and a remix for the EBM band Void Kampf. Combat Voice is the duo that I've been waiting for many years!
Well, as for Bernard. You soon will leave for living abroad a couple of years. How will you combine that with your musical career?
Bernard: I'm going to book my flights back to Belgium regarding both bands Mono Electronic Density and Combat Voice gig proposals. For voice recordings and videos I'll use the internet as I already do it here in Belgium.
What's your favourite record of all time and please state why.
Bernard: I could give you a Top 10 or at least a Top 5 but to reduce my favourite music in one record, that's really hard! I prefer to name a band: Kraftwerk. The grand-fathers of electronic music, genius precursors, fathers of Radio Activity and many other hits. The main influence of so many bands for the last 40 years, a living legend!
Richard: Very hard for me too. Let say that nowadays, I really appreciate bands like Hocico or X-Fusion because I like very much those new aggressive styles and songs.
With whom wouldn't you mind to be alone with in an elevator for 8 hours and what would you do then?
Bernard: With Pinhead to rebuild the world in peace and pleasure...
Richard: With a full analogue synthesizer like Mini Moog Voyager Xl. I would compose during these 8 hours a track which reflects the heavy inside atmosphere of an elevator :)
A special message to our readers could be.
Bernard: I'd like to thank our friends, fans and families for their great support. And in the same way, I'd like to thank Peek-A-Boo for this interview.
Richard: Listen to the Voice!
You mean Ultravox?
Didier BECU
08/06/2011
---