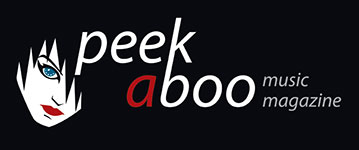 like this interview
---
KRYSTAL SYSTEM
I'm not sure I can even define my music myself
06/06/2011, Didier BECU
---
In our very, very long series of interviews we got the honour to speak with Bonnie and Seven, two French people who are Krystal System. Signed to Alfa Matrix and soon at Kortrijk, and good music lovers know that this stands for: Shadowplay!
Hello, for he most readers Krystal System will be a new name so can you tell us something about yourself?
Bonnie: Here we go (laughs). Krystal System is an electro-metal-punk-whatever-you-name-it band. The lyrics (both in English and French) are as important as the music and are essentially about the conditioning that makes us prisoners of our thoughts. We talk about the fight for waking up and being aware of ourselves, being a warrior to become present in our life.
Seven: Right. And as it can sound like a boring philosophy course, we use the medium of music to talk about all that. The tracks from our 2nd album Nuclear are like stories different from one another but they're all referring to this fight... The music that comes along these lyrics is inevitably combative.
Bonnie: This said we signed with Alfa Matrix label a few months before we released our debut albumunderground in 2009 which had only enthusiastic and positive words from music journalists and public and which entered the Deutsch Alternative Charts for 9 weeks reaching the 4th place.
Voilà.
Merci! I got the impressions that the reactions towards "Nuclear" are rather good. So can I state this album is something like a new area from the band?
Seven: That's right; the 1st reactions are very good.
Bonnie: After our 1st album, we made a pause for a while because we didn't want our new tracks to be a repeat of Underground. But when we started we knew exactly what to do!
It's like walking on a path in a landscape you have chosen. As you go along, the scene changes and what you're looking at is new... But you're still on the same path. In the same way, when we started to write new songs, everything went as evidence.
Some people will say it's sick to call your album "Nuclear" regarding the Japanese catastrophe.
Bonnie: If there's a relation between the disaster in Japan and our album's title, it's not studied as we announced on the Web it would be named Nuclear three months before the catastrophe.
Seven: And on the other hand, the album is all about a nuclear disaster. The track "Iron Song", for instance, tells a story about a city raised to the ground by a nuclear explosion while "Nuclear Winter" can be understood as the quest for the ultimate light. A search for something that atomises and burns all our known references that makes us predictable people. All the artwork (cover, booklet, video clips) is designed like a post-nuclear thing Nuclear power is a subject that kind of fascinating for me.
I must admit that I had problems defining your music. A reason can be of course that you're original but still… Can you try yourselves?
Seven: I think I know what you mean, I'm not sure I can even define it myself. We use every kind of techniques to get the music we have in mind: synths, samples, "real" guitars and bass, electronic and acoustic drums, and we make electro, grunge, metal... Pretty hard to label this.
Once, a DJ told us we were making "rat music" after seeing the rat bike I used to have (it had gasometer instead of fuel tank, oversized wheels, black mat painting, rusty parts etc... It was literary made out of everything I could find in a dump.
I'm not sure it was a compliment in his mouth but it's ok with me, I like that. Rat music :)
Bonnie: All what happened around Underground certainly encouraged us to make the 2nd album like we wanted with no required stuff like "electro" or "metal", "indus" or whatever. We don't really bother about all this. Personally, I prefer stopping music rather than reducing Krystal System to a mould defined by a strict genre of music. I think that what is cool is trying and do something new and feeling free of doing it.
You're from France and even if I love a lot of French bands, I won't say you have a particular French sound, so are you something like outsiders there?
Seven: I couldn't tell you, I don't feel particularly close to the French musical culture.
Bonnie : We were told France and Germany was the country were the album was the most sold, some tracks were programmed on FM radio in France, so I'm not sure we're really seen as "outsiders" in the underground scene in France. But who knows?
It can be the language but it reminded me a bit of Vive La Fete. Am I crazy or can you see sense in that?
Bonnie: I've listened to a few tracks of Vive la fête. What they do is very good but I can see no common thing with us (except they're two, maybe? :))
Label wise you are on Alfa Matrix. This surely must open doors on an international scale, not?
Bonnie: Sure. Thanks to Alfa Matrix for our debut album, we had numerous interviews in the German press (Zillo, Sonic Seducer, Gothic magazine) and also in Italy and France of course. We'll be making a Nuclear Tour through the USA next September with Graphic Equlizer, I guess the fact we're in this label helps a lot...
Soon you'll be performing at the Shadowplay-festival. Tell us what the audience can expect?
Seven: Hard to tell. When we play live we try to be in the present, live what we sing and surprise ourselves so we don't really know what can be expected. Besides, as the visual aspect is important for us, we play with a V-J set up for all our songs.
Bonnie: Also, the live versions of the tracks are different from the studios.
What's your favourite record of all time and please state why?
Joker (laughs)
With whom wouldn't you mind to be alone with in an elevator for 8 hours and what would you do then?
Seven :Mmm... I would mind to be stuck in an elevator for 8 fucking hours! Whoever it would be I wouldn't like, I'm telling you.
Any special message to our readers?
Bonnie: Live in peace and prepare the fight
Seven: Kiss and destroy
FAVOURITE MAN: Jocho Yamamoto
FAVOURITE WOMAN: Ang San Suu Kyi
FAVOURITE MOVIE: Terminator (only the 2), Matrix (only the 1), Fight club (only the... Er, there's only one)
FAVOURITE BOOK: Mickey Parade n° 384 : The revenge of Fantomiald
FAVOURITE COLOUR : Black mat (and Khaki when I'm in my colour day)
FAVOURITE PLACE TO GO: my bed
FAVOURITE CARTOONCHARACTER: Calvin (actually, it's a comic character not a cartoon one. Please Mr Waterson, wake up.)
Didier BECU
06/06/2011
---