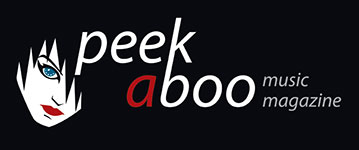 like this interview
---
VIVE LA FÊTE
Everything is coming back one day, so it doesn't surprise me that all of a sudden people seem to be open for the '80s.
02/06/2011, Didier BECU
photos: © Marquis(pi)X
---
If you should ever ask us to come up with our favourite band, we think the answer could be Vive La Fête as they can climb up some mega scenes without forgetting their alternative roots. As they're soon at Shadowplay, Peek-A-Boo is more than happy to talk to Els Pynoo herself.
Everything started out with Kinky Star Records. Back then, would you ever have thought you would be on top of the Belgian music scene?
No, not all. We were just in the mood for making some record. We got the chance, the time and we were in for doing some music at that time, so it happened and for the rest: we would see. We had a very fine time, never lost our sleep from some expectations. It was a fantastic time and it still is.
The Belgian music scene knows a lot of evolutions and even if are times in where the music industry is down, it seems Belgian stuff sells.
I think Belgian bands were always strong and that's due to the fact that they stayed true to themselves. Many of them had a very own style and they weren't that easy influenced by stuff outside Belgium. After all, it's personality that keeps on standing!
Having said that, I always thought Vive La Fête were outsiders.
That's indeed true I think. Even after all those years they still have difficulties with putting us in a certain category and to be honest: we never did anything to change that. We love what we're doing and we're happy with how things are going. I really would be uncomfortable if it was any different. Besides, we like being outsiders!
And you're a Belgian band that can count on lots of success in other countries. Someone told me that you are more popular in France as in Belgium!
Countries from the South seem to like Vive La Fête indeed. But in fact, that'd for all countries where we come a lot. The Brazilians seems to be our greatest fans! People see us there as big stars with everything included.
It's great to play outside Belgium and meeting people we never met before, getting to know new cultures and of course discovering beautiful locations. Last time we were in Bogota and we were facing a hysterical audience. It keeps us amazing and it makes everything worth I think.
You have seen things others don't. I guess with Lagerfeld you were facing some very decadent parties, how did you experienced them?
From time to time we were staring with big wide eyes but the truth is that it's not that difficult to get in such situations. Anyway, we experienced some great adventures and no one can take that away from us and that's something we're thankful for.
It's quite funny as when you started out the eighties were unhip where as now it's cool. Does this have its consequences for Vive La Fête?
Everything is coming back one day, so it doesn't wonder me that out of a sudden people seem to be open for the 80's. For ourselves we don't feel it won't change us because of that.
You always come up with pretty weird covers. "Jesus Christ Superstar" or "Child in time" are of course famous but I can't say they're that electro pop at first sight!
We just love these songs and at home we don't listen that much to electro pop. They are songs that give us a good feeling and we like to do them.
Soon you are at Shadowplay festival, a music event that is for the black scene!
When I was young I had a black period but I guess it's more Danny who was very much into the black scene. We still like new wave a lot. We play a lot at gothic festivals and I always think it's nice to observe everybody.
Which things are you listening to yourselves, any tips?
We don't want to listen to the radio as this makes us just climb up the walls. Don't have any tips, just like so many people we tend to watch old songs on YouTube.
What's your favourite record of all time and why?
The Neon Judgement and The Klinik as they're so good!
With whom wouldn't you mind to be alone with in an elevator for 8 hours and what would you do then?
I wouldn't mind being along with Prince.
Soon at Shadowplay festival. What can we expect?
A party!
Didier BECU
02/06/2011
---
Moest je ons vragen wie onze favoriete Belgische groep is die tegelijkertijd op megapodia staat maar een zeer hoog alternatief gehalte bevat dan zou dat antwoord best wel eens Vive La Fête kunnen zijn. Omdat Els en Danny binnenkort op Shadowplay staan vonden wij het dan ook zeer gepast om een babbel te hebben met (jawel) mevrouw Els Pynoo.
Toen jullie in de Kinkystar begonnen met jullie eerste demo, hadden jullie er toen één moment aan gedacht dat Vive la Fête aan de top zou staan van de Belgische muziekscene?
Nee helemaal niet. We hadden gewoon zin om een plaatje te maken... We hadden de kans, de tijd en de goesting om met muziek bezig te zijn en dan zouden we wel zien. We hebben ons geamuseerd en lagen niet wakker van enige verwachtingen. Het was een fantastische tijd en nog steeds!
Het is een Belgische muziekscene die sterke evoluties gekend heeft. De industrie zit wel op zijn gat, maar Belgisch verkoopt. Hoe kijken jullie daar tegen op?
Ik vind dat Belgische groepen altijd sterk gestaan hebben omdat ze over het algemeen zéér eigenzinnig zijn. Velen hebben een unieke persoonlijke stijl en laten zich niet van de kaart brengen door buitenlandse invloeden. Persoonlijkheid blijft uiteindelijk altijd overeind!
Toch heb ik altijd het gevoel dat Vive la Fête een buitenbeentje is in België. Klopt mijn beeld?
Het klopt zeer zeker naar mijn gevoel... Nog steeds kunnen ze ons niet goed 'plaatsen' en om eerlijk te zijn...we doen er ook niets aan om dat te veranderen. We houden van wat we doen en zijn gelukkig met hoe het loopt. Ik zou me slecht voelen bij teveel 'tralala'. We zijn trouwens graag het buitenbeentje.
En Belgen met buitenlands succes. Iemand zei me dat jullie in Frankrijk nog groter zijn dan hier, klopt dat?
De Zuiderse temperamenten houden enorm van Vive la Fête.. dat klopt, maar dat geldt voor de meeste landen waar we regelmatig komen. De Brazilianen zijn onze grootste fans! Daar worden we ontvangen als grootse sterren met alles erop en eraan. Het is zalig om in het buitenland op te treden om telkens nieuwe mensen te ontmoeten, andere culturen te leren kennen en prachtige locaties te ontdekken natuurlijk. Zo waren we laatst in Bogota en daar kregen we te maken met een hysterisch publiek..Het blijft ons ook verbazen en dat maakt het allemaal meer dan de moeite waart.
Jullie hebben ook veel dingen gezien die andere mensen niet zien. Ik veronderstel doorheen de relatie dat jullie met Lagerfeld hebben gehad dat je genoeg getuige geweest bent van decadente feestjes. Hoe ervaarden jullie dat?
We hebben af en toe onze ogen eens open getrokken maar het feit is dat je het allemaal niet zo ver moet zoeken om in zo'n situaties terecht te komen.
We hebben ontelbare fantastische avonturen meegemaakt die niemand ons nog kan afnemen en dat koesteren we.
Eigenlijk waren jullie ook zeer ver voor op jullie tijd. Ik bedoel toen jullie begonnen waren de eighties vies, nu zijn ze cool. Wat vind je van die trend en hoe ontplooit die trend zich in het succes van Vive la Fête?
Alles komt altijd terug dus ik kijk er niet van op dat mensen nu weer open staan voor de eighties. Zelf ondervinden we geen grote veranderingen naar ons toe.
Hoe kom jij altijd op het vinden van die covers? Ik bedoel "Jesus Christ Superstar" of "Child in time" zijn wel megabekend, maar op het eerste zicht staat dit zeer ver van de electropop die jullie maken.
We houden gewoon van die nummers en thuis luisteren we zelden naar electropop. Het zijn nummers waar we zelf een goed gevoel bij hebben en die we graag brengen.
Jullie staan binnenkort op Shadowplay, een festival dat vooral goths en electrofreaks aantrekt. Hebben jullie zelf een "zwart" verleden muzieksgewijs.
Ik heb zo mijn periode wel gehad in mijn puberteit maar Danny is langer en meer overtuigend "zwart" geweest. Nu zijn we nog steeds grote New Wave fans. We treden regelmatig op , op gothic-festivals en ik vind het fijn om iedereen te observeren.
Naar wat luisteren jullie eigenlijk zelf? Heb je tips voor ons?
We luisteren zelden naar de radio want we ergeren er ons teveel aan. Tips heb ik niet eigenlijk. We kijken zoals velen dikwijls op Youtube naar oude nummers.
Wat is jullie favoriete plaat aller tijden en waarom?
Neon Judgement en The Klinik omdat ze zo goed zijn!
Met wie zou je het niet erg vinden om 8 uur in een lift vast te zitten en wat zou je doen?
Met Prince zou ik het hélemaal niet erg vinden.
Binnenkort op Shadowplayfestival. Wat mogen we verwachten?
Feest!!
Didier BECU
02/06/2011
---