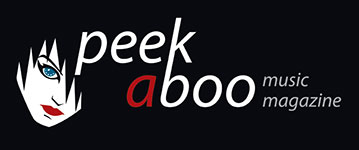 like this interview
---
JOHN FOXX
Thirty years ago there were perhaps six or seven interesting bands or musicians – now there are many more.
31/05/2011, Didier BECU
---
Under the name of John Foxx And The Maths, the founder of the New Romantic-movement has released "Interplay" one of the most stunning albums of this year so far. We never thought we would ever write this but in its own way "Interplay" is right up there with his all time classic "Metamatic". A fine excuse for Peek-A-Boo to talk to this legend.
Hello John, well let me first say to you that for me as a fan it's an honour to do this. So thanks.
My pleasure.
If you agree I want to ask you some questions which are rather "uncommon"...
Fine – let's go.
For me and many other people you are seen as a synth pioneer. How do you see yourself in the history books of music?
I guess I was simply in the right place at the right time. These new instruments came along, so it was fun to devise a new kind of music - by letting them sound like themselves.
If you hear your old records now they were so innovative back then. When you were making them, were you aware that these sounds were totally new?
Oh yes – because we had to rethink every functions of every piece of a song. You didn't have drums or bass or chords anymore. Everything had to be reconsidered. It all ended up sounding so different that not many people liked it – at first.
I'm just 40 so I still played with my matchbox cars (kind of) when you made stuff like "Metamatic" but I always saw John Foxx like a musician who likes to hide himself. I mean you were not like Gary Numan or so who wanted to be on the poster from every published musicmag!
I wish I was able to enjoy that kind of attention – it would have made life a lot easier. Gary is at ease in all that, and I envy him for it.
Many people will also link you with the 80's and of course the New Romance-wave. Apart from the silly dresses (well, they're still quite sexy anyway!), how do you see that now?
I suppose it was derived in part from the Systems of Romance title, because that was really the turning point away from Punk. But it really wasn't quite what I intended. In the end, it became everyone's property and that's a good thing. They had a lot of fun with it, especially after the deliberate miserabalism of punk.
I want to hear the opinion from you, Mr. Foxx.
I tend to say that decades ago even crap music from the charts had a melody that was remembered whereas now everything seems so bland.
What do you think from the current music scene?
I can see what you mean - perhaps there was a more melodic approach to songs a few decades ago. Various sorts of dance music and less melodic forms such as Death Metal and Rap have changed that, so that melody is seen as less cool than it was.
But on the other hand, I think there's much more various and interesting music around now than ever before.
Thirty years ago there were perhaps six or seven interesting bands or musicians – now there are many more.
In fact, what do you think of bands like Hurts, Detachments or Mirrors who are playing with the image that you kind of invented?
I'm pleased they do it. I always felt that ideas are anyone's property. No-one can really own them.
It's great when a new generation picks up on the music -this means it's still relevant. The most difficult part of being an artist is to exit your own generation and survive. If you do that, you have had some kind of success.
And then, there's your new album. It really blew me away and from the very first note it sounded like a classic. Every artist loves his newest stuff most, but this new album really hits it all I think. Inspiration-wise, did you go back to your early stuff?
Thanks – Benge will be pleased. I didn't think of anything other than responding to the sounds Benge was making with his synths. They really led the way.
In some way I also do think it's a rather dark album, John. A product from the time we're living in, I mean after all it aren't the happiest of all times.
Complicated - to say the least. The old Chinese curse – may you live in interesting times.
If I see pictures from John Foxx, I always see a man who is crowded by tons of synths. I guess in your home there must be no space left for living?
I keep them all in an apartment away from where I live. It's easier to visit.
Thank you for doing this, sir. Let me please end this with the question I ask to everyone I interview. What's your favourite record of all time and please tell why.
"Smokestacks Lightning" by Howling Wolf. I first heard it when I was around 12 years old and the Chicago Blues was a new thing in England. I'd never heard anything like it - so raw and powerful.
It was recorded quickly and some of the instruments are distorted. But it is so completely alive – a captured electric moment - far, far better and more truly exciting than anything carefully constructed or minutely produced.
This record taught me that perfectionism is dull – real perfection contains lots of beautiful, joyous imperfections.
It should be included in every time-capsule and space launch as a perfect illustration of the fierce pleasure of being human.
Didier BECU
31/05/2011
---