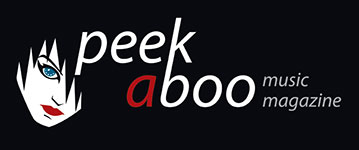 like this interview
---
BLOODY, DEAD AND SEXY
Thank God, that we haven't fulfilled all our dreams. If your dreams ever fulfilled, your dreams are definitely too small.
18/05/2011, Didier BECU
---
Every day, Shadowplay festival is closing in, and that means we have to bomb you with interviews…as after all, we promised! After Hocico and Tying Tiffany, Peek-A-Boo presents Deathrock from Germany: Bloody, Dead And Sexy.
Hello, can you please tell us who Bloody, Dead and Sexy are?
Rosa: The band consists of Bjørn Henningson (drummer), Tim Schande (bassist), Matias 13 (guitar) and me, Rosa Iahn (vocals). We've been around quite a long time.
I always thought the band's name was hilarious, I mean it's creepy and funny at the same time.
How did you come to the idea to name you such?
Rosa: We also feel funny and creepy at the same time. There's so much and so little meaning in it at the same time. The name fits perfectly.
You've been on the go since 1997 and I know that you have faced some hardships, but how would you describe these 14 years?
Rosa: It's been 14 years already? This sounds hard. I think as an artist you should always live in today. And look what happens now to this monster of 14 years: It's blown away by the now. Only some twinkles and scars remain. I really don't think much of the last 14 years. There have been lots of bad things and lots of great things. This is how live goes. But we are still here and we have some feelings to express. And we thank our audience for letting us do what we do.
Do you have the impressions that as a musician you could fulfil all your dreams or is there so many other things left?
Rosa: Thank God, that we haven't fulfilled all our dreams. If your dreams ever fulfilled, your dreams are definitely to small.
Musicwise I think you will agree that your band should be labelled as Deathrock. I really dig the scene but it has become somewhat of a dying breed, I mean this genre has become more and more underground.
Rosa: I agree with every label you want to give to our band. For me labels have no meaning except to keep things simple. But art is never simple and we don't want to see things simpler than they are. But you are right, the so called deathrock-scene gave us a lot and I think we could have given back a lot to it. I'm not sure if this scene has become more underground in the last years or if the gothic-scene has become more mainstream. Maybe both happened.
Is there still a vivid Deathrock scene in Germany or is it also just a bunch of individuals?
Rosa: There is still a scene, lots of dedicated, passionate people who hold the scene alive. But I think it's always difficult against the never saturated monster called capitalism that tries to eat the small scenes.
When you started out as a band, did you have examples in mind? I mean, was it like some sort of dream to do what your heroes were doing?
Rosa: We met each other and started to express ourselves at a very young age. I don't remember, maybe we were 14 or 15 years old. We experimented a lot until Bloody Dead And Sexy was born a few years later. At this time I remember being really depressed. Maybe we were influenced by what we listened to at that time, but I think the core of our music was this feeling of being sick of everything.
Do you think it's a good case to have heroes?
Rosa: I think it's not only good, but necessary to have heroes when you grow up. When I was a kid it was Santa Claus. Now it's maybe someone like Ghandi or Jesus minus any organised religion.
You covered a song by my hero: "Saeta" by Nico. Why?
Rosa: It's because I love this song.
Can you imagine that a person is should be dark as her?
Rosa: Yes, I know lot's of people who have a darkness in their soul. But I hardly know people who know to express their darkness as brilliant in an artistic way, as she did. She was so self-destructive, I'm really sorry that she died so young.
Soon you'll be performing at the Shadowplay-festival. Tell us what the audience can expect?
Rosa: I'm not good in thinking about what others could expect or not. But I can say what I expect. After the release of our last album "An Eye On You" last year, we couldn't go on tour due to personal reasons. This was really hard for us because we love to play live. This has always been the essence of Bloody Dead And Sexy. There are so many new and old songs that want to be played and we simply couldn't do it. We are so fucking hungry to get on stage again. And if you ever saw a Bloody show, you might have the same feeling.
What's your favourite record of all time and why?
Rosa: This is difficult question. I have so many favourite records of all time. They change from day to day, from hour to hour, are forgotten and come back if they please. But ok, here is one: Raw Power by Iggy and the Stooges.
With whom wouldn't you mind to be alone with in an elevator for 8 hours and what would you do then?
Rosa: Funny question. Maybe the question is, who would share an elevator with me for 8 hours. I probably would kill myself, well the "other myself".
Any special message to our readers?
Rosa: Buy records. Download them first and if you like them: buy them. It's not about making underground bands rich but to let them survive. This is so fucking important if you want to have an underground under the mainstream. And thank you for reading this interview up to here.
FAVOURITE MAN : The guy who tells me how to be happy.
FAVOURITE WOMAN : If it's a woman, I'm fine with it, too. Maybe a little bit more.
FAVOURITE MOVIE : This is Spinal Tap, every musician loves it
FAVOURITE BOOK : The Gospel according to Jesus Christ, by Jose Saramago
FAVOURITE COLOUR : Rose Red
FAVOURITE PLACE TO GO : Bed. I love beds.
FAVOURITE CARTOONCHARACTER : Eric Cartman
Didier BECU
18/05/2011
---
In onze grote interviewmarathon die ons uiteindelijk naar Shadowplay zal brengen, presenteert Peek-A-Boo jullie : Bloody, Dead And Sexy.
Kun je ons even vertellen wie Bloody, Dead and Sexy zijn?
Rosa: De band bestaat uit Bjørn Henningson (drummer), Tim Schande (bassist), Matias 13 (gitaar) en ik, Rosa Iahn (zang). Wij gaan al een tijdje mee.
Ik heb altijd de naam van de groep vrij hilarisch gevonden. Ik bedoel het is angstaanjagend maar toch ook zeer grappig. Hoe zijn jullie er op gekomen?
Rosa: Wij zijn ook grappig en angstaanjagend. Het heeft tegelijkertijd zo veel, maar ook zo weinig zin. De naam past perfect bij het plaatje.
Jullie zijn reeds aan zet sinds 1997 en in al die jaren hebben jullie ook moeilijke tijden meegemaakt, maar hoe zou jij nu zelf die veertien jaar omschrijven?
Rosa: Zijn het echt al veertien jaar? Dat klinkt zeer hard. Ik denk dat je als artiest steeds vandaag moet leven. En kijk wat er met dat veertienjarig monster gebeurd is: het is weggeblazen door het heden, op een paar rimpels en littekens na.
Ik heb echt niet veel over de voorbije veertien jaar gedacht. Er waren slechte dingen, maar ook veel goede dingen...zo is het leven!
Maar kijk, we zijn er nog steeds en nog altijd kunnen we onze gevoelens uiten.
En uiteraard bedanken we ons publiek ervoor want zij zijn het die dit mogelijk hebben gemaakt.
Heb je als muzikant het gevoel dat je al je dromen hebt kunnen doen uitkomen, of schiet er nog veel over?
Rosa: Godzijdank schieten er nog wat over. Als je al je dromen hebt kunnen doen uitkomen, is het duidelijk dat je er niet veel hebt gehad.
Je zal er wel met akkoord gaan dat ik jullie het label deathrock opkleef maar dat is eigenlijk meteen een soort die ten dode is opgeschreven want het behoort meer en meer tot de underground.
Rosa: Ik ga akkoord met elk label dat jij op de groep kleeft. Voor mij hebben die labels geen enkel nut behalve dat ze dienen om dingen simpel te houden.
Maar kunst is nooit simpel en we willen zeker de dingen niet eenvoudiger zien dan ze zijn.
Maar je hebt gelijk, de deathrockscene heeft ons veel gegeven en wij hebben het veel terug gegeven.
Ik weet wel niet of de deathrockscene nu meer underground is geworden, misschien is de gothscene gewoon wat meer mainstream geworden. Misschien is het wel alle twee gebeurd.
Bestaat die deathrockscene in Duitsland nog of zijn het gewoon wat individuen?
Rosa: Er is nog een groep van toegewijde en gepassioneerde mensen die deze scene levendig houden.Maar het is steeds moeilijk om op te boksen tegen dat kapitalistisch monster dat de kleinere scenes probeert op te vreten.
Wanneer jullie begonnen, hadden jullie zoiets als voorbeelden? Ik bedoel maar, wilden jullie net als jullie idolen worden?
Rosa: Wij hebben elkaar op vrij jonge leeftijd ontmoet en begonnen ons toen al uit te drukken. Ik weet niet hoe oud we waren, zoiets als 14 of 15 zeker.
Wij experimenteerden vrij veel tot Bloody Dead And Sexy een paar jaar later geboren werd.
Ik herinner dat ik toen vrij depressief was. Mischien waren we wel beïnvloedt naar wat we luisterden, maar toch is de kern van de muziek dat we van alles ziek werden.
Vinden jullie het eigenlijk goed dat iemand helden heeft?
Rosa: Ik denk niet dat het goed is maar dat het zelfs noodzakelijk is dat je helden hebt als je opgroeit. Toen ik klein was had ik het kerstmannetje.
Nu is dat iemand als Jezus of Gandhi maar dan wel zonder die godsdienstige rompslomp.
Jullie hebben een nummer gecoverd van mijn heldin, nl. "Saeta" van Nico.
Rosa: Dat is omdat ik van dat nummer hou.
Kun je je inbeelden dat iemand zo zwartgallig is als zij?
Rosa: Ja, ik ken een heleboel mensen die een donkerte in hun ziel hebben. Ik ken wel maar weinig mensen die net als zij het talent hadden om die donkerte in een artistieke manier om te zetten. Ze was zo zelfdestructief en natuurlijk doodsjammer dat ze zo jong stierf.
Binnenkort staan jullie op het Shadowplayfestival, wat mogen we jullie verwachten?
Rosa: Ik ben niet zo goed in denken wat anderen denken. Vorig jaar toen onze laatste plaat "An Eye On You" uitkwam, konden we omwille van persoonlijke redenen niet op toer gaan. Dat was vrij hard voor ons omdat wij enorm graag live spelen, dat is eigenlijk altijd de essentie geweest van Bloody Dead And Sexy. Er zijn zo veel oude en nieuwe nummers die we wilden spelen en we konden niet. Als je ooit een show van ons gezien hebt, zul je wel weten waarom we terug op een podium willen.
Wat is uw favoriete plaat aller tijden...
Rosa: Dat is een moeilijke vraag, ik heb er zo veel. Het verandert ook van dag tot dag, van uur tot uur....maar goed "Raw Power" van Iggy and the Stooges is er één van.
Met wie zou je het niet erg vinden om 8 uur alleen in een lift met te zitten?
Rosa: Grappige vraag. Misschien is de vraag wel, wie zou het zien zitten om 8 uur met mij in een lift te zitten. Ik zou mij waarschijnlijk om het leven brengen, ofwel mijn andere ik.
Een speciale boodschap voor de lezers zou kunnen zijn...
Rosa: Koop platen. Download ze eerst en vind je ze goed: koop ze dan. Het is niet om undergroundgroepen rijk te maken, maar wel om ze de mogelijkheid te geven te overleven.
Dat is zo belangrijk als je een underground boven de mainstream wil, en natuurlijk bedankt voor dit interview.
Favoriete man : De man die me vertelt gelukkig te zijn.
Favoriete vrouw : Als het een vrouw is die dat doet, geen problem, zelfs beter!
Favoriete film : This is Spinal Tap, iedere muzikant houdt ervan.
Favoriet boek : : The Gospel according to Jesus Christ, van Jose Saramago
Favoriet kleur : Roze rood.
Favoriete plaats om naar toe te gaan : Een bed, ik hou van bedden.
Favoriet cartoonfiguur : Eric Cartman
Didier BECU
18/05/2011
---