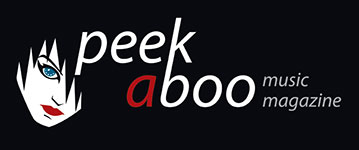 like this interview
---
SOPHYA
The funny thing is that most of the bands from that period from Israel reside in Belgium & The Netherlands
26/04/2011, Didier BECU
---
Sophya is a band from Israel that has a strange relationship with Holland. In the beginning they were picked up by Ronny Moorings from Clan Of Xymox and later they could count on the powerful shoulders from Dick Polak, the founding member from Mecano.
And it seems they also have a strong connection with Dutch venues as some months after they supported Chameleons Vox in Rotterdam, they are now support from Spectra*Paris at Vlissingen. Since we like good music here at peek-a-boo we had a chat with the band.
Hello, perhaps you can start telling by who Sophya are.
Sophya are currently Sonja Rozenblum & Idan Karutchi who are the founding members of the band, together with Mario Usai (The Haze) on bass in studio tracks.
Recently we added new members that are currently on the live band.
Since Mario moved to Berlin and cannot tour with us, we have Avichai Kadosh on bass, Nitzan Rimon on guitars and Assi Weitz on electronic drums.
On the new album we also have Shai Ledder from the original line-up playing bass on a few tracks.
I always wanted to ask that…never regret it that there are three bands in this world that are named Sophya?
That is always a problem; but regret is not the right word to use.
When we released our first album and were still in search for a name, we checked for Sophya and we only found there was an easy listening Scandinavian band called Sofia, bank in 99.
When we released our first album, the Arcana side project still did not exist and the God Machine side project was unknown, at least we did not know about it , but in 2001-2002 when we started getting emails regarding gigs we were not playing we understood there is a problem. We thought many times to change the name but it always felt wrong.
At least we are the only ones with a Y.
You started your thing back then in Israel. What meant Sophya there? I mean, Sophya is dark wave and is there really something like a dark wave scene in Israel?
We have a following in Israel but we left before the 1st album was even released so other than some secret gigs in the early days and one official gig which was sold out, we did not really focus on the local scene before going to Europe. Nowadays we have fans there and we played some dates there but still not enough, as we really like the audience there.
As a DJ in the scene since 1993 I can tell you that there was always a scene for dark music in Israel, not as big as in Europe of course but over the years there were a lot of bands, parties and a complete lifestyle that is pretty much recognizable with the goth/wave/punk scene of the rest of the world.
Talking about Israel, I only can come up with you and Minimal Compact. Tell us, is Israel worth it to be discovered musically!
Of course! The funny thing is that most of the bands from that period from Israel reside in Belgium & The Netherlands. So just as an example, related to Minimal Compact from those years you can listen to really great music from bands such as: Jean Conflict, Chromosome, Intensive Care Unit, Siam (called Ciam now) and many more. Later you had bands like D.X.M which took a more dark approach then the early post-punk/minimal electronic bands, influenced by The Legendary Pink Dots, Virgin Prunes and The Residents. There are so many bands; we will have to tell you personally if you really want to know.
Of course you were in the spotlight with Minimal Compact's version of "Inner station". Just a choice or really their best track?
Definitely one of the best but still was in the end a hard choice between so many great tracks.
And then there was Ronny Moorings from Clan Of Xymox. How did you get in touch with him?
While visiting Amsterdam in 1999, I was searching for a record label across Europe to release our recordings. After an email to Ronny that was not really saying we were looking for anything just wanting to meet a fellow musician who I respected for so many years , he said he was interested to hear what I was involved in , so we met in a bar and things started rolling quite quickly.
You seem to be connected with Holland. Not only there's Xymox but Mecano also played a part in your history, not?
Yes, One of the bands that I always considered to be at the top of the bands of the post-punk.
The fact that Dirk Polak (back then known as Dick) was the producer of many Torso records releases like Flue and of course of the 2 first releases from Minimal Compact & having Mecano members playing on those recordings meant a lot. It's funny how things came together and eventually I and Sonja became a part of the reunited Mecano and also signing on their 'Mutantjasz' label that released our album 'Third Wish'.
We still hope that more activity will come with Mecano, the shows we did together, the art expositions and meeting the followers of the band since 1977, were such unique experiences; I really wish more people could see and enjoy.
A couple of years ago we also recorded 2 tracks for a tribute album to 'Charles de Goal' and featured Dirk Polak on both tracks. He sings lead vocals with me on the second voice on the track 'plus haut' and giving backing vocals to Sonja on 'Technicolor'. Dirk also helped us a lot with the French ;-)
Unfortunately last year we had to split ways with Mutantjasz as the record label suffered some bad financial times , which led no activity and to the point we're at now…the endless search for a good record label ;-)
Are you still living in Israel, I mean you speak good Dutch!
We're all living in Holland, only Mario moved to Berlin.
Sonja speaks very good Dutch, but the rest of us... well... It's a hard language to learn but we're getting there
You're now like doing this for 15 years. How would you be seeing all those years?
As the worst timing to start a band that wishes to create something unique, artistic and deep and expect to grow and succeed (ha ha ha).
But seriously, it's an endless war, the music biz crashed as we released the 1st album and goes on ever since. we are happy to see guitars and analogue synths and drums back on stages, having bands like The horrors, Portishead and others , that reminds the wider audience , that music can still be made interesting , so at least now we feel we are not so strange like we were in the past 10-12 years , using lots of analogue sounds and echoes ;-)
in general , it looks like at least in what people want to hear , things might get better , but for the rest , selling albums and booking gigs , looks like this war is still on.
Music like yours seems to be bounded to the underground and I personally do regret that a lot. What do you think of that yourself, I mean would it be a good thing if music like yours was kind of big?
We always felt it can reach a large audience and I think the music biz was already in that stage of giving this music the exposure it deserves (well…kind of), otherwise most people would not even hear of (and I pick famous names just to show how big they got) Siouxsie and the banshees, Joy division/New Order, Sisters of Mercy and of course the 3 majors: Depeche mode, The Cure and U2. Those bands are all coming from the same background of post-punk/wave origins.
Don't forget, this music (nor only the names mentioned but many more) was even in the charts a lot and that most the bands, even in the underground , made at least some income, but it is almost a dirty word now. So the scene, in this sense at least, helped to kill itself together with the times that were changing more and more into the late 90's to complete greediness & boredom. Most indie bands of today try to sound much like 'Joy Division' mixed with 'The Cure' and lately with a touch of 'The Chameleons' in the production, Which are all great bands , so maybe it's a shift back to a bigger exposure to this types of sounds in the near future.
You told me something about a new cd that's being in the pipeline. Please tell us more!
We have a great new album ready , still untitled , waiting for a new label and no release date , so not much to tell other then it was recorded in the last 2 years in our studio with the addition of a lot more analogue gear , old echoes and spring reverbs, modular synths like the system 100 and a lot more. We are recording everything through a 1972 tube mixer that gives it a very unique and slight dirty sound, mixing from the tubes to analogue tape for that special end result. So, lots of technical info here but really cools stuff to play around with and whoever loves music and sounds will have a lot to listen to on this album.
The first single from the new album is called 'Desire'. We hope to release it by the end of the spring and the album will follow soon after. (Oh, and we really hope this one is also going to be our 1st vinyl release)
You soon will be again on some stage in Holland with Spectra*Paris, what can we expect?
The new line up is really great so lots of energies on stage , we are very excited to play in Terra Gotha after 10 years since the 1st time we played in the 1st ever Terra Gotha.
Our original synth player, Eliad Wagner, also tries to join us on this one to make this a very special show. Although there is a focus on new tracks, we will play songs from all our albums, so if you never saw us before, this is a great opportunity to have a taste of what we're about.
What's your favourite record of all time and please state why.
That's too hard...you know that!! Few options (or top 10?):
The Legendary Pink Dots – any day now
The Cure – pornography
Sonic Youth – evol /sister
Kraftwerk – radioactivity
Buzzcocks – time's up
Coil – music to play in the dark
The Chameleons – script of the bridge
The Residents – commercial album
White Noise – an electric storm
Bauhaus – any album
With whom wouldn't you mind to be alone with in an elevator for 8 hours and what would you do then?
With Stephen Hawking could be nice…I will spend all the time convincing him that he must tell me how to build the time machine…then I will go back 8 hours in time.
Didier BECU
26/04/2011
---