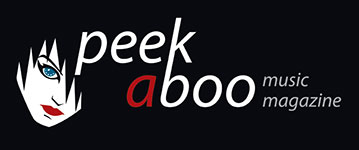 like this interview
---
MISS FD
Love never dies
19/04/2011, Didier BECU
photos: © Samantha Guss, Cannibalized, Danny Rendo
---
Miss FD is an American artist who recently released "Love never dies" which balances between intelligent electro pop and dark wave. We invited this fine woman for a chat and ask her if she ever would forgive us comparing her to Kim Wilde (with a black dress that is!).
Hello.
Hi ;)
Before you start sending me letter bombs I better admit your voice reminded me so much of Kim Wilde...
I'll take that as a compliment!
Would you consider the dark scene in the US as a strong one or is it really underground?
Currently I think that the scene in the US is still quite underground, at least in comparison to the dark scene in EU. Where it's a lot more likely in EU for artists in this scene to be able to make a living out of their music, still it's quite common for most of the "successful" artists in the dark scene in the US to support their music projects by having "day jobs", as our music and culture still isn't as accessible to the mainstream in the US as it is in EU. Specifically in the gothic-industrial genres, you realize many of the artists who pursue this in the US at the moment do it out passion for the music, but not necessarily with hopes of being able to support themselves from these projects.
You are from the States, how popular is Miss FD over there?
Can I get away with saying that currently my music is the underground of the underground?
I understood your latest album title "Love Never Dies" was a sort of personal statement, as well as the meaning of the album's release date being on Valentine's Day, is it not?
The meaning of album title is actually not in the comforting connotation to which the phrase is often associated. Where the phrase is often used to tell people that "love" itself never dies, in the album title, the phrase is bitter. The album was released on February 14th, exactly one year after the death of the person whom I loved.
Working on Love Never Dies was pretty much what kept me focused and pushed me through during the overwhelming depths of the mourning process for the past year. Each song in this album was used as a form of release for the emotions experienced during this time, from hopelessness to anxiety, being consumed by the feelings associated with tragedy, finding temporary relief from these emotions by working on music, despair, anger, and finally resignation.
I guess your music is typed out as electro pop but it's rather dark electro pop, is not?
I would consider the past two albums I released, Monsters in the Industry and Love Never Dies, to be dark electro pop, yes. However, I can only apply this category to the past two albums, and not to all of my music. I simply do not like the idea of limiting what my next forms of expression may turn out to be, by putting a label on the music I create in general.
Some of your music has a clubby feel, but it was great that finally an artist made a CD without tons of bloody remixes. Was there a reason for this?
Actually right now I have a very strict "no remixes of my own songs by other artists" policy, at least not until a year after the original work has been released. My point is for people to listen to the music as I intended to release it, as so far my albums have been conceptual albums meant to be listened to as a whole, not simply as individual songs. Whereas remixes are often used to bring attention to individual songs by making them more "club friendly", I much rather have the attention focused on individuals listening to the stories being told in the albums from beginning to end, without isolating specific songs from the rest.
Everybody has his dreams, what's the one from Miss FD music wise?
What's most rewarding for me music wise, is being able to help others in various ways through my music. It might be that someone had a terrible day at work and that listening to one of my albums on the way home helps them release the tension experienced that day. It may be that someone out there feels isolated in the way they perceive reality or experience their emotions and that somehow my music gives them something that they can relate to, reminding them that they are not completely alone in their views in the world. It might be like the many examples of fans who see how much work and dedication I put into my projects and that this somehow inspires them to pursue their own dreams, whether that's focusing on writing their own books, painting, pushing through to manifest their own projects, or their own forms of artistic expression. My dream is for my music to be able to help and inspire those who need it the most in the ways that they may need it the most.
In the goth scene the image plays a huge role, how important is that for you?
As in aesthetic style or personally? As far as the visual aspect of it, wearing darker colours for clothing has always brought me a strong sense of calm and comfort on a personal sense, which is why it's an important part of my own "style". It's something that I visually enjoy and appreciate, and I admit that I love seeing the creativity expressed by others as well through it. I find the range of interpretations from melancholic to futuristic within the imagery of the gothic scene to be both beautiful and inspiring. But personally? It's what's inside an individual's mind that is most important to me.
Do you consider yourself a dark person?
In some ways, my general outlook and perspective on the existence of what we think we know to be and in the search for trying to find meaning behind the presence of our consciousness in the grander scheme of things tends to come across as being dark, but it's actually in an attempt to extend the reach of my consciousness's understanding. In accepting and understanding the darkness of my own feelings and my own sense of existential crisis, I am also able to find ways to make the path brighter and to share the light during the darkest cycles of awareness.
What's your favourite record of all time?
It'd be easier for me to answer this by listing my 3 favourite songs of all time.
Moonlight Sonataby Beethoven, Toccata and Fugue in D minor by Bach, and Dance of the Sugar Plum Fairyby Tchaikovsky.
I feel that these 3 songs have a way of perfectly capturing the essence of the most persistent internal patterns of thought and emotion that shape the outlook of my experiences. Although these are 3 songs that were written by other (much more competent) composers, they still manage to give me a sense of connectedness and the sequences within these compositions actually manage to reach to the soul of my being.
Any special message to our readers?
Be true to yourselves, enjoy your experience of the Universe while it's yours, and stay beautiful. And thank you for reading this interview with peek-a-boo.
Didier BECU
19/04/2011
---