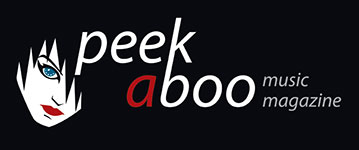 like this interview
---
SPECTRA*PARIS
Magazines, illustrated books, movies, dreams... are just my 'detective area'.
15/04/2011, Didier BECU
photos: © Marquis(pi)X
---
Do you believe in the curse of Friday the 13th? Well even if dear old Jason pays us a visit we will die in style on Friday 13th May as in Kortrijk (that's near the French border) a festival is taking place featuring Der Klinke (Belgian wave), Mildreda, the Dirk Ivens-outfit named Sonar and of course SPECTRA*PARIS.
We had the honour to have a talk with the ever so friendly Elena Fossi, and while she was with us, we asked her some things about Kirlian Camera as well!
Dear Elena, before we are going to ask you some SPECTRA*PARIS related questions, first this: we heard Kirlian Camera is back in the studio. When can we expect a new album and will it differ that much from previous recordings?
Yes, Kirlian Camera are about to finish mixing the new album "NIGHTGLORY" and go to release the single "GLÒIR AR AN OÌCHE", which is mainly based on the song "Nightglory", in May, for Out Of Line/Universal Music Group. The single and the album are very epic, dramatic and high-impact. We didn't waste time by looking for any trendy or à-la-page sound, moreover because today's global music scene sounds totally depressive, having a fine nothing to teach anybody. This doesn't mean at all our new "era" sounds retro or even nostalgia addicted, as natural Kirlian Camera orientation to possible innovations keeps on being an important ingredient of our music, but "Nightglory" goes beyond any limits created by precooked offers. This is a stormy Kirlian Camera concentrated amalgam. Very direct, intense, "final". Likely, a very pure and anguished 'alien nature' inspired our new musical horizon…
And then there was SPECTRA*PARIS. I guess it are busy times, I mean it looks like you have two careers. We hope for you that you still find some time to breathe!
Oh not at all! Breathing looks like a holiday, today!!! But really I love to feel deeply immersed in Kirlian Camera and even SPECTRA*PARIS, as it's a stunning sensation: sometimes emotion has the upper hand over rationality, till turning everything into a fine... headache! Kirlian Camera is a merciless "sentimento machine"... impossible, as for myself, to act detached. Hell's doors are always open wide, when we're driving the Kirlian Camera starship to a new album. But I couldn't imagine the feelings I'm experiencing this time with "Nightglory". A terrible, majestic and marvellous world has been opened in front of our eyes. Sometimes I think that this album is bigger than us...I don't know what muse or monster is inspiring us such things...
The last thing you did with SPECTRA*PARIS was releasing a Christmas album. To be honest, I thought this was really a courageous thing to do. Are you happy with how things turned out?
Yes, I'm glad having done such an album. Christmas is a moment I attach great importance to, especially in recent times. Then, Christmas may own a very personal story; it depends on who we are, individually. It isn't to be lost that such a period of the year involves many different tones, as it is a "magic" one.
I'm aware many people looked at our album with scepticism and many even rejected the idea of listening to it. Many liked it just because they like Xmas, as they were "prejudiced in favour". Globally, I can say I did what I liked to do. Then, I repeat, Christmastime is a very complicated period... Many "forces" are involved in... White and black ones...
The longer I'm a fan, the more it seems that you are the kind of artist who refuses to stop following her dreams, I mean you don't follow the easy paths!
Well, I couldn't stop following my dreams, since dreams invaded my own life time ago. My problem is that... I want to give my dreams some real and concrete shape. Sometimes it's a very hard job, but I couldn't start complaining, now. Anyway... yes, purity of feelings is the most important thing, in my own life. I'll be defending the "right of purity" at the cost of buying a big lot of bazookas!!!
It's strange to ask, but do you think it can be as extreme as stating that Kirlian Camera is your dark side and SPECTRA*PARIS the happy one?
I understand your question... even if I think that Kirlian Camera is like a burning torch of undying light fighting on in a scary universe. That's why Kirlian Camera looks so dark: it comes from hell and it's going to cast itself to the most disquieting heavens. A tormented entity. It's like a terrible guardian were living into us. SPECTRA*PARIS takes its first steps in the glamorous world made of paillettes, but has a noir, black, yet amused soul.
SPECTRA*PARIS, in the end of its day, looks like Dexter Morgan being at home with his family. The day after he puts on golden high heels, changing sex and face. Both bands have a strange alien source... Both bands have experiences with natural and extreme mental states... although we couldn't care less of appearing "fools". On the opposite, as Angelo always repeats: "we're following the opposite path". A path that leads to Light and/or Death. No discount allowed.
In "License to kill" you played with a lot of movie icons. What do they mean to you? I mean, are they just funny or are you really dreaming of waking up next to some sort of James Bond.
Well, in my glamour world James Bond turns into a beautiful model (not so skinny, though!!!) being able to use a machine gun while wearing high heels, after praying in an abandoned church. I love a certain female universe where "Barbie's" cannot find place, whereas God isn't as idiot as people suppose he is. I'm used to watching different style's movies, as in a way I'm an omnivorous person, at starting point. Then I like to make a massacre of all that useless trash I've seen, going to select just a few frames from several movies. I tend to making up my own movie. If next time I'm gonna born as Jane Bond... well, I couldn't forget my precious Kirlian Camera spacesuit!
The image plays its role with SPECTRA*PARIS. Is this important for you when you are listening to other bands or not?
Other bands are so often looking totally and embarrassingly uninteresting, as well as their music sounds often so trite and boring. No, I don't take inspiration in the music world any more... Magazines, illustrated books, movies, dreams... are just my "detective area".
The question everybody's waiting for….when will there be a new album from SPECTRA*PARIS?
Well, now we have two recent works out, so I couldn't foresee where a new SPECTRA*PARIS full-length work will see the light. I can say that we started working on a double-disc album (DVD+CD) called "SPECTRALAND", a big harvest including a live-in-concert prof movie, video material, new songs, new re-mixes, new versions. It's like a big magic box which should catch the essence of the band, both in concert and in the studio.
You will be soon in Belgium, what can the fans expect?
I guess they expect us to give 'em a fine dose of humour, energy and tech-rock rhythm! Fun, but even some "introspective moments"... Basically, we come from rock, although our marriage with electronics and pop is evident... I guess Benelux is closer to us than other countries.
And then I guess I asked you once, Elena, but these questions I always ask! What's your favourite record of all time and please state why…..
The soundtrack to "La double vie de Véronique" by Zbigniew Preisner, as it sounds dramatic and evocative, without adding any banal ingredients, showing and spreading some real "telluric" force by means of great composing ability. Use of voices is amazing. A very powerful album which could live alone, without that beautiful movie it gives its support to. I found out Preisner is a self-taught musician... it's impressive!!! Soundtrack-makers often sound so sadly similar to each others. This album takes one to another planet, made of pulsing emotion.
With whom wouldn't you mind to be alone with in an elevator for 8 hours and what would you do then?
With myself. Why? Well, I guess I'm a bit psycho... So being alone with myself 8 hours long might turn me into Michael Douglas (movie "Falling Down"), once I'm getting out...
Didier BECU
15/04/2011
---