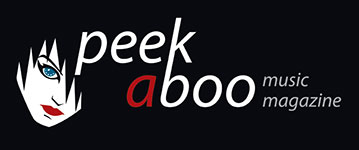 like this interview
---
NITZER EBB
Basic Pain Procedure
31/03/2011, Didier BECU
photos: © Marquis(pi)X
---
It really feels strange to talk to legends. But, do you see yourself as legends?
Well, thanks for saying that, but no, we don't see ourselves as legends.
I couldn't find the origin of the name 'Nitzer Ebb' anywhere on the net.
We made it up, in the tradition of William S. Burroughs, by cutting up letters and words and picking them out of a hat. Actually, we were copying David Bowie, who was copying Mr. Burroughs.

Nitzer Ebb were founded in the 80's and in a way you had a typical 80's sound, more specific a cold sound. Were you aware of that?
We wanted to sound clean and efficient, brutal, I suppose. At that time there was a lot of social unrest and a strong sense of alienation was tangible, especially with young people, so it was almost impossible not to have that in our sound.
I suppose that, even if your sound was a blast back then and still is, you don't use many instruments?
We started out very basic for sure: we had a Roland SH101 that my parents bought me for Christmas, an assortment of acoustic drums and a vocal mic. Nowadays we have a more elaborate kit, but the essence is very similar.
Do you think the evolution of technology in the field of music is a good thing?
Mostly, it is. I think the ability for a person to create, record and even release from your own home is a fantastic development. There may be some loss of individualism in terms of style or sounds but that's always been a problem in music.
Your first release was even on tape, do you still have that tape lying around?
"Basic Pain Procedure", ha! Yes, I do still have that tape somewhere.
And then you signed for Mute. For a new band that must have been heaven, I guess?
It was pretty amazing having Daniel Miller call on my parent's telephone to have a chat. Daniel, and everyone else at the label, were and still are very supportive. It was an amazing place to learn how to be a band.
I, and many other, believe that "That Total Age" changed a generation. Do you think this is true?
It certainly changed our lives! It's heart-warming to think that it changed a generation.
This might sound funny, but I was just wondering if there are times when you decide to play "That Total Age" at home?
Yes, I do. "Belief" got a spin not so long ago too.
I guess many of your fans are devoted EBM-fans. Are you as well?
I'm a fan of any music that appeals to me. I've never been very interested in narrowing my taste to a single genre.
I guess you'll agree if I say you're one of the few bands that have a typical sound of their own. Did that sound come by coincidence? I mean, it seems so difficult these days for bands to come up with an original sound.
I think you"re right, it is very difficult to cultivate a unique sound. It takes time and effort and a strength of your convictions to not follow the herd.
I suppose you have heard millions of Nitzer Ebb-clones. In all honesty, what do you
think if you hear this?
I know they exist but I haven't heard many. My agent played me Spetnaz while me and Terence Fixmer were driving in his car and it was kind of creepy. I didn't know I'd sung on that song!
When an album like "Ebbhead" came out, it was quite normal to see bands like yours on MTV. Now, it's unimaginable. We can't say much for evolution in our cultural life, right?
Lowest common denominator I'm afraid. Certainly not an asset to culture when only the most commercial and mostly bland output are made available. But there you are.
You stopped with Nitzer Ebb for a while, what made you decide to come back?
Fixmer/McCarthy had recorded "Between The Devil" and had toured fairly extensively around Europe and the States and we had been playing some NE songs.
A few promoters started asking our agent what the chances were of booking a Nitzer Ebb show. Bon and myself happened to be in Chicago at the same time, so we agreed to meet up and talk about the prospect. We agreed to play a handful of festivals in Europe, and it kind of snowballed from there. We added shows whenever there seemed to be a blank day and then added Japan, Australia, New Zealand, North America, South America and even went back to Europe. We ended up playing over 70 shows and found that we were enjoying ourselves immensely. By that time, I had moved back to LA and we decided to see how writing would go and so "Industrial Complex" eventually followed.
I ask everyone, so one of my favourite bands obviously too: what's your favourite record of all time and why?
Hm, that's a toughie. Kind of changes from time to time. Right now it's CABARET VOLTAIRE 'RED MECCA'.
Who wouldn't you mind being alone with in an elevator for 8 hours and what would you do then?
Hunter S. Thompson. Get wasted, talk, shoot guns, you know, normal stuff.
Soon, you will be playingat Antwerp. What can the fans expect?
Well, as it's the "Join In The Rhythm Of Machines Tour" they can expect Die Krupps as opener! So that's two bands with a great energetic live show on their own, but we're also planning on joining forces on some tracks. That's going to be fun!
Any message to our readers?
Looking forward to seeing you in April!
Didier BECU
31/03/2011
---