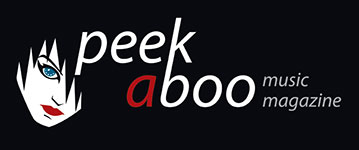 like this interview
---
PERVERTED BY LANGUAGE
I think shoegaze dreampop no-wave disco with hint of post-metal and psychadelia would be a way of describing us
21/04/2011, Didier BECU
---
On 29th April you can be a part of another Dark Entries Night at the Kinky Star in Ghent. This DE night features two bands as usual: Liquid G. and Perverted By Language. As peek-a-boo also wants to bring unsigned talent into the spotlight, we present a chat with Jeremy Thomas, the founder of Perverted By Language.
For those who don't know, please tell us who and what Perverted By Language is.
We're just a group of normal people who make music to get ourselves out of the house on a regular basis. Jez - Voices; Élise - Bass; Fra - Drums; Guy & Ronan - Guitars. We don't play golf, we don't run marathons, we don't ride horses, but we do make music.
I interviewed you one year ago. What has happened since then?
Our Greek guitarist, Vas, has left to concentrate on journalism and management. He's managing an Icelandic band called Rokkurro and a Greek band called Film. We were very fortunate to find a decent replacement very quickly. So now we have our first proper Belgian (Guy) to join the band. It's given a fresh impetus to both the song-writing and development of new material. We've written some new songs, the results of which we've been very surprised with, but as we all have day jobs to pay the bills, it's a slow process.
I see your name on a regular base at underground gigs; I guess little by little the audience has got to know you, right?
We're getting a group of regulars at our gigs. If we can get people to come & see us in the first place, they very often come back. We do need to get out and play more to a wider audience, though. I think a decent booking agent would help there.
I always tend to describe you as post-punk; do you think that's the correct term to describe your music?
I think shoegaze dreampop no-wave disco with hints of post-metal and psychadelia would be a better way of describing it. Our influences are a bit broader.
Ronan and I originally set out with very different ideas, but these quickly developed in a way that neither of us could have predicted. It's the synergy between the band members that have made it such a great journey of discovery for me - the way it all comes together into something none of us would ever have been able to define beforehand. So describing ourselves as fitting into a specific slot just doesn't make sense.
Why name yourself after an album by The Fall? I don't really hear The Fall that much.
The Manchester theme is one of the most consistent elements in our music - not just The Fall. There's also a good deal of 60's and synthpop stuff which might not be so obvious, either. It's interesting what people do see in us - I got into Sad Lovers and Giants recently because someone said we sounded like them. And when you've got a band whose members have 4 different mother-tongues, the name is sort of logical.
You recently recorded a demo. Could you say something about this experience and did it open doors for you?
It's not really the demo that's opened doors - you can watch people listen to it and see that it's not quite what they expected and they don't quite know what hole to put it in. People listen to music differently these days - it's so readily available in such a wide variety of formats that recordings are almost becoming throw-away. So the demo as such doesn't seem to have got us very far. Rather, it's word-of-mouth from people who've seen us play that gets us gigs.
The demo did teach us that it's not an easy thing to reach the stage of recording, which we're going to be happy with. The demo doesn't really capture the rawness and excitement of our live performances. Working out how we're going to do that on a budget is one of the reasons why we haven't recorded anything new since 2008. But we're getting there.
Everybody has their dreams. What's yours, music-wise?
I'd always wanted to be involved in music, but life conspired otherwise. I finally got so frustrated at seeing a really crappy support act at the Botanique one night that I said "I can do better than that." And I belive I have. It still irritates the hell out of me when I don't manage to get to a gig until 8:30 and they're already getting into the encores by 8:55. A decent support act isn't just there for the sake of it - they enhance the experience for the main act. And I like discovering new music.
Personally, I want to play the Ancienne Belgique. I've seen fabulous gigs there, and I think Perverted by Language could be a decent opening act for some groups that play there. We've opened for For Against and Chameleons Vox and had excellent feedback from people in the audience. It's naturally difficult to be objective about these things from within the band, but when you have hardcore Chameleons fans telling you they liked your show, you have to give that some credibility.
It's a tricky question, but do you have any ideas in your head about an album, or is it far too early for such plans?
We've been thinking about it for about 2 years. There are a number of reasons why we haven't got there, yet, the main one being time. The demo has taught us that we need to select the people we work with very carefully to reach our desired end result, and that does not come cheap. We haven't really tackled the label issue either - whether we should work with an established indie or go fully self-produced.
But yes, all the elements are coming together. We are going to make an album, hopefully before the end of the year.
You will be playing our Dark Entries Nights, soon. What can we expect?
Pretty much what I'm expecting from Liquid G - a good live show and the chance to discover something I hadn't heard of before. We want a passionate audience because we're passionate about music ourselves.
We're the sort of band I'd like to see, and I'm not the easiest of people to please. In fact I'd like to video-record the gig - I always miss so much from up on stage.
What's your favourite record of all time and why?
I'll limit myself to my favourite record that you've probably never heard.
Foxgloves by Bell Hollow. Stunning voice, some of the best song-writing I've ever heard, guitars you could listen to forever... It's just got that perfect balance between all the elements that make it such a complete album and one that I can come back to again and again.
With whom wouldn't you mind being trapped alone with in an elevator for 8 hours and what would you do?
Ronan or Guy. With a guitar and some notepaper.
Any special message to our readers?
If you're in for new music recommendations, I'm really getting my ears round Lotus Feed from Germany - they have an album out on Bandcamp, and its bloody good.
And we hope to see a lot of you on the 29th.
Didier BECU
21/04/2011
---