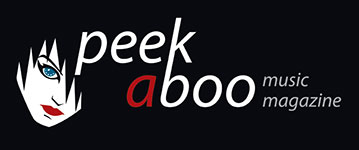 like this interview
---
TYING TIFFANY
It's not easy to describe my sound because it's a mixture of what I feel inside every single day.
05/05/2011, Didier BECU
---
On Peek-A-Boo we do the impossible as we have decided to interview every band that will grace the stage of Shadowplayfestival at Kortrijk.
The first one who is sitting in the Peek-A-Boo couch is Tying Tiffany, an Italian lady who is a DJ, a model, an actress and a musician. Welcome to Tiffany's weird, but beautiful world.
Hello for us Belgians you are a new name: so please introduce us Tying Tiffany!
Tying Tiffany is my solo project. My sound is the result of what I've been listening to. My first steps were within electronic music, industrial, wave and post-punk. Maybe this sound is still rooted and lives inside my music
As far as I understood it's different in Italy. Can we say you're an Italian star?
I don't think to be a star in Italy, my music is very underground and in Italy it's not easy get attention with something "experimental" or something different from pop and popular music. Maybe this is why I'm only well within this scene. Anyway I get more attention outside Italy, especially in Germany and the United States.
You're a DJ, a model; I even heard an actress and a musician. That are 4 jobs, I guess 24 hours per day is not enough for you?
Music is where my real passion lies and what I really believe in.
Acting, modelling and deejaying are just for fun, they just make me complete as an artist.
I like to work on new productions and records... I'm interested in any kind of art and like to evolve and get more inspired.
It's hard to find time for myself...but it's the only way I feel I should be living.
But let's talk about the music. I heard electro clash, but I heard in the first place a very strong own sound. How would you describe it yourself?
It is not easy to describe my sound because it's a mixture of what I feel inside every single day. In my last album I've tried to rewrite my personal path, with my own sound and redefine the "traditional" schemes of electronic, wave and post punk patterns under a new form. Each and every slightest influence reflects in order to shape an original sound.
Over here you're seen as a goth-artist. I mean you will be at the Wave & Gothik Treffen as well, do you see yourself as a goth?
I don't like to put myself in a specific scene. My music has many influences, thus my audience is various and open minded. I usually play in different clubs: electro, goth and rock.
If I may so, your music sounds like a clown in the sense that it is funny but at the same time dark as well. Can you see the sense in that?
Funny and dark like a freaks circus or the last laugh before a suicide. This side of fun is grotesque, but who knows my show, usually describe it like a powerful energetic dark and sick
Soon you'll be performing at the Shadowplay festival. Tell us what the audience can expect?
A receptive audience may expect very addicting music. Be ready to get to know something new.
What's your favourite record of all time and please state why?
Only one?? I'm a music collector I have more then 5000 vinyl's I used to buy a lot in some little record shops, who are nowadays almost disappeared. They smelled really musty, you know the kind, where many other music fans were browsing through the shelves…it's actually from there that I got interested in other music scenes , but mainly underground such as : Cabaret Voltaire, Alien Sex Fiend, Lydia Lunch, Sonic Youth, Suicide, Killing Joke, Current 93, Bauhaus, Black Lung, Psychic TV and many others.
Music is one of my main reasons of my life. I love all kinds of music.
With whom wouldn't you mind to be alone with in an elevator for 8 hours and what would you do then?
I'm so claustrophobic, so it's impossible to me to stay 8 hours in an elevator!!
Anyway....Alejandro Jodorowsky to talk about his movies and to teach me how to read tarot.
Any special message to our readers?
See you there!
FAVOURITE MAN: Nikola Tesla
FAVOURITE WOMAN: Martha Graham
FAVOURITE MOVIE: Juliet of the spirits (Fellini)
FAVOURITE BOOK: 1984(George Orwell)
FAVOURITE COLOUR: Indigo
FAVOURITE PLACE TO GO: Moon
FAVOURITE CARTOONCHARACTER: all Miyazaki's characters
Didier BECU
05/05/2011
---
Zot zijn doet geen zeer bij Peek-A-Boo en daarom hebben we maar besloten om iedere act op Shadowplayfestival te gaan interviewen. De eerste in het rijtje is een Italiaanse dame die naast DJ, actrice, model, ook nog eens muzikante is.
Welkom in de vreemde maar o zo mooie wereld van Tiffany.
Hallo hier in België ben je nieuw voor ons, dus stel je eventjes voor!
Tying Tiffany is mijn solo project. Mijn geluid is het resultaat van hetgeen ik het eerst gehoord heb binnenin de elektronische muziek, industrial, wave en post-punk-wereld.
Misschien is dat geluid wel blijven hangen en leeft dat voort in mijn muziek.
Ben jij in Italië een ster?
Ik denk niet dat ik een ster ben in Italië ben want daarvoor is mijn muziek net iets te underground en in Italië is het niet echt simpel om iets aan de man te brengen dat geen pop of populaire muziek is. In ieder geval krijg ik meer aandacht buiten Italië, vooral in Duitsland en de States.
Jij bent een dj, een model, ik dacht zelfs een actrice en ook nog muzikante! Alles tezamen zijn dat 4 jobs, ik veronderstel dus dat 24 uur voor jou niet voldoende zijn.
Muziek is toch wel mijn ware passie hoor en ook hetgene waar ik echt in geloof.
Acteren, modelling and dj spelen is wel plezant en het maakt me als artieste meer volledig.
Ik hou ervan om aan nieuwe producties en platen te werken. Ik ben geinteresseerd in iedere vorm van kunst, het is de sleutel om mezelf te vervolledigen en de bron van inspiratie.
Het is inderdaad niet zo makkelijk om tijd voor mezelf te vinden, maar het is de enige mogelijkheid denk ik.
Muzikaal omschrijft men je wel als electroclash en dat zal wel zo zijn, maar ik hoorde vooral ook een eigen geluid. Hoe zou jij hetzelf gaan omschrijven?
Ik vind het niet zo makkelijk om dat te gaan omschrijven hoor want het is een mengeling van wat ik elke dag voel.
In mijn vorig album probeerde ik mijn eigen persoonlijke weg te herschrijven, en zo door mijn eigen geluid de traditionele aflijningen van electronic, wave en post punk in een nieuwe vorm te brengen.
De allerkleinste invloed weerspiegelt mezelf waarbij alles in dienst staat van het scheppen van een origineel geluid.
Jij stond reeds op het Wave & Gothik Treffen. Zie jij jezelf als een goth?
Zelf hou ik er niet echt van om in een specifiek genre te plaatsen.
Mijn muziek heeft vele invloeden en mijn publiek is gevarieerd en open van geest. Ik speel vaak in verschillende clubs: electro, goth en rock.
Als ik het zo mag stellen vind ik jou muziek gelijkend op die van een clown: de bekende lach en de traan. Zie je die vergelijking zelf ook?
Grappig en donker zoals de freaks uit een circus of de laatste lach voor een zelfmoord.
Die humorzijde is best grotesk maar wie mijn show kent, omschrijft het meestal als zeer dynamisch, donker en ziek.
Straks sta jij op het Shadowplayfestival. Wat mogen we zoal verwachten?
Je mag je aan iets nieuws verwachten.
Wat is jouw favoriete plaat aller tijden en waarom?
Eentje maar? Ik ben een muziekverzamelaar, ik heb meer dan 5000 platen en ik was echt verslaafd aan kleine platenwinkels die nu allemaal verdwenen zijn. Dat waren platenzaken waar andere muziekfans aan het rondsnuffelen waren.
Het is eigenlijk vandaar dat ik ben beginnen rondkijken naar andere muzikale stijlen : Cabaret Voltaire, Alien Sex Fiend, Lydia Lunch, Sonic Youth, Suicide, Killing Joke, Current 93, Bauhaus, Black Lung, Psychic TV en zo vele andere.
Muziek is één van hoofdreden waarom ik leef en ben er totaal wild van, alle stijlen.
Met wie zou je het niet erg vinden om samen in een lift te zitten voor 8 uur en wat zou je doen?
Ik ben zo claustrofobisch dat ik onmogelijk 8 uur in een lift zou kunnen zitten hoor.
Nu ja...Alejandro Jodorowsky, zo dat ik over zijn films kan praten en hij kan me leren hoe ik Tarot-kaarten moet lezen.
Een special boodschap voor de lezers?
Ik hoop je daar te zien!
Favoriete man: Nikola Tesla
Favoriete vrouw : Martha Graham
Favoriete film : Juliet of the spirits (Fellini)
Favoriet boek :1984 (George Orwell)
Favoriet kleur : Donkerblauw
Favoriete plaats om naar toe te gaan : de maan
Favoriet cartoonkarakter : al de Miyazaki's karakters.
Didier BECU
05/05/2011
---