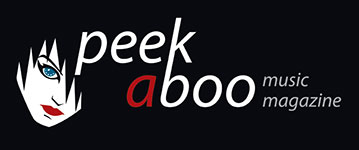 like this interview
---
TYING TIFFANY
I'm addicted to the wild side of the performance!
03/02/2012, Philippe BLACKMARQUIS
---
Tying Tiffany has just released her 4th album, "Dark Days White Nights". This Italian multi-instrumentist, DJ and model gave a memorable show at last year's SHADOWPLAY festival where she played her very personal postpunk-electro music. Peek-A-Boo had a chat with her to talk about the album and her very numerous activities.
Tiffany, thank you for this interview! Your last album "Dark Days White Nights" marks an evolution. Would you say it is more mature, less punk?
Everything that I write and everything that I sing is coming from a real experience. I put a lot of emotion behind my music. The experience learned after many gigs, was helpful for my personal maturity. With my last album I decided to spend more time to feel what I have in me, so I've tried to finalize my personal sound, under a new form. Each and every slightest influence reflects my roots. I know people love when an artist have the same sound, but it is a limit for me.... The most interesting things I've ever listen to are from artists who tried to experiment outside of their lines.
Did you play all the instruments with exception of the guitars?
I usually work with software, programming drums samplers and synths. I create the first structure spontaneously. In the recording phase I add some bass lines, synths, all drums are programmed by me and some other are a mixture with real drums played by my musician. During rehearsals for concerts I like to change the arrangements to bring the sound closer to its essence.
You are a singer, multi-instrumentist, model and actress. How do you combine all these activities? Where are you based now?
My main job is in the music, everything else is a way to increase my curiosity; it allows me to be free as a person with the ability to produce something new through imaginative skills. I believe that among different arts we can establish a common dialogue, the meeting point between art and music is that both give space to the creativity and staging of emotions. There's a lot of things I want to do as an artist, so this is just a natural progression. I live in Bologna, in northern Italy, which is a great place, famed for the oldest university in Europe and a lively student population. Moreover, it is a hub for electronic and alternative music.
How would you describe the music style you play?
I could describe my music as "postpunk", but it would be limiting, maybe " postpop", or maybe "post" and that's all. The interesting thing is that whoever listens finds a different inspiration or derives a different meaning probably based on one's own journey. I want to do what I'm feeling, I never set out to be part of a genre, because I listen to all types of music. It is very difficult for me to fit in one pattern. I follow my flow!
You are very physical on stage, you move like crazy, like in a trance. How important is this physical, sensual aspect of music for you?
You know the reason why I write songs is the joy and fun I have onstage and I'm addicted to the wild side of the performance! I love playing live shows, I feel inside so much energy , and also good vibe with the people, this is the best thing for me.
Any plan for the future? Any cooperations with other artists?
At the moment I'm pretty busy, it's time to promote my new album and I'm working to prepare the new live tour and showcase. My ultimate goal, is to do what I believe in. I have another project, TTL (Through The Lens), formed by me and Lorenzo Montanà. We composed original music for movie trailer sountrack of:The Hunger Games, Coriolanus, Who is Simon Miller etc.. We design the music on images, the sounds are more classical contemporary and industrial, mainly instrumental, but we are experimenting with different genres.
Did you like the show at Shadowplay festival in Belgium? What do you know about Belgium and its (dark) music?
I really enjoyed to play at Shadowpaly, crazy nightlife, nice guys and awesome music scene. Sometimes I'm also a dj and I play many artists from Belgian scene, like The Neon Judgement, Front 242, 2 Belgen, Revolting Cocks, Lords of Acid, Plastic Bertrand and Vive La Fête. "Revco World" has remixed one of my song "Show Me What You Got" from my previous album "Peoples Temple".
How did you get in touch with RevCo World?
A few years ago I came in contact with DJ Wildhoney, who is percussionist with RevCo World and drummer in Minusheart. He is also journalist for a music magazine and DJ and supports me a lot. We met a few times and he was interested to do a remix of "Show Me What You Got", together with programmer David Vandenborn. That's how the RevCo World remix was born, all with Luc's blessing of course.
Any plans to come back to Belgium?
As you can see, I have a lot of reason to come back soon. Ohh I forgot this: Belgian chocolates, are the best in the world :-)
Thank you, Tiffany! We wish you good luck with the new album!
Check the review of the new album on Peek-A-Boo
More information at www.tyingtiffany.com/
Pictures by Xavier Marquis (Shadowplay 2011)
Philippe BLACKMARQUIS
03/02/2012
---