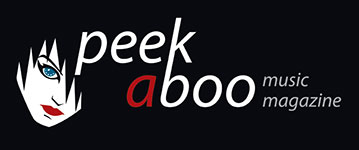 like this interview
---
NEON ELECTRONICS
Our future plan is to continue with the continuation ;-)
18/01/2012, Fred GADGET
---
After five long years but busy years Dirk Da Davo (aka as one half of legendary cultband The Neon Judgement) finally finished his new Neon Electronic album, KEYLOGGER. The perfect time for a chat with DDD about the album, the music business and the future!
Can you tell us why it took five long years to record the successor for the previous album Monkey Ever After?

Well, as I run my own label and booking company DanceDelic D, during this period I was mainly working on The Neon Judgement (SMACK, 2009 cd release ) and the TNJ Docuvision 2010a1984 documentary concept/project. So I was already more than busy with that project. There was simply no time left over to write new Neon Electronics music. But the silence was ok when i decided and found the time to compose on N.E. again, the new songs came out very spontaneously and easy!

What is the idea /concept behind this album and why call it KEYLOGGER?

The idea behind KEYLOGGER is to put the finger on the lack of privacy with the whole new digital media in modern society. FYI: a KEYLOGGER is a hacker's tool.

On the first track of your new album 'Under The Worst conditions' you ask us if we are 'afraid of the wolves'? Who are they and how can we recognize them?
The bank guys! You can recognize them on their clothing: they all wear 'a suit and a tie'. All lyrics and stuff were written rather recent, so they all are impressions that I get living in a today's world. And the banks gave me a 'wolf' impression, you see?

Throughout the years Neon Electronics changed and swapped back and forth from a solo live performance by you, to more band like line-ups with several guest musicians. Why?

Because N.E. was always meant to be more like a collaboration project, with different producers and composers. It's nice to get opinions and inputs from other artists. It's good to flavor the music and for my own artistic and creative evolution.

I've heard the new live-line-up would feature Glenn Keteleer aka Radical G. Also, his name appears a couple of times on KEYLOGGER album. How did you meet and what is his input in N.E.?

Indeed, the live line up will be with Radical G for the upcoming period. We've met a few years back at LC Music office (my CD distributor). He was delivering his cd release there for further distribution and we got introduced to each other. From one thing came another,.The tracks 'Glimp' ,' Rhythm' and 'Over And Over' on the KEYLOGGER album were co – written with Glenn, starting from 'scratch'. We met up his studio a couple of times and we started to work : as simple as that :). Glenn did the vocal line on 'Glimp' too.

With TNJ you already have earned quite some respect and fame, even amongst some of the hottest DJ's and performers of today like Tiga and Dave Clark. Some should think it should be easy to hop on the train of success (again), but is it?

No, it's not! I've experienced in my carrier that every new album you make, you have to prove the same things, starting from scratch again. Also, I never have the intention to copy my own songs, so every album is different and waiting for new judgement.

I think we can say you witnessed the rise and fall of (independent) music labels from close by, How do you feel in general about music business today?

Music business? Where? It's all dying a very very slow death. Initially I have never intended to release KEYLOGGER on CD, but only digital. It was only when the French label M-Tronic came with the idea of manufacturing the album that it became a physical one. I can go ahead with Dancedelic Digital however I want. Pressing CD's and promoting them is costing some serious money.
I'm not optimistic at all about the music industry: CDs hardly sell anymore, and now the crisis will hit the clubs and concert venues.
So, young guys, you better start seeing music and musical creativity as a pure 'hobby'. The whole 'sacral' feel that used to surround music, is gone.

I still remember, when the mp3 format became hot, some people defended illegal downloading because it would be cheap way of promoting your music and band and it would automatically result on more and even better paid live gigs. I'm sure you agree?

This evolution has killed music for a big part. These days everybody can make music and spread it without making any big efforts. You just download the necessary plug inn synths and stuff, and of you go. It's not important anymore to have a talent or not. Everybody wants to be famous. And this evolution has polluted the music market. It became very hard to find GOOD music with a SOUL in this big jungle. And as I told you before, the CD became nearly worthless , and the world is in a big crisis and a financial mess : clubs and venue's will have less money to pay for anything.

The last track is called Daydreamer, are you a Daydreamer?

Sometimes yes! I always daydream of sunny beaches and no 'fear - media' in my life :)

What are your near future plans with NE and/or TNJ?

With N.E. we will play some shows; January 28th, Cannes (France), February 10th , Den Hemel , Zichem (Belgium) and May 17th in Ghent , Charlatan (Belgium) We are working on more NE shows at this point. With TNJ we will also continue to do live shows like on the Rewind Easter Festival at De Vooruit on April 7th and we will play in Budapest with TNJ on April 27th.

So, the plan is to continue with the continuation.
Fred GADGET
18/01/2012
---