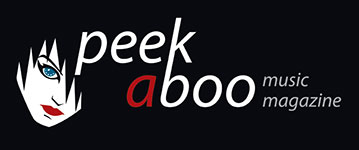 like this interview
---
TRUE ZEBRA
BUM NUMBER TWO: KEVIN STRAUWEN [TRUE ZEBRA]
20/12/2011, Didier PIETERS
---
BELGIAN UNDERGROUND MUSIC
As a huge fan of Belgian Music I see it fit to offer Belgian underground musicians, an extra platform on which they can present themselves to the world or to whom it may concern anyway.
Who are they?
Their music?
What inspires them?
What are their plans for the (near) future?
…
You can read all about it in our new Peek-A-Boo BB-series (Belgian BUM's). First up was Xavier from VoidWork (http://www.peek-a-boo-magazine.be/en/interviews/voidwork/). The 2nd BUM we talked to is Kevin Strauwen of TRUE ZEBRA. His debut album is out now and of course will be reviewed here on your favorite site (January 2012).
Next Up? I'm kind of hoping Koen De Brabander and/or Philippe Lefief are interested in becoming BUM's! Northern Sadness has just released an excellent album (Riddles Of Lunacy) on the German label Echozone, so that could be interesting. We'll see …
OK Kevin, Let's do it! Tell us something about True Zebra. How and when did it all start?
True Zebra is my vision and sound. Conceived as rock but mixed with electronic tries and
techniques, True Zebra transmutes an alternative view into the electro rock scene with tight-grooves, industrial-esque rhythms and spookish melodies.
True Zebra is the new chapter in my transformation. This debut album was going to be the debut album by Uncertain Boxed Saviour but that name was simply too difficult to remember. After some thought I changed the name, changed the track-listing and remixed and re-mastered the album into what became the debut for True Zebra.
Is "True Zebra" really your debut-album?
Officially yes. I've released about 5 demos/ep's since 1997 that I've send out on a limited run to some people. After the Uncertain Boxed Saviour demo/ep I wanted to make a good quality full album on my own. I wanted to start this in 2004 but it took until 2007 before it really took shape. The sound became different, less lo-fi and chaotic. I wrote many songs during that period.
I have invested in different projects: I have an EBM/industrial album, metal ep and some other songs on the shelf. For example "Under Control" was written for the EBM project but became one for True Zebra. This album closes a chapter and it has actually just begun to grow.
Is True Zebra a solo project?
My personal project has always been solo. I had some bands and producer projects which takes a different role and character. They mostly are faster finished than "my" band. True Zebra really goes deep, inside, it's all about emotion.
Can you describe the music on "True Zebra".
The album was first going to be called "Clutter", a collection of thoughts and trying to find solutions to straighten them. It's also an introduction to a section of my older world. I mainly use electronic gear that I combine with natural sounding surroundings. Because emotions are the main driving force, the tempo can be very different. It will make you dance, sit still and listen and even rock!
It's black, it's white , it's dance, it's rock… It's dualistic…
Delirious has great hit-potential, are you aware of that?
I had a clear idea what I wanted with this song, although the first version was different because I was thinking too much. It started with an LCD Soundsystem groove I wanted to bring. Just a moog riff and dance beat… not many lyrics and repeating an ending riff that would make me proud.
Was your brilliant single, "Delirious", partly inspired by New Order's "Blue Monday"?
The drum rhythm is a recycling of an older song by Uncertain Boxed Saviour which did have the "Blue Monday" kick vibe and even the break in it which was a wink. My knowledge of New Order is really terrible as I'm not a fan of Bernard Sumner's voice.
You have lived In Los Angeles for a while?
I studied in Los Angeles, did sound engineering and production. Worked at Pulse Studios with producer Josh Abraham and Anthony 'Fu' Valcic which is more like hard rock with some electronics. Edited on tape, worked on the biggest consoles and got to fine-tune my coordination between ears to idea to mind to hands. LA has always been my second home.
Can you tell us something more about your interesting earlier work? In what way your music has evolved? The older stuff was more guitar orientated, do you agree?
There are more guitars upfront in those earliest songs, however True Zebra has more guitars than you think or hear and the upcoming album has a lot more. It's fine-tuning a perfect natural mixture. I used to be more rock orientated that's true because I like a good riff.
Fischerspooner changed it for me in 2001. I tried to combine the two : rock vs. electro. Choosing those two genres with influences of EBM and industrial noise. Not putting rock or electro on the first place makes it difficult for some to know what it is. Is it a dance record, no it is not. Is it a rock album, no it is not. You have both, combined with raw emotion.
"Moving Sounds For Films: Soundtracks for films by Kevin Strauwen" is, in a way, quite different from your other albums?
For me it is very natural as my earliest writings were very soundtrack-like. These assignments and ideas broaden my sound-pallet. It's a bit like an analyst, researcher, investigator getting into sounds. I love it. It feels different because I'm more focused on a sudden emotion and less on trying to get some people to move a muscle. The song writing and soundtrack writing complement each other. Couldn't live without both of them. Soundtrack songs also gives me the ability to write none True Zebra songs… more pop, dance or more metal… very diverse.
Which bands have influenced / influence your music?
I had my first synth around 1994… The instrumental songs I made were kind of influenced by soundtracks and Enigma's music during the Jim Rose Freak Show Circus that I saw during that summer in Ghent. It wasn't until 1996 that I could record audio on an apple computer and could start with my voice. I did some songs with tape to tape dubbing before that but very lo-fi. I grew up with an updated vinyl collection at the house and some classics. I would go through them on my own.
Movies and noises have always been a big influence. Al Jourgensen , Trent Reznor, Daniel Bresanutti and Prince's Batman soundtrack have always inspired my technical look at sounds: use the studio as your instrument. John Moran's Manson Family opera and The Residents freak show album made the circle complete from Enigma's freak show tunes and many other extremes. The connection with all this is the very small inner circle of craftmanship and the quest for technology, sound and songs.
Listening to all of your music, and this might seem a bit odd, I sometimes thought of Tom Waits. Can you relate to this?
I don't know Tom Waits so good. He is still is on my list of "to be investigated". I like his found sound collection and that he records on a mobile recorder when he gets an idea and that actually becomes the song. It's very organic and I hope to put those organic structures together in a fight with industrialized structures through True Zebra.
Do you think there's a broad audience for this kind of music?
100% YES. I know not all of my songs will be liked by every person but on my album people with different influences and styles have their own unique selections of songs they love. The sound can be pretty diverse. I grew up with so many different genres, it all comes out somewhere...
Is there something that connects all your music?
Personal investigation…transformation…motion…emotion. It has always been rock with electronic tries.
Are you doing stuff for other bands, producing …?
Not yet. I'm open for a lot and different genres though. I write some songs which are not True Zebra material. I'm an engineer, producer, musician and mixer. Not forgetting a movie manipulator.
Work in progress? What are you working on right now?
I'm working on the new True Zebra album. Writing and some songs are already finished in various instrumental stages. I have this idea for a movie, but this goes even slower with me, finishing it that is… So I probably will just do a soundtrack and a special site with imagery. Right now I'm starting a second press and label promotion-kit to send out, so hopefully some seeds can grow. Maybe I'll do some producing for other bands, I'm very hands-on and know gear. Anyone can contact me.
Are you involved with a record label? Are you still looking for one?
Not involved, I won't say no to one or more. There are so many things I can do alone but not everything, I would like to have a small inner circle around me to bring this music out there just like it deserves. I would appreciate the help so I can focus on different things. I just want to make sounds and songs. I'm not afraid to promote them but I'm not really the social guy with strangers. There are many options on the internet but I don't always want to enter a game to win. Does everything need to be a competition?
Any preferences? If you could choose one, you'd take …
I've always liked MUTE. True Zebra probably falls in their genre.
Have you ever been played on the radio?
Yes: 3fm, Stubru, US college radio, US internet radio, etc… but I need a plugger for this. This falls in the administration box which I'm not really good at. I just want to make sounds and songs.
Is there any room or attention for (real) alternative music on Belgian radio?
Yes there is. With digital radio they should make the university and city local radio-stations national. The big radio stations are too much influenced by money and promises from large labels to get interviews and unique prices so the love they still have somewhere is 3th place… UrgentFM, Radio Scorpio, Centraal, FMBrussel, etc… should go national!
Does True Zebra play live? Next concert? Memorable moments? In Belgium or also abroad?
I've played a few over the years and every performance has been different. Different stage setup, imagery, simple, complex, video, without guitars , with guitars… Same story here… bad seller of good goods and it's the least fun thing for me to go shopping for gigs. Maybe some person suddenly gets the connection with the music to make this project go to the next level.
The next gig will be in Ghent.
If you could make a record with ANY person (or band) of your choice, who would it be …
Flood , Alan Wilder, iamx and Bon Harris. Closer to home : Daniel Bresanutti and Mauro Pawlowski.
Which CD's are you listening to for the moment?
Warren Suicide, American Head Charge, Röyksopp, Foetus and the new True Zebra songs.
Describe True Zebra in 3 words.
TRUE KEVIN STRAUWEN
Who is Kevin Strauwen ?
A shy personality, a musician, an engineer, a producer, a movie maker, a silent scream and a solitary mind.
Thanks Kevin, Godspeed.
http://www.truezebra.com/
http://truezebra.bandcamp.com/
http://www.amazon.com/s/ref=ntt_srch_drd_B0042EHI5K?ie=UTF8&search-type=ss&index=digital-music&field-keywords=True%20Zebra
http://itunes.apple.com/be/artist/true-zebra/id391478396
Didier PIETERS
20/12/2011
---