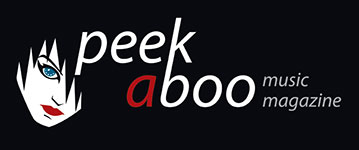 like this interview
---
THOROFON
The world it is getting worse than before and I got the feeling that I had to spit back at the dirt I am filled with every day by the media.
28/11/2011, Chris KONINGS
---
Thorofon aren't planning on playing live in Belgium anytime soon but as I liked their latest album (Exkarnation) and Genevieve Pasquier is also someone I follow a bit, I thought it wouldn't hurt to ask singer Anton Knilpert a few questions. They did a memorable gig at Maschinenfest last october and just a few days ago were playing at a Polish Industrial Festival, so these are busy times for them. They will be playing in Berlin in the beginning of December so if you are around, go and see them!

Hi Anton, can you introduce yourself and the band to our readers?

I'm a person, who is sick of some human behaviour, tired of preaching in a nice way, I want to be loud, I want to be recognized. Not sitting back, standing up and make some rumble. I pack this aggression and despair in a popmusic suit and fill the space with noise from a dying society....

Or I am an ordinary person, that has too much time....

Does the band name have a meaning? The sound of Thor maybe?

Actually the deeper meaning of the name Thorofon is not exactly defined. Back in 1996 I was looking for a fitting name that would give space for interpretation and was easy to recognize. I stumbled over a vinyl single with rhetorical speeches from 1917 to 1938. All this material was from an archive for a documentary called Thorofon. I liked the idea of capturing political or whatever ideas on any media and only time would tell if this was correct or not. As I wanted to tell a story or a draw picture of my world´s view in a soundscape I found that rather fitting.

My interpretation is "power on vinyl" even when today vinyl releases become rare...

In 2005 Thorofon called it quits, why the return? Not that we're complaining... ;-)

In 1996 I had the concept to make a musical cycle (suppression, revolution, improvement) and it is that what the three longplayer releases stand for. (Maximum Punishment Solutions, Final Movement, New Heroes)

During the time there were ideas that didn't fit in or stood between any category, so they were realized as a 10" or 7". In 2005 I quit with a 7" called OMEGA. I felt good, because the job was done and it looked ready. I needed to make an end. But the world turned a few times and it is getting worse than before and I got the feeling that I had to spit back at the dirt I am filled with every day by the media.

On the other hand I missed the dirty side of music :-)

You have your own label UMB, how was working there different from being on Ant-Zen now?

There are not many differences, in fact I was recording for Thorofon and Stefan from Ant-Zen supported me by taking pictures for the artwork. Finally when the album was ready and the artwork had to be designed, we spoke rather short about whether to release on UMB or Ant-Zen. As you can see the decision felt on Ant-Zen.

Do they leave you in full control of everything? You hear all kind of stories about the majors, not that Ant-Zen is anywhere near that.

I have full support and absolute freedom on Ant-Zen. It is the same when are working in partnership for any Genevieve Pasquier releases. We never made any contract with Ant-Zen ,all is dealt with a simple handshake for it works perfect.

The new album sounds very rough and old school. Was it a modern process or did you use mostly old instruments?

Modern and old in combination. Working with analogue equipment brings that rough style into music. Keeping that 70's ,80's original feeling you need original equipment. To bring it on a modern level it's good to have those digital recording tools and computers where you are able to arrange and record very comfortable.

What's the story behind the Flesh And Steel cover? One of your favourites? The first SPK song you got to know?

I think, it was more one of last tracks I listen of SPK. For most people the core of SPK's work is in the "Leichenschrei" album from the industrial noise phase, so for me this was the same for many years. Really late I discovered the popmusic side of SPK and tracks like Flesh and Steel, Metaldance, Crack!, Sheer Naked Aggression, amongst others have so much energy and good ideas for electronic music, that is nearly gone lost in today's industrial (powerelectronic) scene.

Sure, some of the instrumentations in the original tracks sound to much like cheap 80`s music. But that was the time. Doing an interpretation (I wouldn't talk of a coverversion) was something I had in mind, while thinking of the concept for Exkarnation. As the title says, it fits in the topic of the album. "A world plagued of flesh and steel", that is was the song says, the musical part is harsh disco.

I prefer it to been seen as a interpretation, that should give the listener (that isn't familiar with the later phase of SPK) a kick to dig out that music again, rather than to choose which version is the better one.

Your stage act during Maschinenfest was energetic but didn't you do a more old school industrial act before? Especially since this album sound very much like early SPK/Throbbing Gristle.

Does that mean old school industrial isn`t powerful ? I think it depends on the volume. Anyway...

You are right in that way, our earlier performances were more noise orientated but the evolution to this more beat-driven style was rising during the last shows in 2005. So I just crabbed the end of the rope and followed the path, even if it took a six year intermission.

To me this kind of music is working when it is played loud, you must feel it as well as you listen to it.

Those bands must be your major influences?

As well as I always disliked this "influence-thing" ,today I would say I was characterized by such old school industrial acts. Back in 1992 when I had one of my first experiences with this kind of music at the disco, while the dj was too drunk to go on, the tapedeck was playing dirty lowlevel recorded TG sessions and served us 1 hour of unrhythmic noise music... and the people were dancing to it! This was quite impressive to me. Also back in that time, there was no internet or russian download shit where you could get that kind of music very easy. If you wanted to discover the pearls you had to dig deep in rotten, sickening shit and dirt, but it felt so good when you got another fine industrial track that was worth to have.

I heard from a lot of musicians that they don't actively listen to music anymore. Do you need to keep that distance to avoid being distracted by other music?

For other musicians this might be important, to me it would take away one of the most important things in my life: listening to music. I can divide the music I like to listen and the one I make, because I focus on what I want to transport through my music. Sure some people say it sounds like that band or it reminds me of that... but be sure I can pick out other bands this bands got inspired by...

Why all those different names that you use? David Hormann, Daniel Hofmann, Dan Courtman...

In the beginning it was Anton Knilpert but no one realized that this name wasn't true. And finally it doesn't matter who does the music, therefore I choose to change the name whenever I want to.

Maybe I keep it for a while and then I take the old one or a new one, people shouldn´t think about that too much.

What's the most memorable venue you have performed? Any weird anecdotes you want to share?

If I start writing, it would be a whole book! Being on stage is a gift! every time! While in earlier concerts I was alone with myself on stage and didn´t realize the other members or the audience until I stepped from the stage. I learned to absorb the feedback from the audience and I enjoy look into people's faces and see ecstasy, interest, disinterest, aggression, fun, pain, etc...

Also becoming more a band on stage, I had to open myself to the other members as we have to interact.

What's your favourite record?

I want to name some releases based not in this industrial scene but related to. Latest records were "Third" from Portishead and "Into The Great Wide Yonder" by Trentemoeller and also "Lovetune For A Vacuum" by Soap & Skin.

Thank you for the interview!

Thank you for your patience....
Chris KONINGS
28/11/2011
---