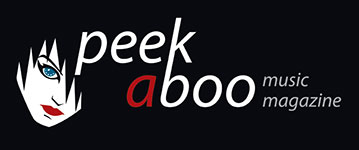 like this interview
---
HYBRYDS
Hybryds is an art project for me, not a commercial band which with I wanted to conquer the world.
07/11/2011, Chris KONINGS
---
With the upcoming Porta Nigra gig in Aarschot, Peekaboo thought it was only logical to interview one of the most original artists Belgium has ever seen. And the fact that he is playing in his hometown is a nice detail. I'm betting he will raise a few eyebrows if any unknowing pedestrians wander in by mistake! Combining tribal, electro and industial with images of a notorious beauty, you are up for a mindbending experience!
Hello Sandy, can you introduce yourself and Hybryds for our readers?

My name is Sandy Viktor Nys, illustrative and auditive artist, also graphic designer/webdesigner/video/multimedia. And soundfiddler. Hybryds has been my personal audioproject for more than 25 years now.

I saw an old picture of you where you are wielding an impressive mohawk, did you start in the punkscene like so many others did?

Oh it was the punk period but I was more into industrial music and new wave, I didn't care that much about guitars but I think my girlfriend back then liked it. It was a hell of a job and if it rained I was screwed, but it was a lot of fun.

First you were part of The Klinik, or actually Maniacs that was part of the collective Absolute Controlled Clinical Maniacs. Or what's the story behind all that?

In those days (1983) I had my own cassette label called 3RIORECORDINGS. I made the most bizarre and experimental compilations from music that got send to me from all over the world through the mailart circuit and everyone who was on it, got a copy so they could distribute it in their country. In those days it was the only way of getting to know about "other" music. I played those things on Radio Centraal in my show "Network" and met a host of creative people. The tapes got airplay on a lot of university radio's or free pirate radio's. There was no internet and the official radio's were under the yoke of the commercial music! This was the real underground circuit, raw, uncensored and bizarre. You could find anything that was unavailable elsewhere, ranging from extreme sex to extreme music.

Through Radio Centraal in Antwerp I got to know Dirk and Erik from Absolute Body Control and some other electro musicians (Mark Burghgraeve from Embryo/Somnambulist who at the time worked with Mark Verhaegen under the name Spierrelaxance). By the way, I've got a unique and fantastic recording from one of their gigs!

I myself was making crude experimental and insane music under the name Maniacs. When one of my contacts, Jurgen Knudsen from Norway, asked me if I could do a gig in Norway (apparently they received too much money as a cultural organisation and they had to spend it somewhere) I asked Dirk and Erik to make a project. Dirk was already singing some lyrics with Mark and that's how we went over there. We called the project Absolute Controlled Clinical Maniacs and with our return we released Sabotage on my label under the name KLINIK. The rest is history. Personally I prefer the first album since it had a truly unique sound because there were four of us, later it became Mark Verhaegen with Dirk doing the vocals.

Are you a graphic designer? The classic cover of the Sabotage album is from your hand and you also make a lot of video's.

Drawing academy it was then called, painting and such with pen and paper, paint and cloth. For a short time I was even moving around the art circuit of Antwerp but I didn't like that enviroment. There was a lot of asskissing going on and that's not my style. That's why I never had a gallery that wanted to support me so I never became famous. For a while I thought the internet would become the medium for that but these days everyone is an artist with all these preset filters in Photoshop. Digital artists are not taken seriously because of that. Back then it cost a lot of money to record music and now you just have your laptop and a program, the same with video, a twelve year old can make incredible movies with iMovie...

With Hybryds you applied tribal into your music in the 90's. You were a trendsetter in Belgium and even Europe because bands like This Morn' Omina and Tzolk'in have had relative success on a "big" label like Ant-zen.

The first release by Hybryds was in 1985 and that tape never got any acceptance by the official music circuit. Mixing tribal influences with modern industrial electro was too new and weird, our sound only received some acclaim in the beginning of the nineties with our first CD releases. I did introduce the name "ritual music" but Hybryds were not the only ones to experiment with those combinations. My tape collection is the proof of that.

Doesn't that make you a bit jealous?

Eh? Why should I? Hybryds is an art project for me, not a commercial band which with I wanted to conquer the world. I am glad there are many bands giving tribute to the things we did back then. This Morn' Omina has always acknowledged us as being trendsetters. And I keep telling Mika that Hybryds should have sounded like This Morn' Omina in the 80's. But we didn't have samplers and it was all live, the only sequences we had were from out trusted TR 808. We put it all live on tape and did not have the modern possibilities but it was that what made Hybryds so unique. There is something musically awkward in every song, a dissonance, an arrangement that doesn't quite fit, a rhythm that shifts. Hybryds was about sound and not about music.

How come your music so diverse? Most bands tend to stay put in their sound once they found it. You make tribal, industrial, ambient, electro...

Right from the start Hybryds was a collaboration between me and others. Through their creativity I could keep the music varied, I did mold the sound and led it in the direction I wanted. But it was all born out of the creativity of all those involved, playing them against each other. Hybryds exists thanks to all those people who played in it.

Hybryds seems to have no statement at all. The ritual and the mystique are central themes.

I started out of my restlessness, questioning the sense of life, religion, magic, rituals... The books by Carl Gustav Jung and Joseph Campbell were my greatest inspirations in finding the answers to those life questions... And that I translated in my art and music.

Later this was complemented by the cyberpunk fascination of William Gibson, the digitale virtual reality. We are in the middle of it now and the world is changing. Then it only existed in the minds of those pioneers who showed us a glimps of a reality that we could not know yet and are now only just discovering.

Your artwork has a lot of African masks and mythological images, are those your main influences? Were you ever in Africa?

When you studied art in those days you had to go through Picasso, the first to let influences from "primitive" art enter his work. During that time my parents lived in Africa and when I visited them for three months, our boy let us go to his village to see a fertility ritual. It really shook me, I was only sixteen and we were the only white people there. All the young women that got their first menstruation were locked up for a month in a great dark hut, on percussion they came out in trance, dancing, glimming with oil, painted and naked. Every man that was looking for a woman was watching. As young blond kid I was allowed to sit next to the village chief. AMAZING!

For me, mythes were always the source of humanity. Through Joseph Campbell I learned about stories that are older then the Greek legends or Roman sages. Bizarre things about the beginning of the world, incest, penisses being cut off, semen that flowed all over the world, pre-christian religions, the Mother Goddess, wicca, magic dreams… The power of the woman as a goddess and the balance that she reaches with her companion, the god with the giant penis. (Jung)

Your artwork is sometimes very erotic, shock value or is it mainly connected to those influences? The woman has been a powerful symbol for centuries.

I never wanted to shock with my erotic art, I think a naked woman is lot more beautiful then a sportscar or a butterfly. In my erotic work I always show woman as goddesses.

The themes of my art are paganism, faerietales, mythes and legends. Portraits to stories, all the models are caught on film by me. Sometimes I will keep the picture as is, sometimes I will rework it and come to a universal story. The model inspires me. Dark images from a paganistic past. Hyperrealism that compels the viewer in a different world. The nightmares of one are the dreams of the other. The images refer to mythical times, becoming the archetype that activate the subconsciousness. Woman, nude, painted, smeared, in bondage, leather or rubber, without shame they look in the camera or turn away in lust. Set in bizarre surroundings, in worlds that exist only in the collective memory of human kind. The models are the witches of our time, they decide how they appear in front of the camera. The artist is merely the one who catches the image. He adds to their "self" with images that appear inside his subconsiousness. Thus becoming a reaction against the monotheistic cultures. It's almost like alchemy, warm colours and organic forms thrust hidden symbols upwards. After the first visual shock there appears fascination. The themes are dark and disturbing. They are full of contradictions, beauty and decay, chaos and aesthetics, pain and pleasure. You need these to be able to compare. You can only enjoy beauty if there is ugliness. The masculine monotheistic culture is confronted with it's female nemesis from a distant past: paganism, a culture in wich fertility, the female. magick and dreams are central.

Are you working on a new album or project?

A new project, a dark ambient trip into the darkness of the human soul. A collaboration between me, TraumaSutra and Madeline Arndt.

How does it feel to perform in your own town? More stress then other gigs?

In the starting years of Hybryds I always put other people on stage and I was the one behind the mixing desk. The first time I got on stage I spent hours in the bathroom. But now it has become my second nature, I know what I want and what I do. And I feel good about it that way.

Hybryds were never accepted in my own country, I don't have to lie about that. The past years the scene has been dominated by two people and I won't be telling their names. (Ha!) They seem to have a problem with my face or my music and are friendly only because I'm a mate of Dirk and Eric. And I sure as hell am not the only Belgian band that has been constantly ignored by that mob.

I'm glad Porta Nigra has come and who knows, maybe they can become the third big organizer?

What can we expect from the gig in Aarschot? Will it be similar to the Dreambient or Urban Rhythms concept or something new?

Since a few years I've been working with Peter de Koning (TraumaSutra), he is a multi instrumentalist and is busy in loads of other projects. That sounds unbelievable because previously he was only the percussionist but after our first album together "Urban Rituals" we started making music between the three of us. Madeline Arndt is my singer and she is the third part of Hybryds now. It's a new project with dark ambient, almost no rhythms but a very dark atmosphere that influences both mind and body.

Thank you for the interview!
Chris KONINGS
07/11/2011
---