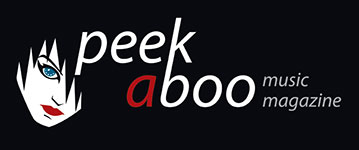 like this interview
---
VOIDWORK
BUM NUMBER ONE: XAVIER [VOIDWORK]
18/11/2011, Didier PIETERS
---
BELGIAN UNDERGROUND MUSICIANS
As a huge fan of Belgian Music I see it fit to offer Belgian underground musicians, an extra platform on which they can present themselves to the world or to whom it may concern anyway.
Who are they?
Their music?
What inspires them?
What are their plans for the (near) future?
…

You can read all about it in our new Peek-A-Boo BB-series (Belgian BUM's)
BUM NUMBER ONE is Xavier (VoidWork). Next up will probably be Kevin (True Zebra).
Xavier, your latest album, "Basement"… How would you describe the music on the album? How does it connect to the concept of Lichford?
The music on "Basement" is an amalgam of different styles, including neo-classical piano music, dark wave and horror ambient. Essentially, the album is a soundtrack to a piece of Cthulhu Mythos inspired fiction that bled from my pen when composing the first tracks. The songs tell the tale of Lichford, a New England town that fell to ruin after a series of supernatural occurrences. The written version of this short story will be released in 2013, accompanied by some other weird tales expulsed from my brain. Until then, a synopsis is available on voidwork.bandcamp.com
I would describe VoidWork's music on "Basement" as intense, experimental, haunting, spiritual, dramatic, strange and adventurous. Can you agree with this?
Whenever a "creative product" is shared, it becomes the property of the observer as well as that of the creator. In that sense it wouldn't matter if I agreed with anyone's interpretation. But as it so happens, I agree completely. However, as my own worst critic, I would not be so positive in my description.
What inspired the artwork?
The album artwork is courtesy of Venenum Photography, which is a pseudonym for a talented young photographer from Limburg, in Belgium. Where the pictures were taken or which digital skills were used to process them, I can't say.
How did you end up with a Polish record label?
Rage in Eden is one of the better known labels in the genre. I simply sent them a demo and they agreed to release it. There is no contract for any future releases and they don't really keep in touch. It was strictly a business venture.
Rage in Eden did release a limited edition that comes with a bonus CD "Kaos". Was it a conscious choice to have two versions of "Basement"? And why should people buy the "Kaos" edition?
During the time I was writing and recording "Basement", I experimented with different musical structures. The unorthodox scales and interwoven lines made for an alienating listening experience and when my record label, Rage of Eden, approached me with the idea of releasing a special edition, I decided to share this experience with the listeners. The collector's edition comes with a separate "Kaos" disc that contains an extra half hour of VoidWork and is sold in an attractive wooden box. It is limited to some 150 copies and anyone who enjoys VoidWork should definitely check out rageineden.org to order while supply lasts. "Kaos" will not be released separately, but is available for streaming on voidwork.bandcamp.com.
Tell us something about VoidWork itself. How, when and why did you start the project? And what is the meaning behind the name?
Four years ago, I started putting together soundscapes that conjured up images projected by my literary inspiration. I did this with very limited means and only a basic understanding of the genre. However, I noticed that I enjoyed the creative process and discovered that people were actually listening to the tracks I published online. So, I looked around for a record label and everything fell into place. Now, I have advanced material, new instruments and solid experience to build my future releases on. The name VoidWork was inspired by my interest in the metaphysical concept of "nothingness" and my fascination with clockwork machinations.
You mention your literary inspirations a lot. Your biography also mentions recent horror cinema and concepts such as fear or death as influences. Care to elaborate?
Ever since I was a child, I have been an avid reader of English literature, supernatural horror especially. The stories of Lovecraft, Derleth, Poe, Doyle, Blackwood, James and many more tempted my imagination to creep beneath the mounds of my mind. Their use of the unsettlingly "surreal" shaped my views on the genre. Although cinema can never quite capture that elusive atmosphere, it does have the advantage of the brutally visible. And I make the most of that by searching for elements of gore in the films I watch, instead of the subtle horror I look for in books. As for the other influences, they are mostly existential. Fear, death, need … are all concepts that occupy my brain on a daily basis. As they do for a lot of other people as well.
Lovely Ann-Mari Thim from Seventh Harmonic and Arcana sings on your albums… tell us all about that!
Not much to tell really. When I started VoidWork I knew I wanted to incorporate female vocals to accompany my own. As a fan of Ann-Mari's work, I asked her if she would be interested in contributing… and she said yes. Unfortunately, "Basement" was the last album to feature her outstanding voice. With a busy live schedule, she can no longer find the time to record for VoidWork.
In that case, who else is a part of VoidWork at the moment?
At the moment, local singer Lesley Reynaert is the only other member. She will record the female vocals and take care of certain visual aspects if we should ever perform live.
Are there any concrete plans for those performances or is it still up in the air?
We have been brainstorming about possible concert concepts and while nothing has been decided, it is likely we will only perform the vocals live. That way we can interact more with the audience and include a number of theatrical visuals. Hopefully, it will all work out by the middle of 2012.
What do you think to be the best way to spread your music nowadays?
Depends on the genre, but if you're looking for broad coverage, the Internet remains the best option. However, people have become lazy when surfing the web and they are far less likely to actually check out a band, even if it's free. The safest bet is, unfortunately, also the slowest, namely word-to-mouth. I've sold more albums by people recommending my music to others, than through anything available in cyberspace.
Is there any room or attention for genuinely alternative music on Belgian radio?
I doubt it. Most mayor Belgian radio stations play more or the less the same music. Even, the self-proclaimed alternative ones usually stick to some chart or other. And if there is a show that plays metal, punk, wave or anything like that, it is pushed back into the late hours of the night only to be cancelled after a short run. Not that any of those genres in themselves can truly still be considered alternative. There are a few local stations that display an interest in real underground music, but they rarely have many listeners. VoidWork has received airplay on the Internet, but I sincerely doubt you'll hear one of my songs on your car radio on the way to work.
Do you mind that you're not given that opportunity?
Nah. Even though I wouldn't turn my nose at some mainstream attention, it's not the reason why I make music. Otherwise I wouldn't have chosen such an obscure genre.
Speaking of the genre, what are some other bands in the vein of VoidWork that we should know about?
Well, I myself listen to a lot of Dead can Dance, Arcana, Raison d'être, Chaostar, Midnight Syndicate, Atrium Carceri, Pazuzu … You'll hear some elements of each in most VoidWork tracks.
What about yourself, what has made you the person/musician you are today?
What makes any person who she/he is? Genetic factors determining responses to external impulses, which in turn determines the nature of one's experience which contributes to the genetic determination. Or in other words… all kinds of stuff, haha.
You have been active in the metal scene for quite a few years. Did you feel the need for something else when you started VoidWork?
Definitely. I listen to almost every genre of music and I would hate being confined to creating only metal. What connects my work however, is a certain flair for the sinister. Another reason I wanted a change, is because I didn't really fit in with most metal bands. Luckily my current band Akem Manah is the exception.
Tell us about Akem Manah. Are you involved in any other projects?
Akem Manah is an eclectic doom metal band. The lyrical themes are more or less the same as VoidWork's. All the other members are creative artists and good friends. Hopefully, I will be able to invest more in the band the coming years. Apart from Akem Manah, I have a few other solo projects in the making. RUIN is a mix of different modern dark music styles, Vitriol is an industrial/electro act, but the one I'm working on right now is Nihil., a dark ambient project that goes back to the roots of VoidWork.
Were you always able to do what you wanted, without compromising? Any regrets?
I assume you're talking about music, but the answer is the same regardless… Regrets a plenty, but none I chose to cling to. No one is always able to follow their inclination, but for the most part I feel like I have been able to do what I wanted.
What's the first record you ever bought and which releases are you listening to for the moment?
The first LP I ever bought was "Practice what you preach" by Testament. The first tape I ever bought was a selection of Haydn's piano sonatas. The first CD I ever bought, must have been Doc Watson's self-titled album. Lately, I've been rediscovering some of my old favourites, such as "Dol Guldur" by Summoning, "Astro Creep 2000" by White Zombie, "Floodland" by The Sisters of Mercy, "Malice" by Gehenna, "Rust in Peace" by Megadeth, …
What's your favorite VoidWork album? Which VoidWork song is most "special" to you?
I would have to say that "Basement" is probably my favorite, followed closely by "Dark Corners". On the level of individual songs, "For Séti à Dh'erghûl" will always be special, because it was the first VoidWork track I ever made, but my favorite is probably "Godless Summer Sky".
If you could make a record with anyone, who would it be?
Tough question. Just to narrow it down I'll stick to living artists that would sound well in a VoidWork context. Then the answer would be Loreena McKennitt, who is probably my favorite female vocalist of the past few decades.
Anything you would like to add?
Just thanks for the interview and make sure to visit all these site, haha!
www.facebook.com/officialvoidwork
voidwork.bandcamp.com
www.akemmanah.com
nihil.bandcamp.com
Didier PIETERS
18/11/2011
---