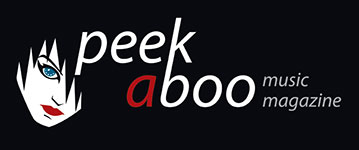 like this interview
---
CONTAINER 90
When I describe our music for grandma...I say we play punk on synthesizers.
13/09/2011, Karenza NIXON
---
With the rolling synths of EBM and in-your-face punk attitude, CONTAINER 90 are screaming for attention. Unafraid of controversy, these guys seemingly have balls of steel. With an appearance at this year's BIM Fest, Peek-a-Boo caught up with the Swedes to ask how preparations are coming along…..
Hi guys, you're playing at this years BIM Fest, are preparations already underway?
Ron: Sure we have some plans for the show. We're picking some of the old songs and we'll also try some new ones. Live we try to put out energy and a great party but there is, at no point, just the two of us so we sure hope we get some people along.
Jon: As always well try to deliver as much power as possible!
Your music is often described as 'Old School EBM', but this doesn't seem to cover it. How do you describe yourselves?
Ron: Baselines, drums and vocals, so we're oldschool EBM. No sensations, we listen to a lot of music from the good old days like DAF, à;GRUMH..., Nitzer Ebb and Cabaret Voltaire also. I also listen to a lot of other music like Punk, HC and Ska, so I guess it's a big mash up of ourselves. When I describe our music for grandma or other people in the same age I say we play punk on synthesizers. Electro-Punk might be a suitable name?
Jon: I also think that "Electro-punk" is the real word for our music...
The progression in your musical style is obvious when you compare 'Scandinavian Masters' to 'World ChampionShit'. Is that evolution natural or 'planned'?
Ron: Ha! Ha!...thanx a lot. Not really planned. I think it's more or less the same but my production skills are a bit better on the second album. Scandinavian Masters was my first ever try to make a production.
Does the never ending evolution of hardware help or hinder you? What are your favourite toys?
Ron: We don't use any hardware at all. Our early demos were recorded with an Atari St and a couple of drum machines, a synthesizer and a sampler. We borrowed the stuff from one of Jonas' old friends. Later we were recommended to start using software, so we went "soft". It's pretty cheap and does not take much space. Sure it would be great to own all good analogue equipment but first we must make some serious money and I guess that will never happen...
Jon: We're no freaks of Electro-gadgets. The software is just our tools to make powerful music.
On the one hand you're asking 'don't judge us before you hear our music', on the other hand you're courting controversy with 'Richard Is A Racist'. Music – Politics or Politics – Music, how do you want us to see you and do you believe there is a place for politics in music?
Ron: Hmmm...politics seems to be a hot potato. About racism and similar opinions I'm not sure it's politics... for me its stupidity and pure evil in the most primitive way and a disgrace for mankind.

For those who sing about love and pain, sure....but as soon as you say something is right or wrong or something around is a problem it becomes politics. Do you dislike that children are starving in Africa, it's politics, do you dislike the world pollution, it's politics also. Nothing revolutionary about that so sure there is room for opinions in music. If I'm pissed off I got all my rights to express myself and so do you, even if I hate your opinion...and I can tell you, I'm not afraid to tell.

To answer your question about how to see us, it's not really up to us to tell....
We're curious, did Richard ever reply to your song?
Ron: We never heard from him or his likes. Unfortunately he quit the music and went for full time politics. I'd preferred he did the other way. He was much better as a musician.
You're not without your softer side guys, I mean, sampling 'The Blues Brothers' and a ZZ TOP re-make under your CONTAINER 69 guise, there's a lot of humour in what you do. Is that essential for you?
Ron: Absolutely... it's all about having fun. I believe it's important not to lose touch with reality and yourself and to make a joke helps us through the day.
How do you survive in the 'real' world? Can you survive on music alone for a living?
Ron: If we tried surviving on music I guess we picked the wrong genre....
Jon: We were born with the wrong sign, in the wrong house, with the wrong ascendancy. We took the wrong road, that led to the wrong tendencies. We were in the wrong place at the wrong time, for the wrong reason and the wrong rhyme. On the wrong day, of the wrong week. We used the wrong method with the wrong technique!


The worldwide economic situation is affecting the entire music industry, especially smaller alternative genres and yet the Swedish scene is thriving. How are you doing it?
Ron: Tricky question....I really don't know but I can agree Sweden is something special. Especially when it comes to metal in all different ways. Maybe it's that we have cold and long winters so we must stay indoors.....
What are you working on at the moment? New material, Remixes, Side Projects….
Ron: We have some plans for a new album and a handful of songs are more or less done. It's a bit early to say though.
Remixes we really dislike. Original is always much better.

Jon: Ron is full of shit :-) In the next year Container 90 will release a new album.
Well guys, we look forward to seeing your powerful show at this years BIMFest, thank you for your time.
Karenza NIXON
13/09/2011
---