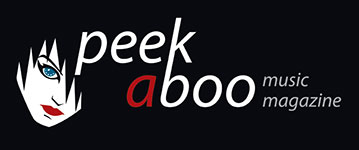 like this interview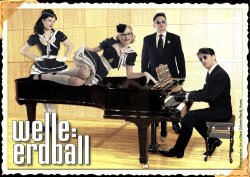 ---
WELLE:ERDBALL
They suddenly played Milli Vanilli and we just looked at each other and knew we had to do the music we wanted to hear ourselves...
13/09/2011, Dennis OHRT
---
Hard to believe as it still seems just like yesterday but it is now more than 20 years ago when Welle:Erdball went on air. Fast forward to now and they prepare the release of their newest offering 'Der Kalte Krieg' in late October. During their new 'Der Kalte Krieg' tour, Welle:Erdball will perform in Antwerp on November 17th, 2011.
Honey, you have been extremely busy this year so far, first your Homo Futura project saw the light of the day, can you tell us a bit more about the project and the album?
Homo~futura are F. Nstein & Fräulein Plastique (Welle:Erdball, The Girl & The Robot) and me (Dr. Georg Line). We started homo~futura 7 years ago and we've been constantly working on the album since then. Unfortunately it took such a long time mostly because the work with Welle:Erdball always had priority.
Just recently you appeared as Funkhausgruppe at the Amphi Festival and released the excellent 'Mono-Poly' album, is the collective seen as ongoing or a one-off? Just listening to the album you all must have enjoyed the recording lot.
Thanks! True - it was a lot of fun and over the years we have become all good friends. The project was started a few years ago and whenever we had the time to meet up, we had studio sessions together which was an interesting experience. It was meant to be a 'band' with only one release and one concert - but of course you should never say never and who knows if there might be a second album one day. Right now we're all busy with our own projects.
October sees the release of a new Welle:Erdball album (broadcast) 'Der Kalte Krieg', can you already give a few hints about what the fans can expect and hope for? Is the title coincidence or did you time it, as 50 years ago the Berlin Wall was built?
Nothing is coincidence with Welle:Erdball. And of course it's basically about the cold war. The album contains almost only cover versions of songs we like and fit the theme of the cold war. Currently we're working on a video for the song 'Deutsche Liebe' as well, which is our own song.
The album will again be released with an additional dvd, is the content already confirmed or are you still working on it?
We are still working on it but it will be some exclusive live clips. In the age of youtube and mobilephones with cams people deserve good quality live clips, I think!
All your latest releases are truly a labour of love when it comes to packaging and content, did you plan the 'Singles 1993-2010' release for a long time in advance and who came up with the terrific box in vintage radio style?
It was our idea and and the record label helped us make this happening. Unfortunately the cds couldn't be in a jewel case - but I think its worth it. Especially cause it's the first time you can get the tape 'W-48' on a cd.
In the autumn you will be on tour again for the new album (amongst other dates: Antwerp 27.11.2011 at the Trix), will we see a completely new show?
Yes you will. we're still working on it but of course we'll come with a completely new show and stage set up. I'm very curious how it will turn out... We already put a lot of sweat and blood into it but I can't tell you details right now. It's a surprise as usual!
If you look back at the beginnings of the band, what has changed when you now compose and produce new material?
The vision hasn't changed but we got a few new analogue instruments and two talented female singers compared to the very beginning. As far as the recordings are concerned we almost still work the same way as 15 years ago - with the Atari 500 & the Commodore 64.
Welle:Erdball has always been known for giving the Commodore 64 its deserved attention, are there any other gadgets from that era, that you still don't want to miss?
As I said, the Atari 500 and the magic of analogue synthesizers I never want to miss.
Going through your lyrics, I can only imagine it must be a horror for you these days to consume German media with their constant disastrous German/English wordcreations ruining the language?
It's all about YOU! We're furthermore using correct German... not only in our lyrics - especially in real life. I have the feeling it's getting better at the moment and 'correct german' seems to become a trend again. I hope.
As there are still so many almost undiscovered songs from the NDW / early minimal days, is there a song or band you can recommend that possibly not everyone has heard of?
Maybe 'Feuerwerk' by Stefan & Nina or 'Die Neue Zeit' by Liederkranz... two of the songs we covered for 'Der Kalte Krieg'
Was there ever a musical event or song that made it clear for you personally that you have to become a musician yourself?
Definetely. I remember when Alf and me were out for some dancing in the early 90s they suddenly played Milli Vanilli and we just looked at each other and knew we had to do the music we wanted to hear ourselves.
As 2011 is in its second half already + seems to be a massive year working wise for you, will 2012 rather be silent for Welle:Erdball or are there already plans?
It will be a little quiter for us from the outside, but only we because we will go directly to the studio after the tour to work on the next album 'Tanzmusik Für Roboter'
Honey, thanks so much for taking the time to answer our questions! I leave the last words to you, anything you want to say to our readers?
Thanks for the interview! I hope to see you in Antwerpen in November. Beweg dein Gehirn, jetzt!
Dennis OHRT
13/09/2011
---