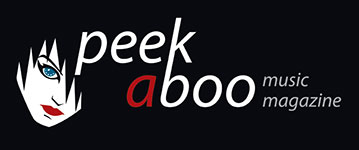 like this interview
---
AGENT SIDE GRINDER
I don't really see us as a post-punk band. We're more an industrial/electronic band.
28/08/2011, Didier BECU
---
Soon they'll be in Brussels, and while they have a new double CD out on Manic Depression (Industrial Beauty), Peek-A-Boo thought a chat with Agent Side Grinder would be a good idea.
Well, let's begin with the begin. I always thought Agent Side Grinder is a strange name, not even mentioning the fact that it's difficult to remember. So why?
Peter: Hm do you think so? I think it sounds really great when I hear people say our name in French!
The band is from Sweden. With bands like Principe Valiente and The Exploding Boy around it seems like there is a real Swedish post-punk scene around?
Peter: It's a big interest in post-punk in Stockholm, but I wouldn't call it a scene.
I would rather say that Stockholm has a very good climate for all kinds of music nowadays.
There are more venues for live music etc. than it was before.
Johan: Sweden is still kind of stuck in a pop and radio-friendly tradition.
In fact, do you think you're post-punks and are you involved with the bands I mentioned above?
Peter: I don't really see us as a post-punk band. We're more an industrial/electronic band.
But the industrial scene and the post-punk scene have always been somehow connected to each other.
I think the right term of our music is Industrial Beauty.
But we're good friends with The Exploding Boy by the way…
Do you think you're retro and anyway…Is being retro a bad thing?
Peter: I'm quite tired of people constantly labeling us as "retro". We use more modern instruments and analogue electronics than most bands around. And the way we play and treat our instruments is new, right?
Johan: Everybody's recycling the music history. We try to look into the future as much as we look back.
Our mission is to spread dark music to a new generation of listeners, that don't really know or care about obscure bands from the early 80s.
I really do hear Factory-bands and especially a Martin Hannett-feel in your music. Do you agree with this?
Johan: Absolutely. We're trying to create a cold and feverish atmosphere in that same tradition.
I won't say you're stars but still I think I can say the band has a quite growing fan base.Is that so you sit down watching it all happen or are you really the sort of guys who'll do everything to make it happen?
Johan: We're definitely an active band with a big DIY-mentality. We run it like a company, and of course we want it to be successful. But we would never compromise on our music just to become famous.

Peter: We don't take the audience for granted; instead we try to give them more than what is expected of a band nowadays.
I really can't believe it when bands tell me that it doesn't interest them if they're famous or not, can you?
Johan: Fame itself is not important to me, but we surely want recognition and respect through our music.
When you're on a small label you're also able to control yourself. Can you imagine this is not being the case?
Johan: Difficult to say. If we could keep our artistic freedom and do what we believe in, I can see us on a bigger label for sure.
You have also a new album out, named "Industrial Beauty". Can you tell us something about it?
Peter: Lionel of Manic Depression Records (in France) asked us if he could release something with us.
This record is a double CD in a nice digipack. CD1 contains the highlights from our two first albums. CD2 is a CD version of a live cassette that we released one year ago. It has a cool cover picture of Christine Owen, Miss Sheffield in 1978.
Johan: It's a perfect introduction to Agent Side Grinder's music.
You'll soon be in Brussels for a gig, what can the audience expect?
Peter: We will give them 60 minutes of hypnotic industrial psychedelic punk!
What's your fave album of all time and why?
Peter: One of my absolute favorite albums is Amok Koma with the German band Abwärts. I was really hooked from the very first time I heard this album when I was young. The mix of punk energy, electronics and radio fragments.
Who wouldn't you mind being alone with in an elevator for 8 hours and what would you do?

Johan: Probably someone that could entertain you. Ricky Gervais?
Didier BECU
28/08/2011
---