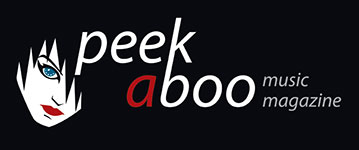 like this interview

---
AGENT SIDE GRINDER
Our new compilation album is called "Industrial Beauty". That phrase sums up a lot how Agent Side Grinder sounds. Brutal and menacing but always on a foundation of strong, beautiful melodies.
19/01/2017, Jurgen BRAECKEVELT
photos: © Marquis(pi)X
---
Agent Side Grinder is passing by Belgium on February 10th to promote their recently released compilation album 'Industrial Beauty' so we took the time to speak with Johan Lange, founder and keyboardist/songwriter of this Swedish must see live band.
I don't think it is necessary, bur for those who never heard of Agent Side Grinder, can you please introduce the band?
An electronic band from Stockholm. People describe our music as a mix of post-punk, industrial and synth-pop. We've released four official albums so far. Latest album "Alkimia" came out in 2015.

Agent Side Grinder plays a very own style of electronic music. How would you describe your own music?
We have a new compilation album out (on Manic Depression Records) called "Industrial Beauty". That phrase sums up a lot how Agent Side Grinder sounds. Brutal and menacing but always on a foundation of strong, beautiful melodies.

Which persons/bands or other influences made ASG the band they are today?
When we started we were largely influenced by bands from the 70s such as Joy Division, Throbbing Gristle and Suicide. Today the influences come from many sources, we are true music lovers. It ranges from classical music to dark techno.

There is a revival of the synthwave going on, at least that's my idea. What's your opinion?
The scene is indeed bigger now compared to 10 years ago when we started. There are more bands, more festivals etc. I also notice younger people arranging concerts, which is great. But I believe the genre has the potential to grow even bigger.

In your opinion, did the music of Agent Side Grinder change through the years and what caused these changes?
It has changed a lot. We started off as a true DIY experimental punk band with only two members. As time went by our music became more detailed and arranged and also more melodic and emotional.

Agent Side Grinder is based in Stockholm, Sweden. How prosperous is the new wave/gothic scene over there?
Like in the rest of Europe, alive and doing pretty well, but still far removed from mainstream media, charts etc. But that's the reality for most sub-genres.

Agent Side Grinder has a very strong live reputation, and I can only confirm that. What makes the magic happen on stage?
Well it's a combination of things, the energy in the room, the machines on stage and our minds entirely focused on the music. It's hard to explain, it's like a ritual.

You were in Belgium several times (BIM-fest, Mme Moustache Brussles) and return at February 10th together with Popsiminova and Sleep Loan Sharks. What may the visitors expect from the show?
As always a hypnotic, feverish musical journey. We will also introduce at least one new track. It's always great to play in Belgium, we feel at home here.

You've worked together with one of the Belgian icons in the scene, Dirk Ivens (Dive, Sonar, The Klinik, Absolute Body Control). Why this choice and are there any other cooperations on the way?
Dirk and his work in The Klinik and other projects have been a major inspiration to us. So we were just happy he approved on working with us. And yes, there will be more collaborations in the future. But it's too early to reveal any names.

Any last message for the world out there?
Well, watch out for our future projects, we are constantly trying to improve ourselves.
Jurgen BRAECKEVELT
19/01/2017
---
Agent Side Grinder komt op 10 februari naar België om promotie te maken voor hun recent uitgebrachte verzamelalbum 'Industrial Beauty'. Daarom namen we de tijd om te praten met Johan Lange, oprichter en keyboardspeler/songwriter van deze Zweedse band die je absoluut live aan het werk moet zien.
Ik denk niet dat het nodig is, maar kan je voor wie nog nooit gehoord heeft van Agent Side Grinder de band even voorstellen?
Een elektronische uit Stockholm. Men omschrijft onze muziek als een mix van post-punk, industrial en synth-pop. We hebben tot nu toe vier officiële albums uitgebracht. Het laatste, "Alkimia", dateert van 2015.
Agent Side Grinder speelt een heel eigen stijl elektronische muziek. Hoe zou je je eigen muziek omschrijven?
We hebben een nieuw verzamelalbum uitgebracht (bij Manic Depression Record) met als titel "Industrial Beauty". Dat vat grotendeels samen hoe Agent Side Grinder klinkt. Brutaal en dreigend, maar altijd met sterke, mooie melodieën aan de basis.
Welke personen/bands of andere invloeden maakten van ASG de band die ze vandaag zijn?
Toen we begonnen, waren we erg beïnvloed door bands uit de jaren 70, zoals Joy Division, Throbbing Gristle en Suicide. Vandaag komen de invloeden van veel bronnen, we zijn echte muziekliefhebbers. Het gaat van klassieke muziek tot dark techno.
Er is momenteel een revival van de synthwave, althans die indruk heb ik. Wat is jouw mening daarover?
De scene is inderdaad groter dan tien jaar geleden, toen we startten. Er zijn meer bands, meer festivals etc. I merk ook dat jongere mensen concerten organiseren, wat fantastisch is. Maar ik geloof dat het genre zelfs nog groter kan worden.
Denk je dat de muziek van Agent Side Grinder door de jaren heen veranderd is en wat veroorzaakte die veranderingen?
De muziek is erg veranderd. We zijn begonnen als een echte DIY punk band met maar twee leden. Na verloop van tijd werd onze muziek meer gedetailleerd en gearrangeerd en ook melodieuzer en emotioneler.
Agent Side Grinder komt uit Stockholm, Zweden. Hoe bloeiend is de new wave/gothix scene daar?
Zoals in de rest van Europa, levendig en behoorlijk goed bezig, maar nog altijd ver verwijderd van de mainstream media, hitlijsten etc. Maar dat is zo voor de meeste subgenres.
Agent Side Grinder heeft een erg sterke live reputatie en ik kan dat alleen maar bevestigen. Wat zorgt voor demagie op het podium?
Wel, dat is een combinatie van verschillende elementen: de energie in de zaal, de machines op het podium en onze gedachten die volledig geconcentreerd zijn op de muziek. Het is moeilijk om uit te leggen, het is als een ritueel.
Jullie waren verschillende keren in België (BIM-fest, Mme Moustache Brussels) en komen terug op 10 februari samen met Popsiminova en Sleep Loan Sharks. Wat kunnen de toeschouwers verwachten van de show?
Zoals altijd een hypnotische, koortsachtige muzikale reis. We zullen ook minstens één nieuw nummer laten horen. Het is altijd fijn om in België op te treden, we voelen ons hier thuis.
Je hebt samengewerkt met een van de Belgische iconen van de scene, Dirk Ivens (Dive, Sonar, The Klinik, Absolute Body Control). Vanwaar die keuze en zijn er andere samenwerkingen op komst?
Dirk en zijn werk bij The Klinik en andere projecten zijn een grote bron van inspiratie geweest voor ons. We waren dus gewoon blij dat hij met ons wou werken. En ja, in de toekomst zullen er meer samenwerkingen zijn. Maar het is te vroege om namen te onthullen.
Nog een laatste boodschap voor de wereld daar buiten?
Wel, kijk uit naar onze toekomstige projecten, we proberen voortdurend onszelf te verbeteren.
Jurgen BRAECKEVELT
19/01/2017
---